14 Images
Janet Leigh, 1927-2004
la-leigh1-fs7hh6ke
Janet Leigh and Van Heflin in the 1949 film, "Act of Violence."
(American Cinemathéque)
la-leigh2-f1cwrzgy
Anthony Perkins and Janet Leigh in the 1960 film, "Psycho."
()
la-leigh3-i523y2kf
Actress Janet Leigh appears as Marion Crane in the famous shower scene in Alfred Hitchcock's 1960 classic thriller "Psycho."
(AP)
la-leigh4-ga98tike
Barbara Rush (left), Tony Curtis, Janet Leigh at the 32nd Annual Academy Awards at the Pantages Theatre in Hollywood in 1960.
(©AMPAS)
la-leigh5-enrz1vgy
Janet Leigh in 1958's "Touch of Evil," directed by and starring Orson Welles.
(Universal)
la-leigh6-erb4s7gy
Janet Leigh and James Stewart in 1953's "The Naked Spur," directed by Anthony Mann.
(American Cinemathéque)
la-leigh7-fymcmmke
Actress Janet Leigh, left, and Mrs. Peter Lawford, sister of Sen. John Kennedy, shown in 1960, sign a state map to show support for Kennedy in Southern California. Alan Aaron, 4, is at the right.
(LAT)
la-leigh8-i52675kf
Actor Tony Curtis dances with actress Janet Leigh at a Beverly Hills party in March, 1961.
(AFP)
la-leigh9-el3u6mgw
Janet Leigh and Robert Mitchum in "Holiday Affair," 1950.
(RKO)
la-leigh10-i524bvkf
Frank Sinatra and Janet Leigh in "The Manchurian Candidate," 1962.
(Columbia / AP)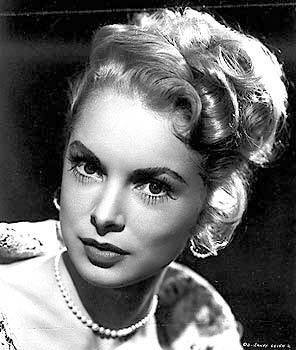 la-leigh11-i529c3kf
Actress Janet Leigh in 1954.
(Columbia / AP)
la-leigh14-i525l0kf
Janet Leigh, who starred in Hitchcock's 1960 thriller "Psycho," speaks during the unveiling ceremony of a U.S. postage stamp bearing Alfred Hitchcock's portrait in October, 1997.
(Hector Mata / AFP)
la-leigh15-i52l9rkf
Actress Janet Leigh, center, with daughters Kelly Leigh, left, and actress Jamie Lee Curtis at the premiere of "Freaky Friday" in August, 2003 at the El Capitan theater in Hollywood.
(Carlo Allegri / Getty Images)
la-leigh16-i52k2zkf
Actress Janet Leigh attends the April 14, 2003 premiere of "A Mighty Wind" at the Director's Guild of America in Hollywood.
(Frederick M. Brown / Getty Images)