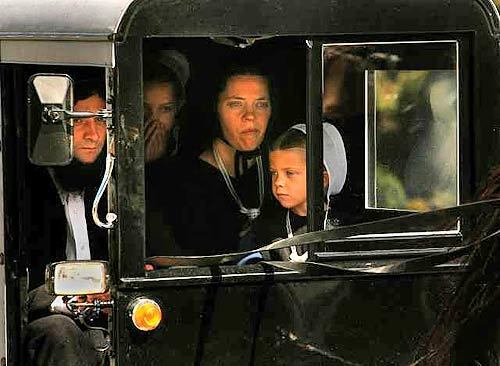 20 Images
The Week in Photos: Oct. 1-7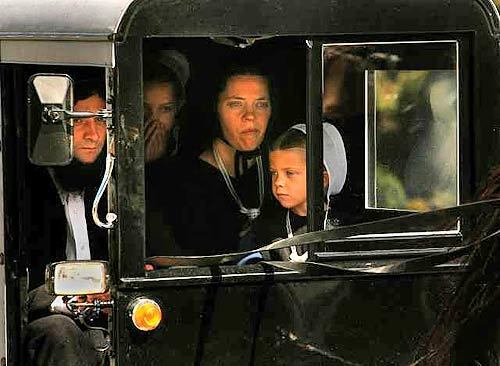 An Amish family in Bart Township, Pa., takes part in the funeral procession for Naomi Rose Ebersole, 7, one of the slain schoolgirls.
(Carolyn Cole / LAT)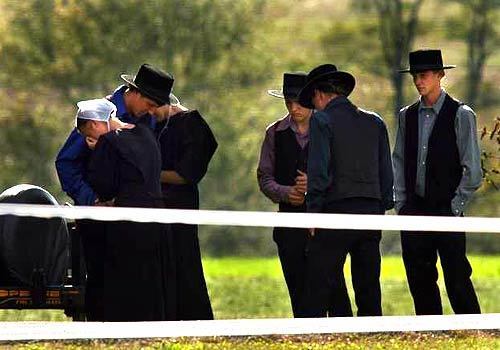 Family and friends of the 10 girls shot in a one-room Amish schoolhouse grieve together in Bart Township, Pa. Five girls have died, and another has been taken off life support.
(Carolyn Cole / LAT)
In the community of Nickel Mines, Pa., where the attack occurred, the black-clad figures of Amish mourners converged on farmhouses from all directions.
(Carolyn Cole / LAT)
Students and others watch as the Starvation Gulch bonfires burn on the University of Alaska Fairbanks campus Saturday. The bonfire signals the start of the academic year. It's a tradition that dates back to 1923.
(John Hagen / AP / Fairbanks Daily News-Miner)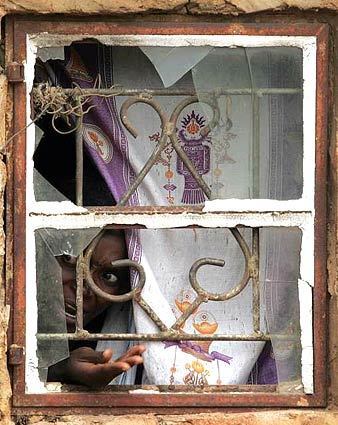 A woman in Lusaka, Zambia, pleads with police officers through a damaged window as people riot on the streets of the capital. Dozens were arrested in two days of violent protests against the re-election of President Levy Mwanawasa.
(Themba Hadebe / AP)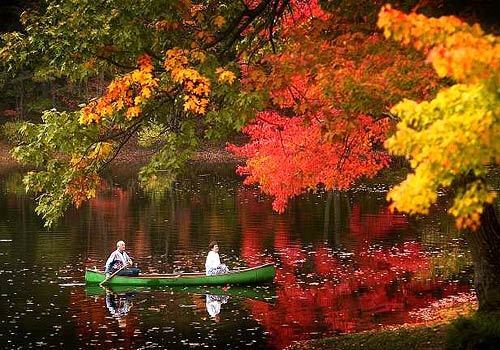 Ed and Mary Ann Murdock enjoy the fall colors while paddlng their canoe Wednesday near their home in Turner, Maine.
(Douglas Van Reeth AP/Sun Journal)
A model leaves the catwalk after presenting a look from the Akris spring/summer 2007 ready-to-wear collection shown in Paris on Wednesday.
(Maya Vidon / EPA)
An international team of astronomers, using a camera aboard NASA's Hubble Space Telescope, took this photo of a zone of the Milky Way known as the "galactic bulge." This seam of stars found at the center of the Milky Way is an entirely new class of planets waiting to be explored, according to a paper published Wednesday.
(AFP / Getty Images)
An aide places the vice presidential seal on the podium before Vice President Dick Cheney arrives to speak to U.S. Army troops at Fort Hood, Texas, on Wednesday.
(LM Otero / AP)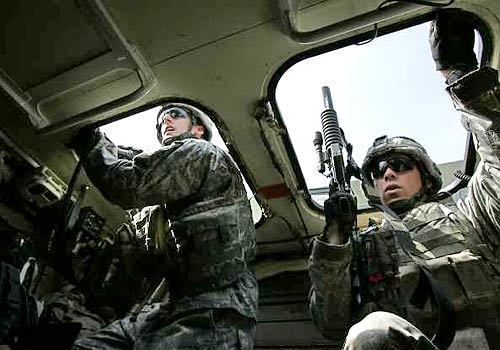 U.S. soldiers on patrol in eastern Baghdad ride in an armored vehicle Monday. At least 20 people were killed throughout Iraq, including two U.S. soldiers shot to death in Baghdad. In Najaf province, Iraqi border patrol forces assumed control of a military base.
(Darko Bandic / AP)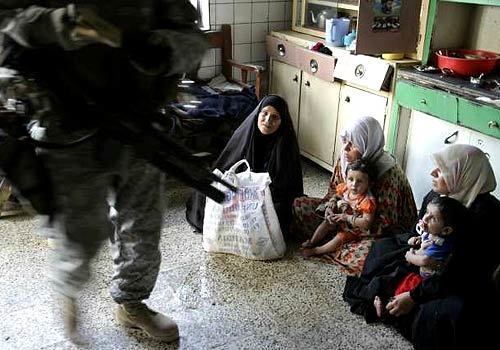 Women and children look on as a U.S. soldier from the 172nd Brigade searches a house in eastern Baghdad on Tuesday. The U.S military has been performing scouting missions aimed at preparing security operations to stop sectarian violence in the capital.
(Darko Bandic / AP)
New York Mets first baseman Carlos Delgado falls into the stands as he tries to catch a foul ball hit by the Dodgers' Nomar Garciaparra in the first inning at Shea Stadium in Flushing, N.Y. on Wednesday.
(Gina Ferazzi / LAT)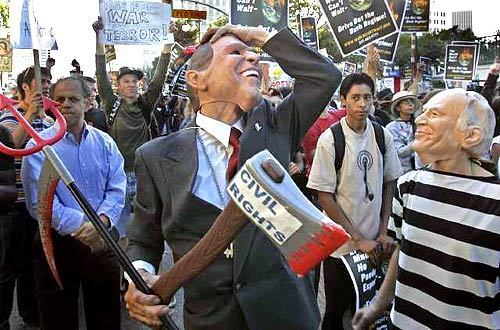 A man wearing a President Bush mask, center, is among participants in Thursday's downtown Los Angeles rally opposing the Iraq war.
(Lori Shepler / LAT)
Bob Dunlap is one of many miners who prospected in desolate Trona, Calif., near Death Valley, hoping to find a fortune. Miners found borax instead.
(Irfan Khan / LAT)
A commercial jet seemingly flies over the moon at sunset from a vantage point in Commerce.
(Karen Tapia-Andersen / LAT)
LAPD officers walk to 6th Street in downtown L.A. from the Central Division Station. Chief William J. Bratton said a new compromise on skid row tents has been reached with the ACLU.
(Al Seib / LAT)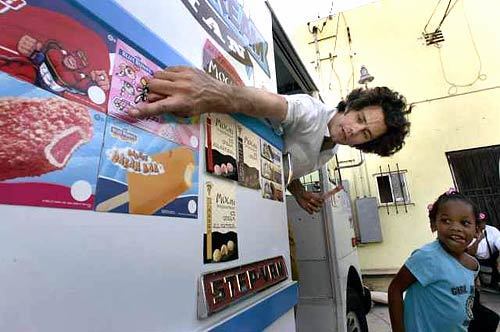 The Ice Cream Man, Matt Allen, points out his offerings to Jade Porter, 6, at the Al Wooten Jr. Heritage Center in South Los Angeles. Allen is traveling the country on a mission to pass out more free ice cream than anyone in history.
(Richard Hartog / LAT)
L.A. Councilman Tom LaBonge, left, and Mayor Antonio Villaraigosa pose with a statue of Albert Einstein in the Gunther Depths of Space exhibit hall at the Griffith Park Observatory, which will reopen to the public on Nov. 3.
(Anne Cusack / LAT)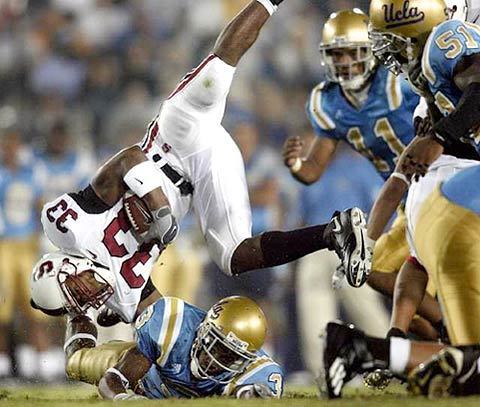 Stanford's Jason Evans is upended by UCLA's Eric McNeal in the first half of Saturday's game at the Rose Bowl in Pasadena. The Bruins won 31-0.
(Rick Loomis / LAT)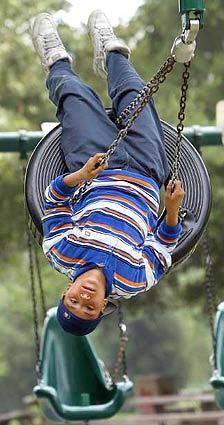 Eleven-year-old Raul Ortega Jr. displays his acrobatic skills while getting an upside-down view of the world at a Griffith Park playground in Los Angeles.
(Mel Melcon / LAT)