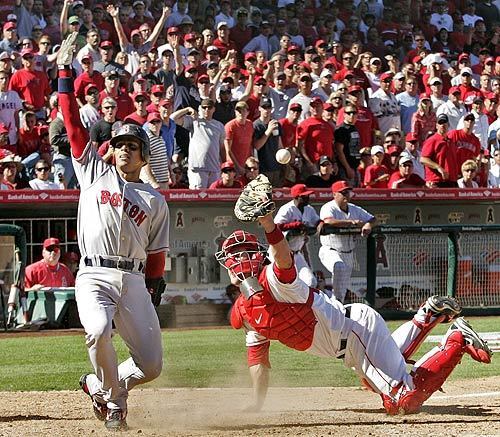 13 Images
In focus: Staff photos from Oct. 6-12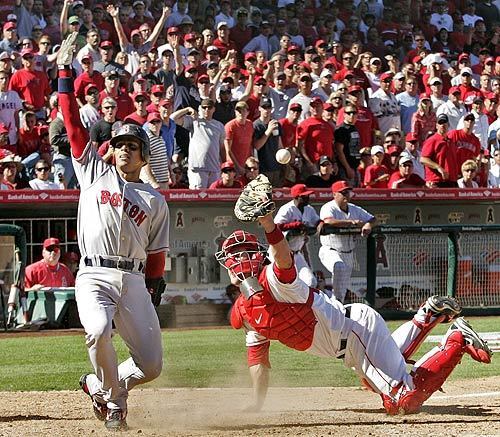 Boston's Julio Lugo celebrates after sliding home safely against the Angels. The Red Sox swept the Angels in the first round of the American League playoffs. Los Angeles was outscored, 19-4, in three games.
(Gina Ferazzi / Los Angeles Times)
Marine Staff Sgt. Frank Becker motivates a Boot Camp Challenge participant just as he would a real recruit. The Marine Corps Recruit Depot in San Diego let 2,500 weekend athletes get a tiny taste of the strenuous process of turning recruits into Marines. Call it fantasy boot camp.
(Glenn Koenig / Los Angeles Times)
Oscar Espinoza, 29, at center in a wig, was one of several teachers to participate in two zero-gravity flights sponsored by Northrop Grumman Corp. in an effort to promote math and science education. "The feeling of weightlessness does bring out science and brings it alive. I hope I can bring that to my students," said Espinoza, a biology instructor at King/Drew Magnet School in Los Angeles. "I am waiting for the pictures and the video to be given to us so that we can immediately start using them in class." The teachers were subjected to 16 parabolas, a flight maneuver that creates a weightless environment, each lasting about 30 seconds. "The experience was unforgettable," Espinoza said.
(Rick Loomis / Los Angeles Times)
Artist Gayle Echeverry preps an Oscar statue for paint. Artists and painters were working at a storage warehouse in the Santa Clarita Valley to get fiberglass Oscar replicas of all sizes ready for the red carpet. The statues received touch-up paint, and damaged ones were repaired.
(Brian Vander Brug / Los Angeles Times)
Institute for Wildlife Studies field worker Matt Kling encourages a Santa Cruz Island fox pup to head into the wild. Ten of the pups were released, the last of a group reared in captivity as part of an effort to restore the endangered species. The pups scurried into wooded canyons in the middle of the 96-square-mile island off the Ventura County coast, said Tim Coonan, a biologist with the National Park Service. There were once 1,500 foxes, but their numbers dwindled to as few as 80.
(Brian Vander Brug / Los Angeles Times)
Chloe Ghoogassian, 17, center, a student at Pasadena High School, reacts upon learning that she was chosen to be one of seven princesses on the Tournament of Roses Royal Court. The announcement was made on the south lawn of the Tournament House.
(Annie Wells / Los Angeles Times)
USC Coach Pete Carroll talks to cornerbacks Cary Harris, left, and Terrell Thomas in the closing minutes of the Trojans' game against Stanford. In one of the greatest upsets in college football history, Stanford defeated second-ranked USC, 24-23, ending the Trojans' 35-game home winning streak and possibly its bid for a national title.
(Alex Gallardo / Los Angeles Times)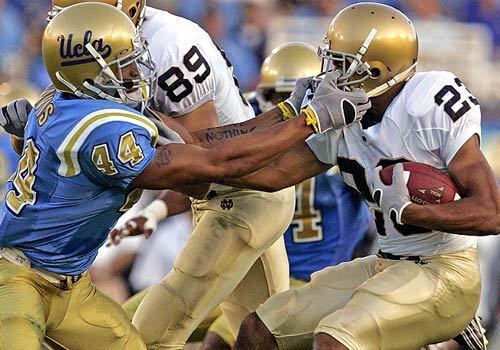 UCLA's Bruce Davis grabs Notre Dame's Golden Tate by the face mask in the first quarter of their game at the Rose Bowl. A penalty was called. Notre Dame won, 20-6, for its first victory of the year. The Bruins dropped to 4-2.
(Richard Hartog / Los Angeles Times)
A body is removed from a Simi Valley tire store Tuesday. A gunman entered the store and shot and killed a mother of two and critically wounded two other people before turning the gun on himself, police said. The gunman was identified as Robert J. Becerra, 29, of Simi Valley. Becerra's motive for the rampage has not been determined, police said.
(Stephen Osman / Los Angeles Times)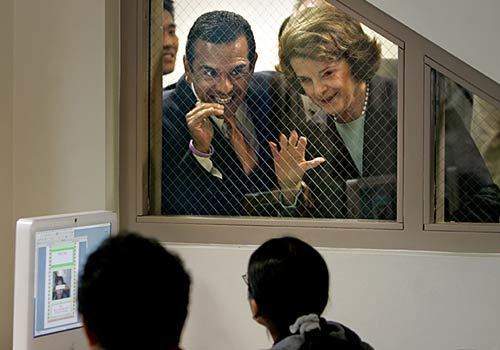 Los Angeles Mayor Antonio Villaraigosa and Sen. Dianne Feinstein (D-Calif.) peer into the computer room at the Bresee Foundation Community Center in Los Angeles during a tour. They called on the House of Representatives to pass comprehensive anti-gang legislation.
(Karen Tapia-Andersen / Los Angeles Times)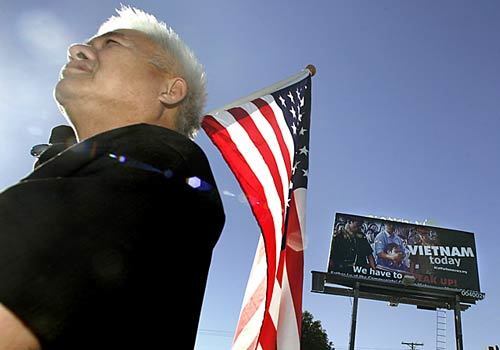 Tuong Tran joins a small rally in Orange County's Little Saigon to unveil a billboard criticizing the Vietnam government's treatment of a pro-democracy priest. A photo of Father Nguyen Van Ly -- a fierce anti-communist -- being muzzled by a Vietnamese guard during his trial in March is featured on the billboard. The Catholic priest was found guilty of being a national security threat and sentenced to eight years. But Vietnamese Americans have found a way to continue his message through a billboard campaign with the dramatic courtroom photo.
(Karen Tapia-Andersen / Los Angeles Times)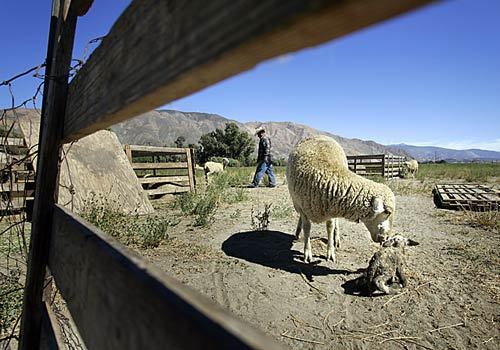 A sheep tenderly cleans and helps her newborn adjust to life in a rural area of Hemet moments after its birth. Sheepherder Cayetouro Murillo cares for about 800 sheep, including 26 lambs and their mothers, along the Ramona Expressway.
(Allen J. Schaben / Los Angeles Times)
A rainbow forms in the mist above a surfer as gusty winds blow off the top of a breaking wave at the Huntington Beach Pier. Southland beaches basked in warm temperatures this week.
(Allen J. Schaben / Los Angeles Times)