10 Images
Global pictures from Oct. 7-13
A woman is escorted from SuccessTech Academy in Cleveland after two teachers and two students were wounded by a 14-year-old gunman who police said then killed himself. The shooter was identified as Asa H. Coon, a 14-year-old who was suspended for fighting two days earlier. Authorities said Coon, armed with two revolvers, fired eight shots as he moved through the converted five-story office building.
(Tony Dejak / Associated Press)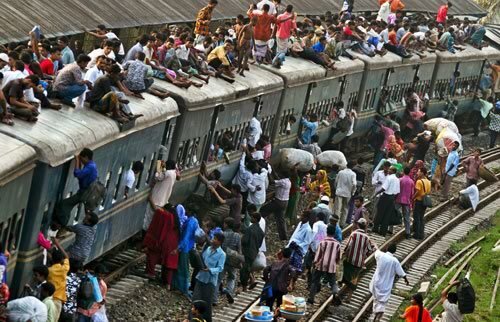 Thousands of Bangladeshis board a packed train traveling to Dhaka, the capital of Bangladesh. Muslims the world over will celebrate Eid-ul-fitr, a holiday that marks the end of Ramadan.
(Abir Abdullah / EPA)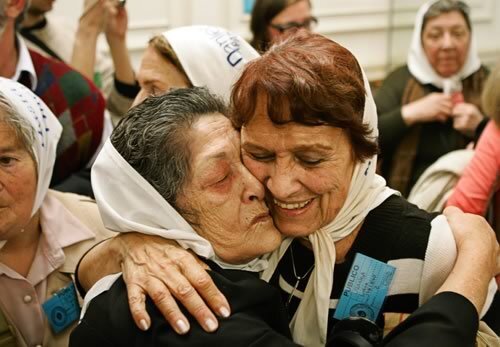 Members of the human rights group Mothers of Plaza de Mayo cheer the guilty verdict of Christian Federico von Wernich in La Plata, Argentina. The Roman Catholic priest was convicted of crimes against humanity for his collaboration with the military dictatorship more than two decades ago and was sentenced to life in prison.
(Natacha Pisarenko / Associated Press)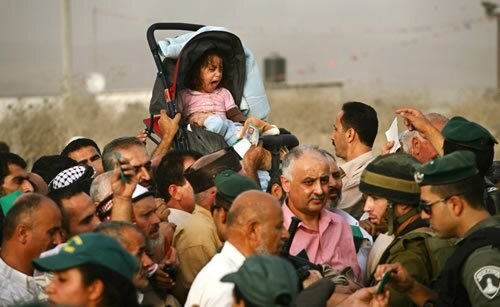 A stroller holding a child and a baby is lifted over the heads of a crowd of Palestinians crossing the Qalandia checkpoint in the West Bank on their way to the Al Aqsa Mosque in Jerusalem, one of Islam's three holiest sites. Thousands of worshipers were headed to the shrine to mark the night of Lailat al Qadr that takes place on the last week of the month of Ramadan.
(Menahem Kahana AFP/Getty Images)
The three daughters of Marani Oranis and two unidentified women cry over the casket of the slain cabdriver at an Armenian church in Baghdad. Oranis and a female passenger were shot to death by private security guards from Unity Resources Group, an Australian-run firm. Witnesses said Oranis' car failed to heed warning signals to yield to the convoy.
(Ali Yussef AFP / Getty Images)
Police arrest a man at an anti-war demonstration in central London. Britain has announced that it plans to cut the number of its troops to 2,500 next spring, but protesters were dismissive of reductions. "What can you do with two and a half thousand troops? It's simply a political gesture to support George Bush," said one.
(Shaun Curry AFP / Getty Images)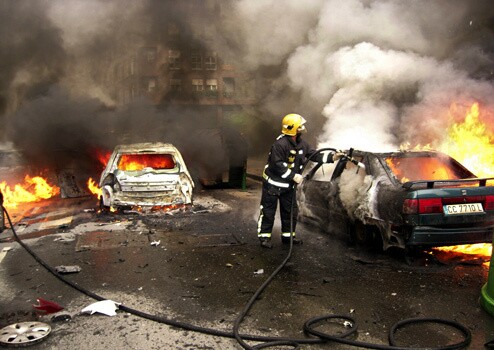 A fireman puts out flames at the scene of a car bombing in Bilbao, Spain, that injured the bodyguard of a member of the ruling Socialist Party. The explosion came days after Spanish police arrested leading members of the banned separatist party Batasuna.
(Luis Calabor / Getty Images)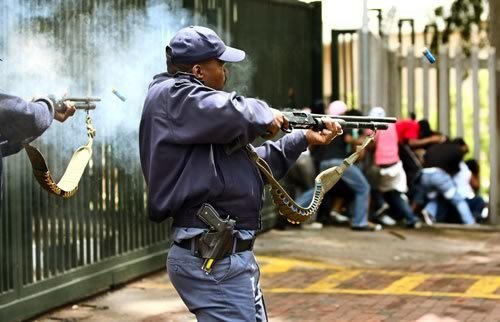 South African police fire rubber bullets and stun grenades at students trying to pull down a main entrance gate at the Kingsway campus of the University of Johannesburg. The protest of about 200 students was sparked by planned fee hikes.
(STR / AFP / Getty Images)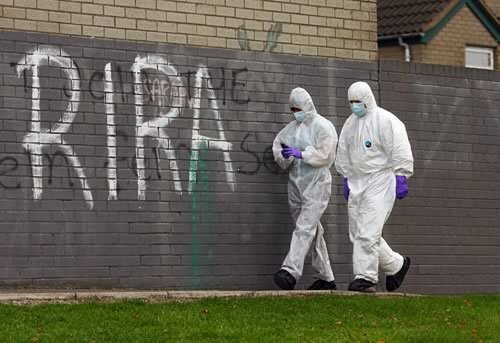 Forensics investigators of the Northern Ireland police force walk past Irish Republican Army graffiti in the Dumbeg Estate of Craigavon. A large police and military operation was undertaken this week against terrorist activity.
(Peter Morrison / Associated Press)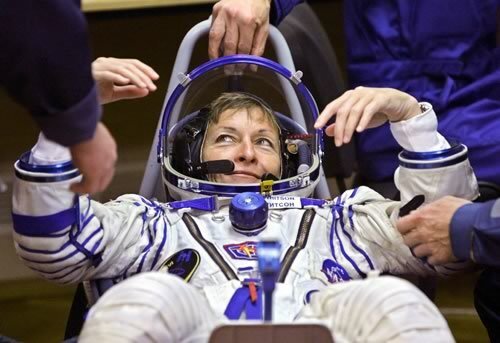 American astronaut Peggy Whitson is to become the first woman to command the International Space Station.
(Yuri Kochetkov / EPA)