12 Images
Christopher Reeve, 1952-2004
'Superman'
Christopher Reeve as "Superman."
(AFP)
'Superman IV'
Christopher Reeve and Gene Hackman in "Superman IV: The Quest for Peace."
(Warner Bros. / AP)
Premiere
Christopher Reeve and co-star Gene Hackman at the premiere of "Superman" in Los Angeles in 1978.
(Reed Saxon / AP)
Jump
Actor Christopher Reeve makes a jump in a cross-country event at the King Oak Farm Horse Trials in Southampton, Mass., in May 1995.
(Elliot D. Novak / AP)
Golden Globes
Christopher Reeve with his wife, Dana, at the 56th Annual Golden Globe Awards in Beverly Hills in January 1999.
(Vince Bucci / AFP)
U.S. Open
Christopher Reeve watches the men's finals at the U.S. Open Sept. 12 in Flushing Meadows, N.Y.
(Andrew Gombert / EPA)
SuperSkate
Christopher Reeve attends the 4th Annual SuperSkate 2002 Charity Hockey Event Jan. 19, 2002, at Madison Square Garden in New York City.
(George De Sota / Getty Images)
National Press Club
Actor Christopher Reeve addresses the National Press Club Oct. 27, 2003, in Washington, D.C., on the fifth anniversary of the discovery of stem cells.
(Mark Wilson / Getty Images)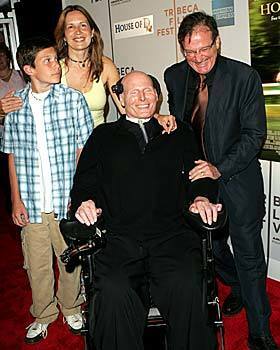 'House of D'
Christopher Reeve, his wife, Dana, son Will and actor Robin Williams attend the premiere of "House of D" in May at the Tribeca Film Festival in New York City.
(Matt Campbell / EPA)
Capitol Hill
Reeve visits Capitol Hill in May 2003 to support the introduction of the Christopher Reeve Paralysis Act of 2003.
(Paul J. Richards / AFP)
Talk Magazine
Christopher Reeve, his daughter, Alexandra, left, and wife, Dana, attend the Talk Magazine inaugural party on Liberty Island in New York in August 1999.
(Stuart Ramson / AP)
Planet Hollywood
Christopher Reeve and his wife, Dana, attend the launch of Planet Hollywood in London, May 1993.
(Rebecca Naden / EPA)