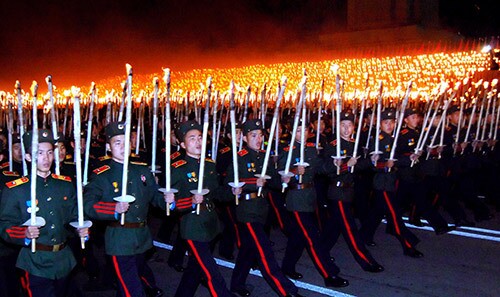 19 Images
The Week in Photos: Oct. 15-21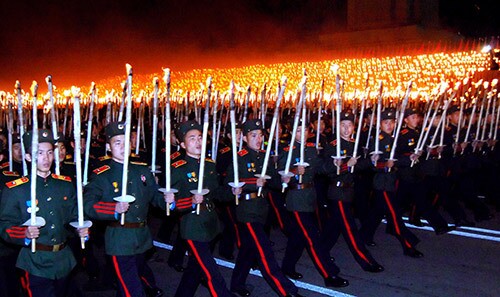 North Korean students participate in a torchlight demonstration marking the 80th anniversary of the Down-with-Imperialism Union in Pyongyang, North Korea. The union became the Korean Workers' Party.
(EPA / KCNA)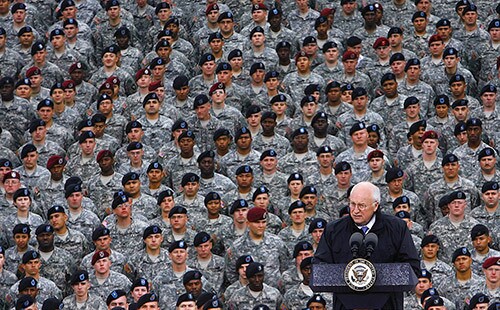 Vice President Dick Cheney addresses members of the 101st Airborne during a visit to Fort Campbell Army Base in Fort Campbell, Ky., on Monday.
(John Russell / AP)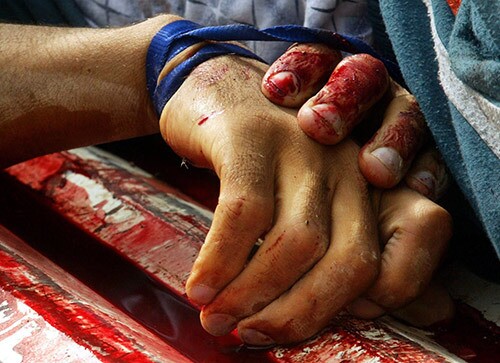 The body of an Iraqi policeman is taken to a hospital morgue in Baqubah. Waves of killing engulfed Baghdad and surrounding areas Monday as bombings, shootings and sectarian executions left more than 100 Iraqis dead.
(Ali Yussef / AFP / Getty Images)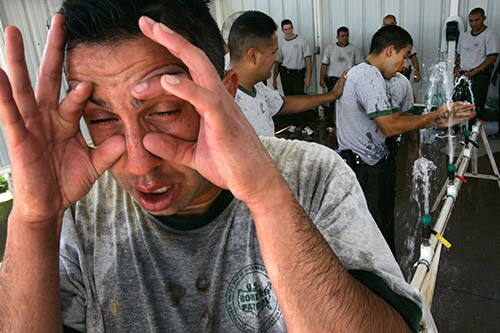 Cadets at the U.S. Border Patrol Academy in Artesia, N.M., rinse their eyes after an exercise involving pepper spray.
(Don Bartletti / LAT)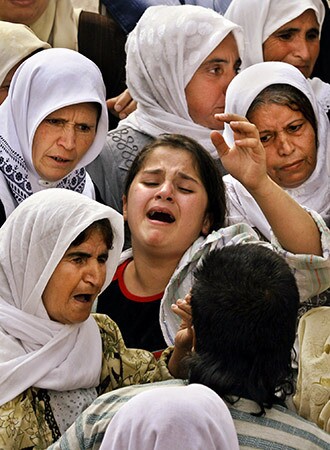 Palestinian relatives of Hani Khalil Kmeil, 20, who was killed by Israeli army soldiers after throwing stones at a jeep, react during his funeral Tuesday in the village of Qabatiya near the West Bank town of Jenin.
(Mohammed Ballas / AP)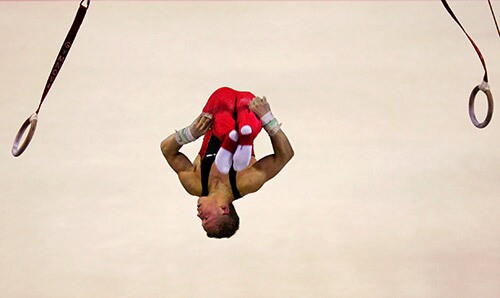 Fabian Hambuechen of Germany finishes competing on the rings during Tuesday's men's team final of the Gymnastics World Championships at the NRGi Arena in Aarhus, Denmark.
(Matt Dunham / AP)
A Honduran man looks for recyclable material at a local dump in Tegucigalpa, Honduras. Officials figures show that 23% of Honduras suffers from hunger, and it's one of the Latin American countries where poverty and hunger has increased.
(Gustavo Amador / EPA)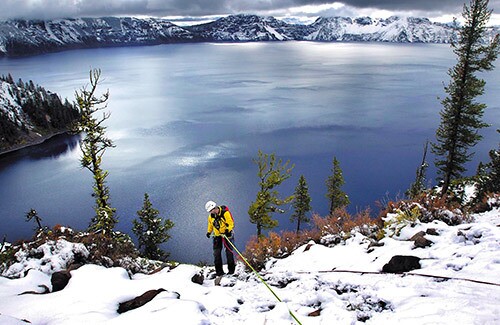 Jason Ramsdell of Yosemite Search and Rescue rappels down Crater Lake in Crater Lake National Park, Ore., on Tuesday. A large rescue party has been searching for 8-year-old Sammie Boehlke of Portland, Ore., who has been missing since Saturday afternoon.
(Jim Craven / AP)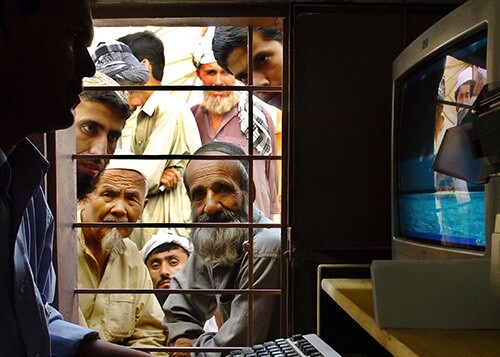 A Pakistani National Data Base and Registration Authority official, left, registers the names of Afghan refugees in Karachi on Tuesday. Pakistan began to register Afghan refugees for the first time and to provide them with official identification during their temporary stay in the country.
(Rizwan Tabassum / Getty Images)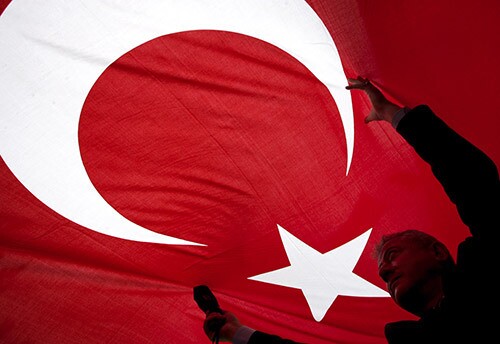 A demonstrator marches under a giant Turkish flag during a protest Wednesday in front of the French Consulate in Istanbul, Turkey. French lawmakers approved a bill that would criminalize denying that the mass killings of Armenians by Ottoman Turks around the time of World War I amounted to genocide. The bill, which as yet to be made law, provoked great anger in Turkey.
(Murad Sezer / AP)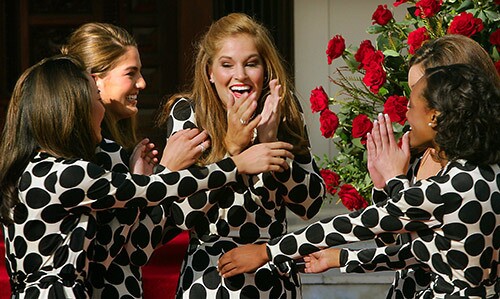 Mary McCluggage, 17, a student at Flintridge Preparatory, center, is congratulated by fellow finalists Tuesday after she was named the 2007 Rose Queen. The selection was based on public speaking ability, poise, academic achievement, community involvement and personality. McCluggage and her court will attend community events and reign over the 118th Rose Parade, to be held Jan. 1 in Pasadena.
(Ken Hively / LAT)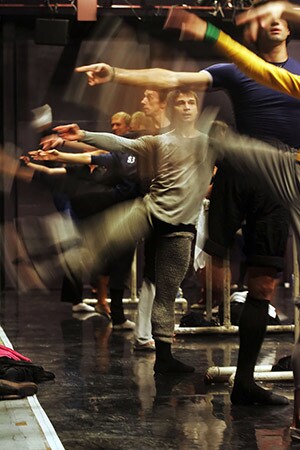 Dancers with Russia's Kirov Ballet exercise during a class at the Orange County Performing Arts Center in Costa Mesa. The Kirov is performing as part of the Mariinsky Festival, which closes Sunday.
(Gary Friedman / LAT)
Catalina Meza kisses her newborn daughter Anareli Lopez at the White Memorial Medical Center on Tuesday in Los Angeles. The Census Bureau had estimated Oct. 17 at 4:46 a.m. as the moment when the 300 millionth U.S. resident would arrive one way or another.
(Richard Hartog / LAT)
Pastor Chun Ki Won of Seoul, South Korea, leads a prayer at Los Angeles Korean Methodist Church. Won championed six North Korean defectors who are the first allowed to resettle in the United States.
(Bryan Chan / LAT)
Mario Martinez 19, takes advantage of cool weather earlier this week to practice his goalkeeper skills while playing soccer with friends at Malibu Bluffs Community Park in Malibu.
(Stephen Osman / LAT)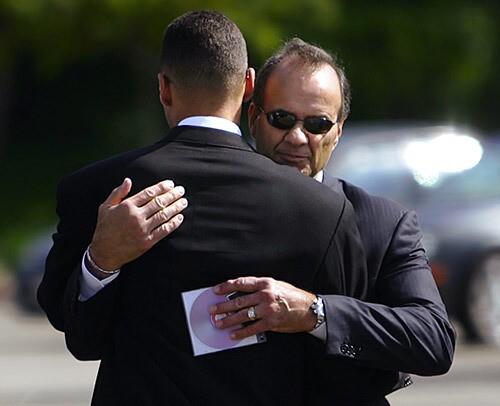 Yankees manager Joe Torre and shortstop Derek Jeter at a memorial for pitcher Cory Lidle, who died last week.
(Spencer Weiner / LAT)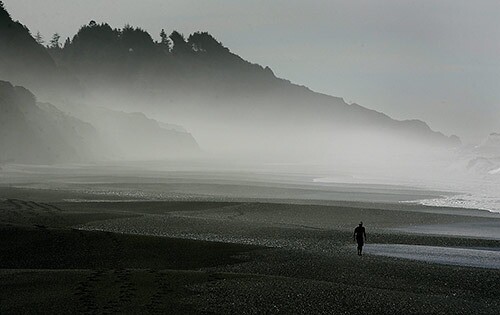 President Bush on Tuesday signed legislation granting wilderness protection to 275,000 acres of federal land in Northern California, including a spectacular stretch of 26-mile coastline in Humboldt County.
(Robert Gauthier / LAT)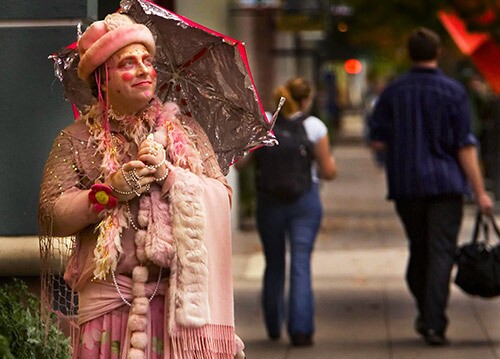 Pacific Avenue, Santa Cruz's most popular commercial thoroughfare, is a haven for performers and panhandlers. Robert "Pinky" Valentino, a former Silicon Valley engineer, inches along the street dressed in his signature outfit.
(Robert Durell / LAT)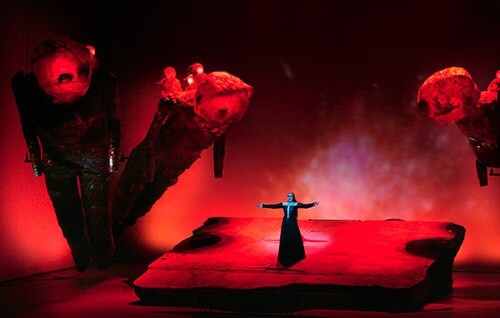 Olga Sergeyeva sings Brünnhilde in "Twilight of the Gods," the last opera in Wagner's "Ring" cycle. The Kirov Opera performed the works at Orange County Performing Arts Center.
(Christine Cotter / LAT)