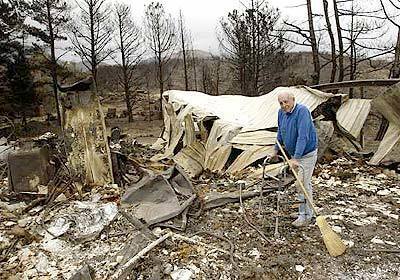 7 Images
Wildfires: Day 10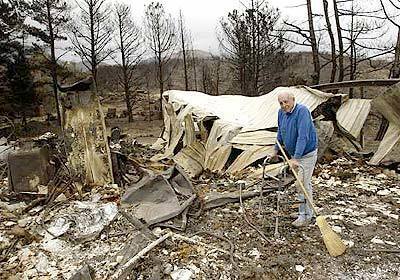 "All that I own is gone," said Clifford Clark, 75, standing in the rubble of his home in Waterman Canyon. Clark, a resident of the San Bernardino Mountains since 1967, lost 35 vintage English motorcycles in the fire. "I'm upset, but I'm not going to wimpy cry about it," he said.
(Genaro Molina / LAT)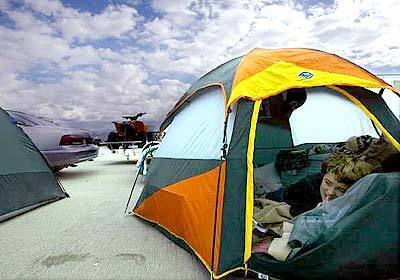 James Wells,13, wakes up in the parking lot of an evacuation center at the San Bernardino International Airport. Wells has been sharing his tent with his sister. He and his family have been at the airport since evacuating from Crestline on Sunday.
(Gina Ferazzi / LAT)
Susie Howeth of Big Bear sits with her cat, Stripes, in a makeshift kennel at the San Bernardino International Airport. Animals are kept in a separate area of the hangar.
(Gina Ferazzi / LAT)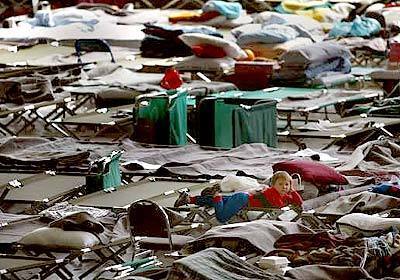 Jordan Medina, 5, rests in his Spider Man pajamas at a hangar at the San Bernardino International Airport. Medina and his family evacuated to the airport from Green Valley Lake. His father, a firefighter, stayed behind to battle the wildfires.
(Gina Ferazzi / LAT)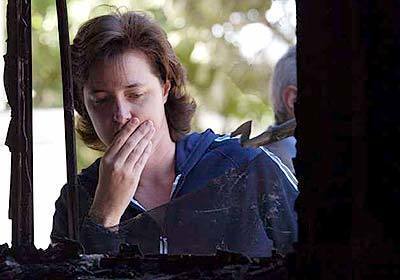 Diane McDonald looks into the window of her burnt-out trailer at the Villa del Arroyo mobile home park in Moorpark. She was sleeping when the fire hit and escaped with only the clothes she was wearing. McDonald just bought the mobile home and was uninsured.
(Bob Carey / LAT)
Insurance adjuster Karen Staker gets a good-bye hug from Derrick Grimes. His San Bernardino home was destroyed in the fire.
(Irfan Khan / LAT)
A man walks through a charred wasteland on Hook Creek Drive in Cedar Glen. Residents have not yet been allowed back into the area.
(Carolyn Cole / LAT)