11 Images
In focus: Staff photos from Oct. 27- Nov. 3
Melissa Puyot celebrates with her friend Kris Hoyt (in green) on Sunday after finding cherished mementos in her destroyed home in Ramona. The small community lost 52 homes in the Witch fire that burned almost 200,000 acres. "This is a positive," Puyot said. "I will not let this fire beat me down."
(Barbara Davidson / Los Angeles Times)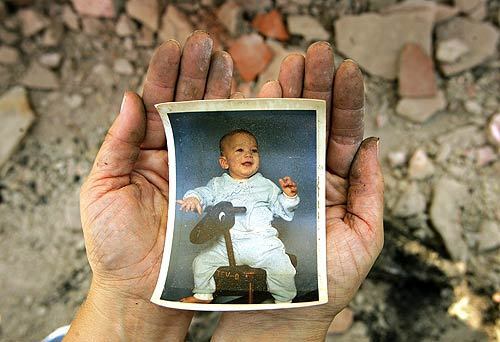 Debby Stout of Rancho Bernardo cradles a portrait of son Stephen when he was about 18 months old; he's 25 now. It was one of the few personal items she recovered after losing her home to the San Diego fires. "We only got out with the clothes on our backs and our dogs. It didn't look like there was any hope for anything else," she said.
(Mel Melcon / Los Angeles Times)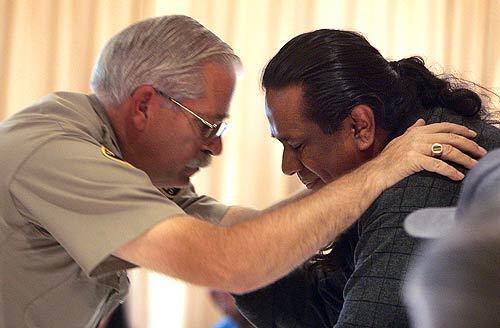 San Diego County Sheriff's Lt. Sean Gerrity comforts La Jolla tribal leader Tracy Nelson. Members of San Diego County Indian tribes were particularly hard-hit by the recent blazes and tribal officials have spoken to firefighters and federal officials about the need for better protection.
(Mark Boster / Los Angeles Times)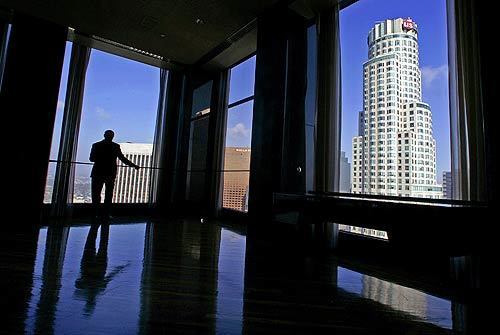 The refurbished City National Plaza is a good indicator of downtown L.A.'s commercial revival. The building stood mostly empty for years but is now mostly full after Thomas Properties spent about $185 million to improve the neglected plaza. The latest statistics show that downtown's commercial vacancy rates are dropping and rents are on the rise.
(Richard Hartog / Los Angeles Times)
Oregon free safety Matthew Harper intercepts a pass in front of USC receiver Fred Davis with seconds left in Saturday's game at Autzen Stadium in Eugene, Ore. The Trojans lost, 24-17.
(Wally Skalij / Los Angeles Times)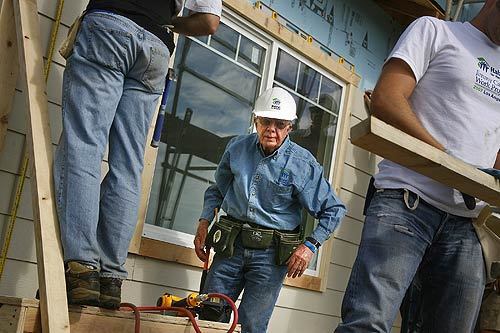 Former President Carter works alongside other volunteers Monday in San Pedro to build one of 16 town houses there and 14 in South L.A. as part of Habitat for Humanity's effort to provide affordable housing for the needy. The units will have solar panels and energy-saving windows.
(Rick Loomis / Los Angeles Times)
A bear wakes up after spending the night in a culvert in Mammoth Lakes, where wandering ursines can be a common site. The bear-admiring eastern Sierra tourist town has a friend in Steve Searles, the Police Department's volunteer wildlife specialist who has gained a national reputation as someone who can deal with problem bears without killing them.
(Robert Durell / Los Angeles Times)
Lakers' Kobe Bryant gets to the ball before the Houston Rockets' Shane Battier in the first quarter of the season opener Tuesday at Staples Center. Bryant was loudly jeered in pregame introductions and the Lakers lost their first game, 95-93.
(Alex Gallardo / Los Angeles Times)
Bruce Springsteen & the E Street Band played a rousing, sold-out show Monday night at the Sports Arena. He opened the concert with his latest single, "Radio Nowhere," and closed with "American Land."
(Gary Friedman / Los Angeles Times)
Screenwriter Jeff Buhler donned a rabbit's head to officiate the October marriage of his goth rocker friends Jessicka Fodera, formerly of Marilyn Manson's band, and Christian Hejnal, a guitarist and visual effects producer at Sony. It was Fodera's idea to have a rabbit, a symbol of fertility since pre-Christian times, officiate -- plus "it exactly sums up our group of friends, " Buhler said.
(Spencer Weiner / Los Angeles Times)
Bruins receiver Terrence Austin gets yanked down by Washington State's Cory Evans after a short gain in the first half Saturday at Martin Stadium in Pullman, Wash. UCLA suffered its first Pac-10 loss as the Cougars piled up 545 yards in a 27-7 victory.
(Gina Ferazzi / Los Angeles Times)