20 Images
The Week in Photos: Oct. 29 - Nov. 4
la-1102-week01-j6j120nc
Herb Lingl with Lake County Biplane Tours of Lakeport, Calif., takes visitors on an aerial spin above lakes and landscapes in the Northern California area.
(Mark Boster / LAT)
la-1102-week03-j82x5enc
A U.S. Forest Service firefighter visits the scene where five of his colleagues were killed on Oct. 26, 2006 by the windblown Esperanza fire's unpredictable flames.
(Gina Ferazzi / LAT)
la-1102-week04-j7vehznc
USC receiver Steve Smith pounds the turf as Oregon State defenders celebrate after an incomplete pass in the fourth quarter Saturday. Smith didn't miss many on a day when he had 11 receptions for 258 yards and two touchdowns.
(Wally Skalij / LAT)
la-1102-week05-j7ro9inc
Visitors to Chapman Plaza in Koreatown chat while waiting for their cars after having dinner there. The L.A. district is a popular shopping spot for South Korean tourists.
(Béatrice de Géa / LAT)
la-1102-week06-j7t9qonc
LAPD officers carry the flag-draped coffin of Landon Dorris, the first on-duty Los Angeles Police Department officer to die in the line of duty since 2004.
(Al Seib / LAT)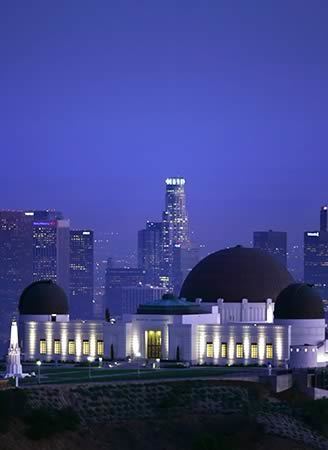 la-1102-week07-j7nqfbnc
The Griffith Observatory glows in front of the downtown Los Angeles skyline. The observatory reopens to the public Friday.
(Wally Skalij / LAT)
la-1102-week08-j81mv8nc
Fans go wild during a My Chemical Romance gig Tuesday at House of Blues Sunset Strip. "This band is speaking their language, which is why it all feels so poignant right now," one fan said.
(Christine Cotter / LAT)
la-1102-week09-j816konc
Three-year-old Ava Ruggiero gets a good look at Jennifer Friel at Tuesday night's Halloween street party in West Hollywood. The annual event features entertainment on four stages, as well as costume and dancing contests, and draws hundreds of thousands of revelers.
(Spencer Weiner / LAT)
la-1102-week10-j7tqdtnc
Eoin Heavey, left, and Casey Madden, UC Berkeley students kiss as the sun sets in Isla Vista, Calif.
(Stephen Osman / LAT)
la-1102-week11-j80w9znc
Bobbi Knier, center, widow of Sgt. 1st Class Tony L. Knier, is comforted by his mother Betty Tidwell at his funeral in Wellsboro, Pa. Her husband "wouldn't have wanted to be anywhere else" than Iraq, Bobbi said.
(Carolyn Cole / LAT)
la-1102-week12-j80w9znc
Spc. Eric Schulz greets his daughters Brilynn, 1, and Breann, 3, as he arrives at Fort Carson on Tuesday after a year-long tour in Iraq.
(Todd Heisler / Rocky Mountain News)
la-1102-week13-j7zywinc
In this handout from the British Ministry of Defense, a Royal Marines advance party for Operation Silica arrives to patrol the streets of Now Zad, Afghanistan.
(Sean Clee / Getty Images)
la-1102-week14-j826fbnc
A man walks near a temple as a woman cleans an altar in downtown Oaxaca, Mexico, on Wednesday's Day of the Dead celebrations.
(Guillermo Arias / LAT)
la-1102-week15-j81zk2nc
The Russian air force acrobatic team performs at Airshow China 2006 on Wednesday in Zhuhai in south China. The world's major aircraft manufacturers gather in China hoping to lure customers.
(Guang Niu / Getty Images)
la-1102-week16-j824lync
A Balinese boy gets a shower in Bali, Indonesia on Wednesday. Several areas on the resort island of Bali have been hit by drought, forcing villagers to walk miles to find water for their daily needs.
(Made Nagi / EPA)
la-1102-week17-j82ddxnc
A surfer takes a ride as an autumn storm brings joy to surfers but people traveling on the North Sea from Newcastle did not enjoy the rough waves Wednesday.
(Olaf Kraak / EPA)
la-1102-week18-j83kgbnc
Candidates raise their hands while performing a physical test during an Indian army recruitment rally in Anantnag, India on Thursday.
(Rafiq Maqbool / AP Photo)
la-1102-week19-j80vx0nc
St .Paul's Cathedral is in the distance as people walk across Millenium Bridge on Tuesday in London. A cathedral dedicated to St. Paul has overlooked London since AD 604. The current cathedral is the fourth to occupy the site and was designed by Sir Christopher Wren.
(Daniel Berehulak / Getty Images)
la-1102-week20-j843rznc
Feda Mohammed, an electrician with Bibimahro power plant, cuts old power lines to improve the electricity in a residential neighborhood Thursday in Kabul, Afghanistan. Almost five years after the fall of the Taliban, most Afghans still don't have sufficient power while many have none.
(Paula Bronstein / Getty Images)
la-1102-week21-j85xbtnc
Rescue workers on horseback lead a herd of horses through flooded fields from a small knoll in Marrum, Netherlands on Friday.
(Peter Dejong / AP Photo)