Dr. Dre, left, George Wallace and Snoop Dogg mix it up in "The Wash," a caper comedy by writer-director DJ Pooh.
Wednesday
(LYNN ALSTON)
Daniel Radcliffe, center, looks on in shock while Devon Murray does some wand work.
Friday
(PETER MOUNTAIN)
Steve Martin plays a dentist and Helena Bonham Carter his
femme fatale
in "Novocaine."
(MARK FELLMAN)
Harry Connick Jr. and Lynn Redgrave in the drama "The Simian Line."
(Gabriel Film Group)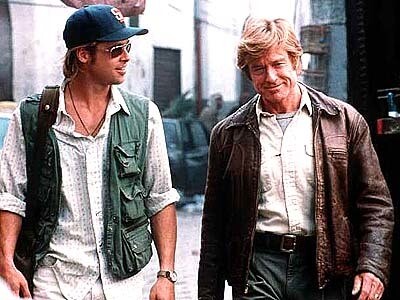 Brad Pitt, left, is CIA agent Robert Redford's protégé in "Spy Game."
Nov. 21
(KEITH HAMSHERE)
Martin Lawrence, with Marsha Thomason, is transported in "Black Knight."
Nov. 21
(NICOLA GOODE)
Sissy Spacek and Tom Wilkinson in "In the Bedroom."
Nov. 23
(JOHN CLIFFORD)
Hilary Swank and Adrien Brody in "The Affair of the Necklace," set in the court of Louis XVI.
Nov. 30
(MURRAY CLOSE)
Julia Roberts and George Clooney in "Ocean's Eleven."
(BOB MARSHAK)
Julia Stiles, left, and Stockard Channing play a game of cat and mouse in "The Business of Strangers."
Dec. 7
(JOJO WHILDEN)
Jaime Pressly, center, plays a nasty cheerleader in the high school spoof "Not Another Teen Movie."
Dec. 14
(RICO TORRES)
Tom Cruise and Penélope Cruz headline "Vanilla Sky," a remake of the Spanish "Open Your Eyes."
Dec. 14
(PARAMOUNT PICTURES)
Luke Wilson, left, and Gene Hackman in "The Royal Tenenbaums," from director Wes Anderson (of "Rushmore" fame).
Dec. 14
(JAMES HAMILTON)
"It's exactly what I needed in this period of my life," Carrey says of his role in "The Majestic." The film co-stars Laurie Holden.
(RALPH NELSON)
Tim Allen is a corporate Everyman trying to make some changes in "Joe Somebody."
Dec. 21
(JOE LEDERER)
Elijah Wood, center, as the hobbit Frodo, addresses the Council of Elrond in December's "The Lord of the Rings: The Fellowship of the Ring."
Dec. 19
(New Line Cinema)
Lark Voorhies, Method Man and Redman in "How High."
Dec. 21
()
Jimmy Neutron and the gang.
()
"Ali's" title hero, played by Will Smith, is a prizefighter who became a '60s draft resister.
(FRANK CONNOR)
Russell Crowe, left, Adam Goldberg and Josh Lucas in the Ron Howard-directed "A Beautiful Mind."
Dec. 25
(Universal Pictures)
Kevin Spacey is reunited with his aunt, played by Judi Dench, in "The Shipping News," based on the Pulitzer Prize-winning novel.
Dec. 25
(DOANE GREGORY)
Michael Gambon, Kristin Scott Thomas, center, and Camilla Rutherford in "Gosford Park," a drama set in 1932 England.
Dec. 26
(MARK TILLIE)
Halle Berry and Billy Bob Thornton in "Monster's Ball," about a family of prison guards.
Dec. 26
(JEANNE LOUISE BULLIARD)
Michelle Pfeiffer and Sean Penn in "I Am Sam," about a mentally challenged father's custody fight.
Dec. 28
(LOREY SEBASTAIN)
"Black Hawk Down" is based on the nonfiction account of U.S. soldiers who crashed in Somalia in 1993.
Dec. 28
(Revolution Studios / Columbia Pictures)
WWII heroes appear to be back in vogue: Billy Crudup and Cate Blanchett in "Charlotte Gray."
(JAAP BUITENDIJK)