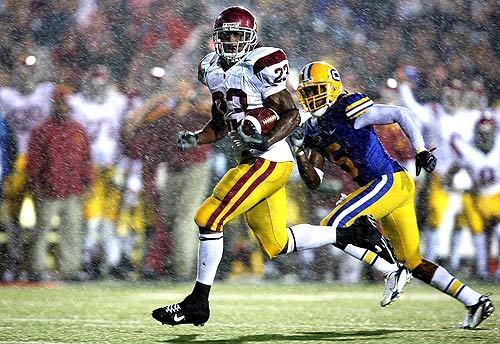 12 Images
In focus: Staff photos from Nov. 11-17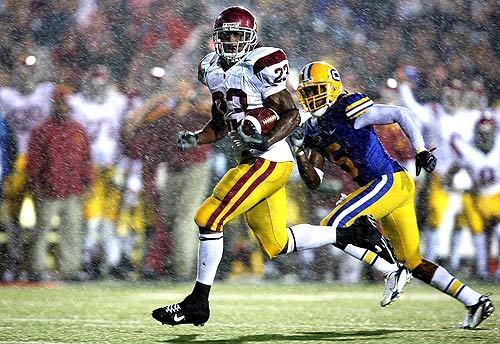 Chauncey Washington scored on a 36-yard run in the second quarter against California on Saturday. The Trojans won 24-17 before a rain-soaked, sold-out crowd of 72,516 at Berkeley.
(Wally Skalij / Los Angeles Times)
Comet Holmes shines above rock formations in Anza-Borrego Desert State Park's Coyote Canyon. The comet can usually only be seen with a telescope, but it has become dramatically brighter and can be seen by the naked eye in the northeastern sky. It's magnified by a 300 mm lens and a 23-second exposure
(Don Bartletti / Los Angeles Times)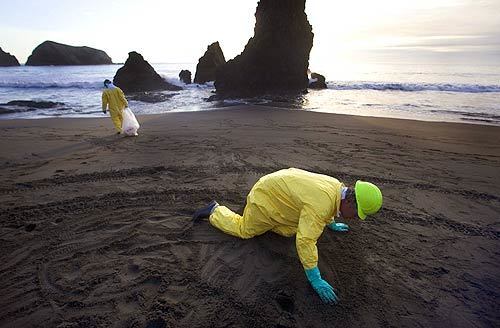 Cleanup crews collect globs of oil from Rodeo Beach in Marin County. The spill in San Francisco Bay has tainted most of the beaches in the area and has blackened shorelines as far north as Point Reyes.
(Robert Durell / Los Angeles Times)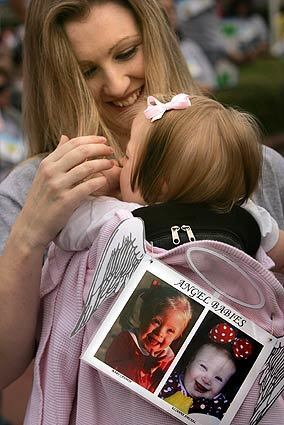 Susan Joeckel, with her 9-month-old daughter, Elianna, took part in the National Down Syndrome Society's 13th annual Buddy Walk at the Santa Anita Park race track. About 150,000 walkers joined the event, which promotes acceptance and inclusion of the estimated 350,000 people with Down syndrome in the United States.
(Anne Cusack / Los Angeles Times)
Steve Hauber, an extra in the period thriller "The Changeling," which is being shot in front of L.A. City Hall, uses his cellphone between scenes. The film is based on the true story of the disappearance of a boy in the 1920s.
(Annie Wells / Los Angeles Times)
More than 3,500 writers, actors and supporters congregated along Century City's Avenue of the Stars to rally near the 20th Century Fox studios. Among the speakers at the 45-minute rally were Rev. Jesse Jackson, producer Norman Lear and "Family Guy" creator Seth McFarland.
(Mark Boster / Los Angeles Times)
Mayra Morales, shown with her 5-month-old son Pedro, is a breast-feeding peer counselor at St. Francis Medical Center in Lynwood. Through a WIC program, she helps new mothers learn how to nurse their infants. The hospital is trying to improve its breast-feeding rate.
(Anne Cusack / Los Angeles Times)
UCLA quarterback Osaar Rasshan is swarmed by the Arizona State defense, including Jon Hargis, right, during the second quarter at the Rose Bowl. The Bruins lost 24-20.
(Richard Hartog / Los Angeles Times)
A Markham Middle School student walks past a nearly completed mural with silhouettes of active children on the back of the gym. Volunteers converged on the South L.A. campus to paint murals and provide other improvements. City Atty.
Rocky Delgadillo
's office adopted the school after parents complained they didn't feel safe sending their children there.
(Mel Melcon / Los Angeles Times)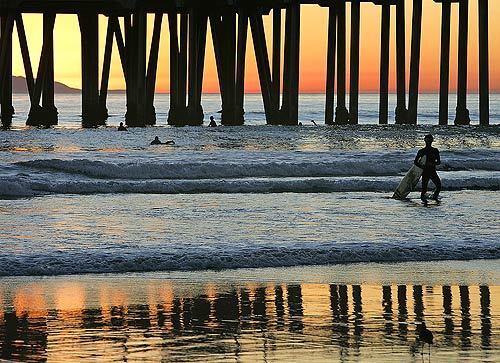 Surfers take to the water by Huntington Beach Pier on a warm evening this week. According to the city, more than 11 million visitors flock to "Surf City USA" each year.
(Lori Shepler / Los Angeles Times)
A wall of stained glass reflects the interior of Encounter, the iconic LAX eatery that has reopened after eight months of repairs. The kitschy landmark housed in the Theme Building was closed in March after a 1,000-pound piece of stucco fell from one of its spider-like arches.
(Genaro Molina / Los Angeles Times)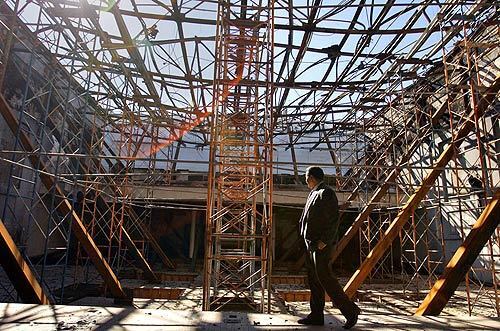 Omar Del Cueto, principal of Garfield High School, walks through the site of the gutted auditorium that was destroyed in a fire in May. Los Lobos band members gave the school a check for $195,000 to help rebuild the auditorium.
(Gary Friedman / Los Angeles Times)