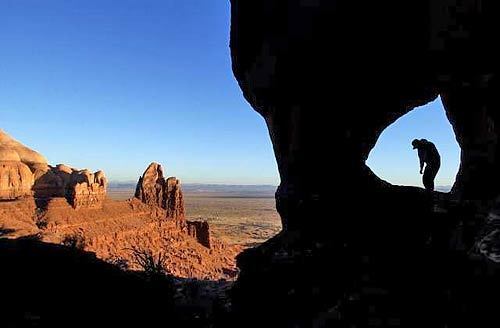 19 Images
The Week in Photos: Nov. 19-25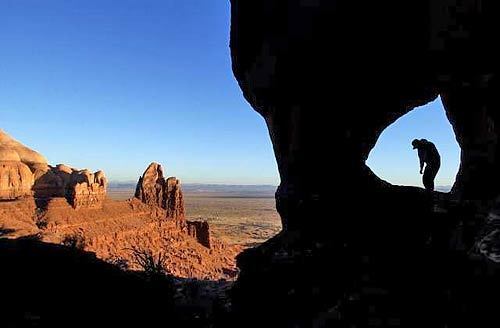 Uranium for the U.S. arms race with the Soviet Union was chiseled and blasted from a desert reservation that spans parts of Arizona, New Mexico and Utah. Part of the reservation is shown here.
(Gail Fisher / LAT)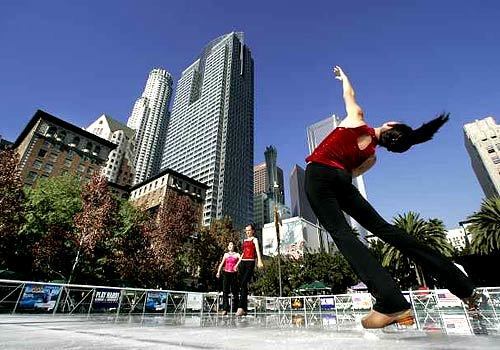 City of Angels Ice Theatre skaters hit the rink at Pershing Square last week. It's open through Jan. 15.
(Brian Vander Brug / LAT)
Students march down Westwood Boulevard toward the UCLA Police Department to call for an impartial investigation of officers' use of a Taser against student Mostafa Tabatabainejad in the campus library.
(Genaro Molina / LAT)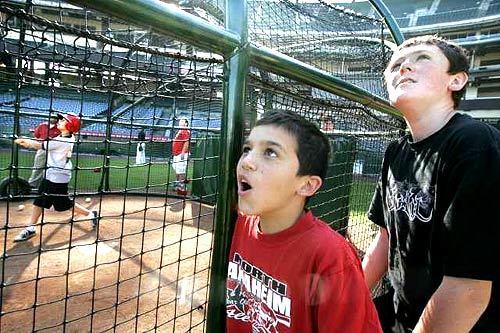 Russell Terry, left, and Hunter Gervais watch a ball hit by their friend Turner Buis during a batting session at Angel Stadium last Friday. The sixth-graders each received 20 pitches in exchange for giving 60 cans of food to Second Harvest Food Bank.
(Don Bartletti / LAT)
C.J. Gable is tackled by Daymeion Hughes, one of several Cal defenders chasing the USC freshman on his 24-yard run in the third quarter. USC won the game and is assured of at least going to the Rose Bowl.
(Lori Shepler / LAT)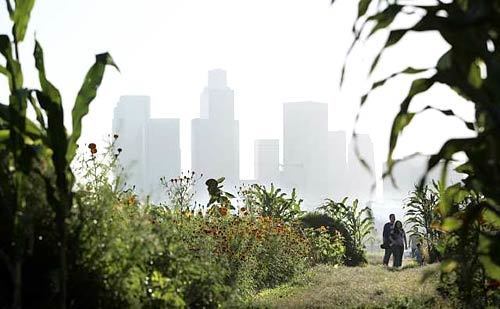 Visitors to the L.A. art installation last summer known as "Cornhenge" were able to walk through a field of corn that recalled the early days of the city, when corn sprouted there from seed spilled from railroad cars.
(Carlos Chavez / LAT)
Seeking smugglers of people or drugs a mile inside a drainage tunnel, Border Patrol Agent Jim Amstedz yanks open a steel gate that marks the U.S.-Mexican border. Agents Scott Connors, left, and Scott Wencel are ready for anything.
(Don Bartletti / LAT)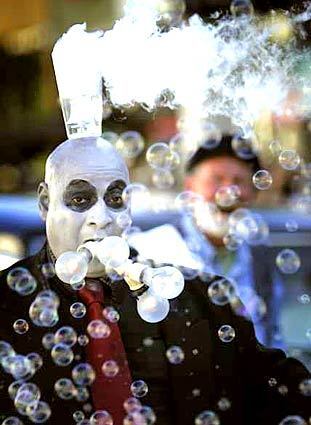 Charles Delvalle does a high-voltage update on Uncle Fester of "The Addams Family." He was one of the more than 100 marching groups to participate in Sunday's Doo Dah Parade in Pasadena.
(Stephen Osman / LAT)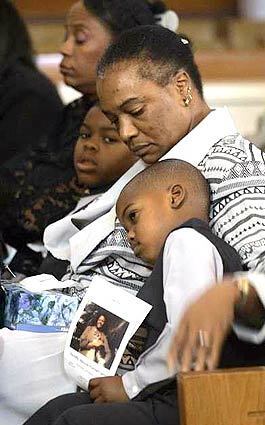 Erica Hinton, a daughter of Dorothy Ridlespriger, comforts her twin sons Jamal, foreground, and Jalen Hamilton at the memorial. Ridlespriger was a longtime L.A. County poll worker. She was found dead the day after elections.
(Gary Friedman / LAT)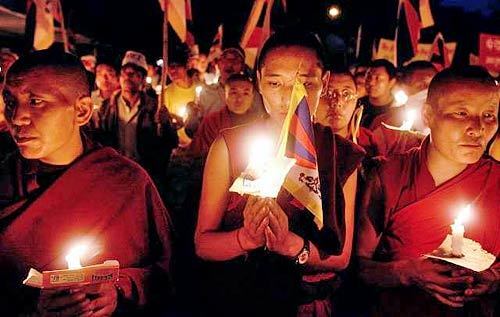 Exiled Tibetan Buddhist monks in New Delhi hold candles during a protest march Monday against the visit of Chinese President Hu Jintao to India.
(Manan Vatsyayana / AFP / Getty Images)
The coffin and a poster of assassinated Christian politician Pierre Gemayel are carried towards the family home in Bikfaya, Lebanon on Wednesday.
(Ben Curtis / AP)
Chadian children rest after an attack on their village forced them to flee Monday to a site for internally displaced people at Goz Beida, Chad.
(Marco Di Lauro / Getty Images)
Indian children dressed as Hindu deities Lord Ram and Lakshman take part in a procession to commemerate the birthday of Shri Madhavrao Sadashivrao Golwalkar in Amritsar, India, on Sunday. Golwalkar was leader of the Rashtriya Swayamsevak Sangh, a militant Hindu-nationalist movement that claims membership of more than 1 million.
(Narinder Nanu AFP/Getty Images)
Palestinian girls look from a balcony at the area where Palestinian residents flocked to the home of a Hamas militant to prevent the Israeli army from carrying out an airstrike Monday in the northern Gaza Strip town of Beit Lahiya.
(Majed Hamdan / AP)
Maddy Harris jumps with her mountain bike off a 45-foot-high waterfall on Inchree Falls near Fort William, Scotland.
(Jeff J. Mitchell / Getty Images)
In a photo released by Chabad.org, more than 1,000 other rabbis wait to have a group photo taken in front of Chabad-Lubavitch world headquarters in Brooklyn, N.Y., on Sunday.
(Tina Fineberg / AP / Chabad.org)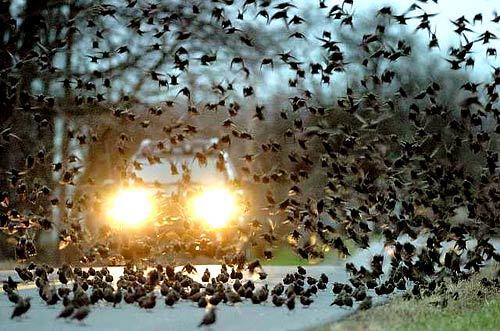 A vehicle drives along Frosty Valley Road in Kaseville, Pa., on Monday as a flock of starlings takes flight.
(Jimmy May / AP / The Press-Enterprise)
Dancers from the French nightclub Moulin Rouge pose for photographers during a preview of their gala dinner for the French Chamber of Commerce in Japan on Tuesday.
(Yoshikazu Tsuno / AFP / Getty Images)
Mares perform during a rehearsal of Sicab 2006, Spain's international horse show in Seville. The showcase of purebreds runs through Sunday.
(Cristina Quicler / AFP / Getty Images)