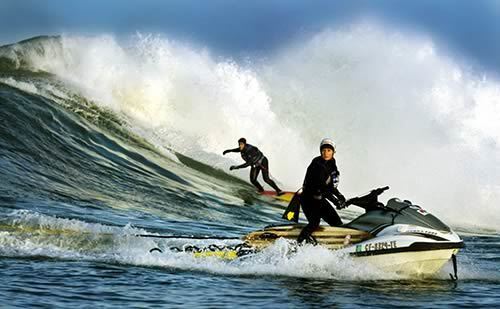 20 Images
The Week in Photos: Nov. 26 - Dec. 2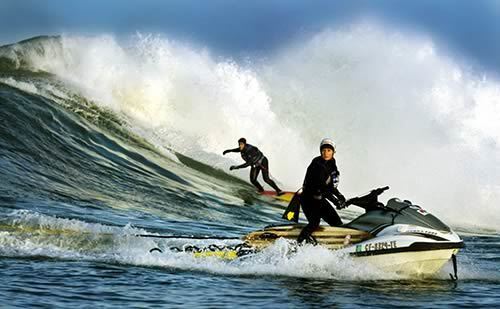 Rescue expert Shawn Alladio rides a personal watercraft, ready to tow in surfer Marcelo Ulyssea at Maverick's near Half Moon Bay. The National Marine Sanctuary is considering a ban on personal watercraft at the hard-to-reach spot whose 40- to 60-foot waves draw surfers from around the world.
(Allen J. Schaben / LAT)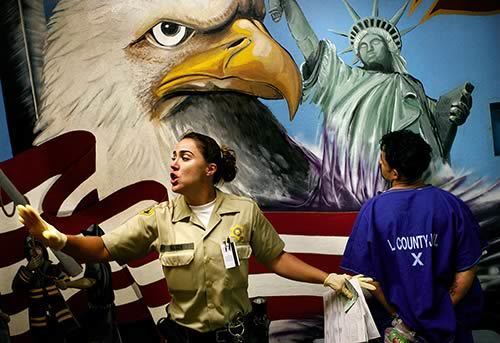 Deputy April Nelsen disperses prisoners after an inmate attempted suicide at the downtown jail in Los Angeles. The work is tough. "You're either physically tired or mentally tired," Nelsen said.
(Wally Skalij / LAT)
Cold, dry Santa Ana winds buffet the sand south of the pier at Huntington Beach. Chilly gusts of up to 70 mph caused scattered power outages throughout the region.
(Mark Boster / LAT)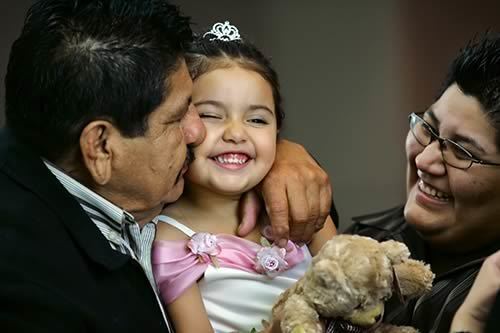 Fred Esquibel congratulates 4-year-old Cinderella upon her adoption by his daughter Liliana Esquibel of Corona. The Ontario Convention Center functioned as the courthouse as judges and legal aides administered the ceremony for hundreds.
(Irfan Khan / LAT)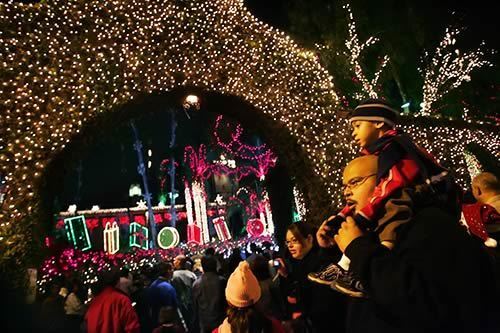 Anthony Pereyra and his son, Joseph, enjoy the opening ceremonies of the Festival of Lights at the Mission Inn in downtown Riverside last Friday night. The annual event runs nightly through Jan. 1.
(Ken Hively / LAT)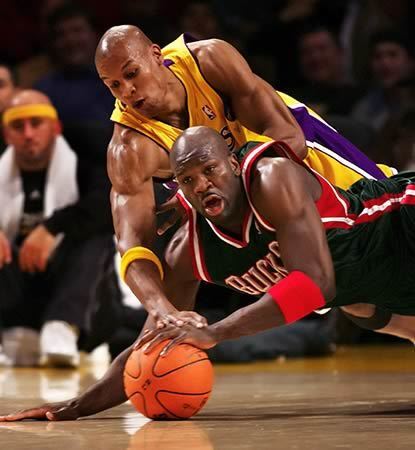 The Lakers' Maurice Evans and Milwaukee's Ruben Patterson go after a loose ball during the second quarter Tuesday.
(Richard Hartog / LAT)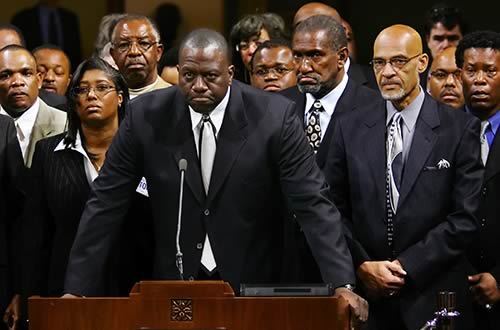 Firefighter Tennie Pierce addresses the Los Angeles City Council with his wife, Brenda, at his side. Standing with him at right are Willis Edwards, a national board member of the NAACP; Earl Ofari Hutchinson, president of the Urban Policy Roundtable; and, at far right, Eddie Jones, president of the L.A. Civil Rights Assn.
(Luis Sinco / LAT)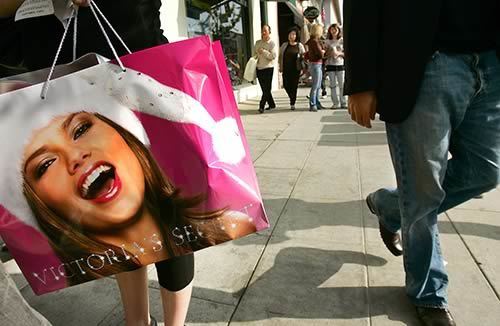 Shoppers pound the pavement along Colorado Boulevard in Pasadena as holiday selling begins. It's a "make-it-or-break-it season for many" retailers, a consultant says.
(Brian Vander Brug / LAT)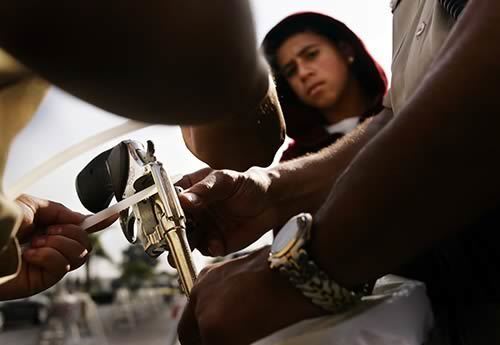 Brandon Saunders, 14, watches as his father, Los Angeles County Sheriff's Sgt. Gregory Saunders, collects a gun at a Compton strip mall. Dozens of people turned in firearms in exchange for $50 gift cards at the "Gifts for Guns" event.
(Béatrice de Géa / LAT)
The band Classic — Stew Newall on drums, Darryl Mapp on piano and Joe Cardinal on bass, trumpet, saxophone and trombone — plays "old historic blues" for passersby in Seal Beach. Their dog, Duke, above, keeps attuned to the vibe. The band's piano sits in a Chevy pickup, and their amps are powered by a car battery.
(Allen J. Schaben / LAT)
A 5-year-old girl was among some 400 people who gathered to hear speeches from community leaders about a police shooting of an unarmed man in Queens, N.Y.
(Carolyn Cole / LAT)
An employee of the Chernobyl nuclear power plant in Ukraine looks at the control panel while the last atomic fuel from the reactor is unloaded.
(Sergei Supinsky / AFP / Getty Images)
Filipino medics carry a woman into a nearby hospital after she inhaled hazardous chemicals dumped into a stream in Marilao town, Bulacan province, north of Manila on Tuesday.
(Dennis M. Sabangan / EPA)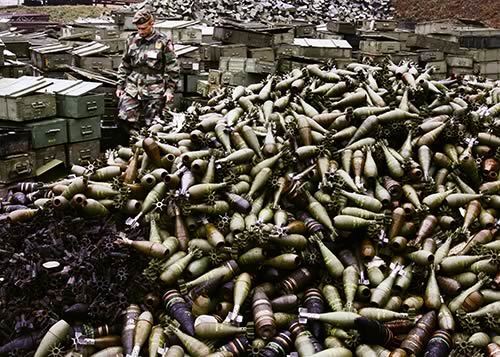 A Bosnian soldier walks past previously destroyed ammunition and mortar rounds at yesterday's inauguration ceremony for the Explosive Waste Incinerator at the Bosnian Government Ordinance Facility, in Doboj, about 62 miles north of Sarajevo, Bosnia.
(Amel Emric / AP Photo)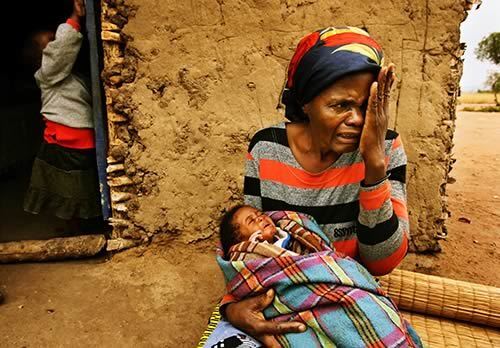 Thoko Xaba of Swaziland weeps for her daughter Jabu, who died of AIDS the day before at age 31. Jabu's daughter, Siphephile, shows signs of the virus and, at less than 2 weeks old, has little chance to survive.
(Carolyn Cole / LAT)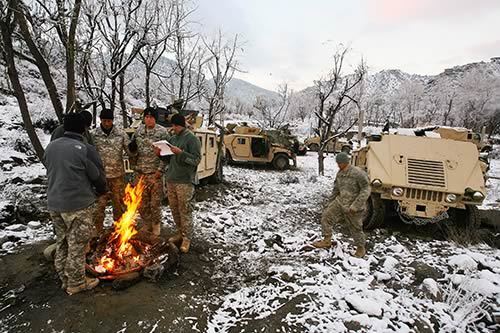 U.S. soldiers from 1-32 Infantry Battallion, attached to 4-25 Field Artilley Battalion, 10th Mountain Division, warm themselves by a campfire at dawn Wednesday in Paktia province, Afghanistan.
(John D. McHugh / AFP / Getty Images)
Kashmiri villagers shout slogans during the funeral of Sohail Faisal, a top commander of the Hizbul Mujahedeen militant group in Jabli Pora village, about 28 miles south of Srinagar, India, on Tuesday.
(Rafiq Maqbool / AP Photo)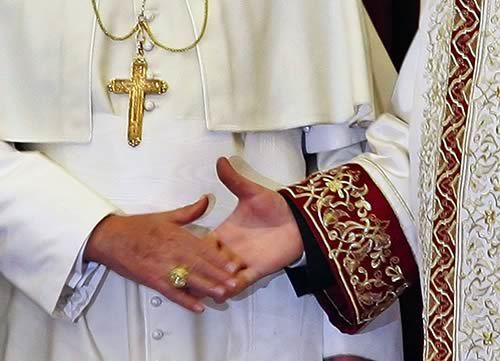 Pope Benedict XVI, left, and Turkey's chief Islamic cleric Ali Bardakoglu shake hands as they meet at the Diyanet Presidency for Religious Affairs in Ankara, Turkey, on Tuesday.
(Petr David Josek / AP Photo)
A Lebanese youth holds a portrait of assassinated Lebanese cabinet minister Pierre Gemayel as hundreds of supporters gathered Tuesday to mark one week after his assassination.
(Hassan Ammar / AFP / Getty Images)
A woman carries a mattress and other belongings past Congolese army soldiers as she flees to escape fighting between U.N.-backed government forces and renegade troops loyal to a local warlord, in the village of Sake in eastern Congo, Africa, on Tuesday.
(Riccardo Gangale / AP Photo)