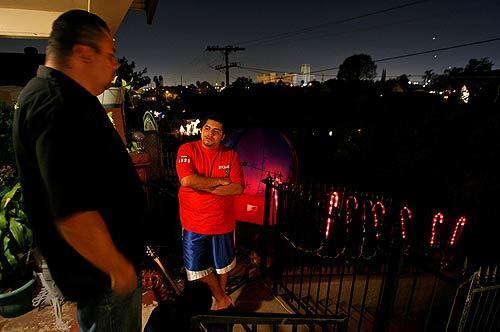 11 Images
In focus: Staff photos from Dec. 2-8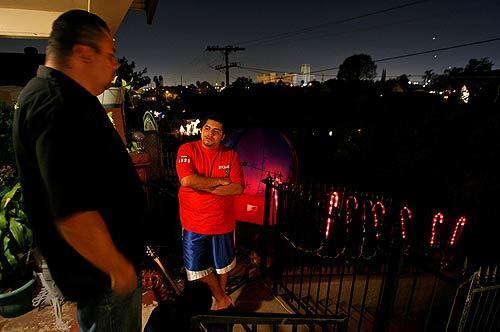 Fernando Diaz, left, talks with his nephew, Anthony Saucedo, in a darkened area of Boyle Heights. The streetlights have been out the last few months because thieves have made off with valuable copper wiring. Other problem spots include the east San Fernando Valley, Wilmington and a three-mile stretch of the Los Angeles River Bike Path between Los Feliz Boulevard and the L.A. Zoo.
(Wally Skalij / Los Angeles Times)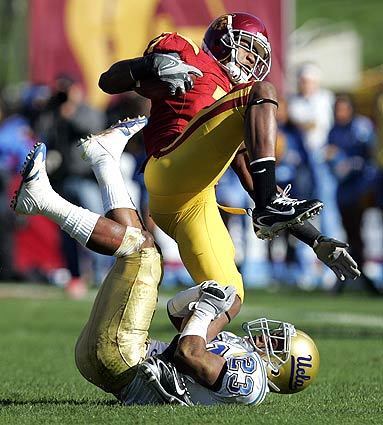 USC receiver Vidal Hazelton is all over UCLA's Trey Brown after making a catch in the first quarter at the Coliseum. The Trojans won, 24-7, and are heading for the Rose Bowl for the third year in a row.
(Alex Gallardo / Los Angeles Times)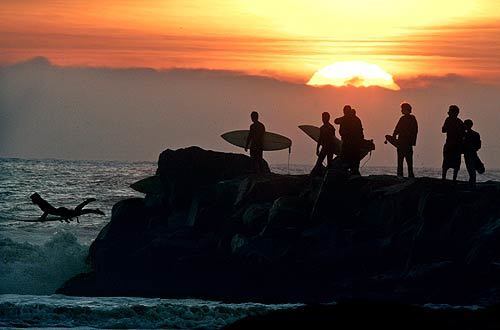 With sunset upon them, surfers gather at the Oceanside Harbor jetty to catch some of the biggest waves to hit Southern California this year.
(Don Bartletti / Los Angeles Times)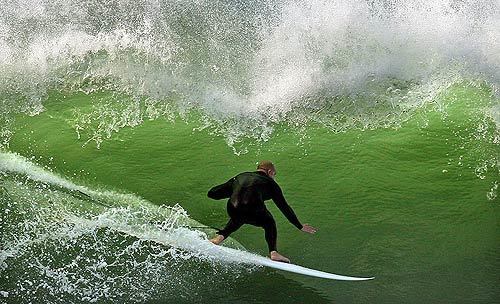 A surfer makes his way through a tube in Hermosa Beach on Wednesday, when the surf reached a high point. A brewing storm whipped up 15-foot waves along the Southern California coast.
(Wally Skalij / Los Angeles Times)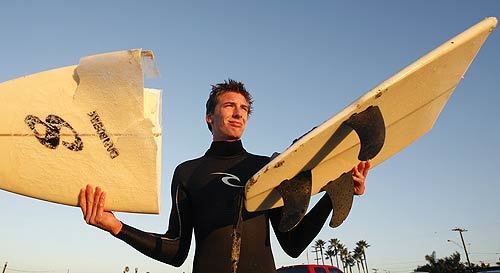 Jake Pryharski's surfboard couldn't survive the pounding of the waves at Seal Beach.
(Mark Boster / Los Angeles Times)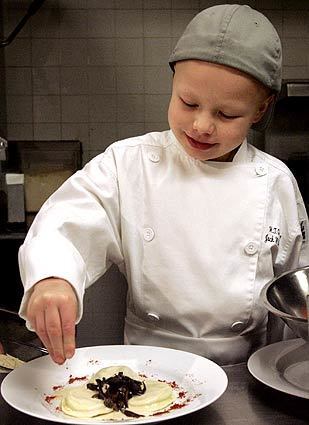 Jack Witherspoon, 7, tops off a dish at the HT Grill in Redondo Beach. He helped prepare a four-course dinner as part of a fundraiser for Miller Children's Hospital in Long Beach where he is being treated for leukemia. He caught the cooking bug at the hospital after watching hours of cooking shows during chemotherapy treatment stints.
(Lawrence K. Ho / Los Angeles Times)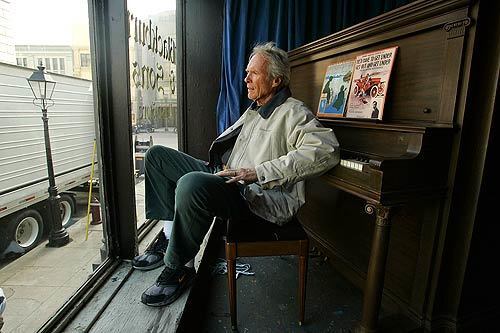 Clint Eastwood was so taken with the poignant "Grace is Gone" that he agreed to re-score the film. He's won two Oscars for directing, and with his latest elegiac score, he could be nominated as a composer as well.
(Mark Boster / Los Angeles Times)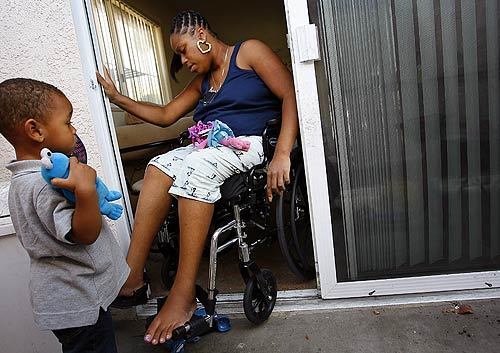 Tyrin Tisdale Jr., 2, watches his mother, Rose Smith, as she struggles to get into their apartment, which has been adapted for her needs. She was paralyzed from the waist down last spring, struck by a stray bullet as she ran to her home in Nickerson Gardens to make sure her children were safe. She says her husband, Tyrin Tisdale, has given her strength: "He is the only one who makes me feel protected and OK."
(Barbara Davidson / Los Angeles Times)
Rafael Muro, 14, plays ball with Carlos Valdez, 12, at a park in Placentia. The teens said they were grateful to be outside. "We play soccer Monday through Friday but had to be stuck in the house and watch TV all day because of the rain," Rafael said.
(Karen Tapia-Andersen / Los Angeles Times)
Merchants in Los Angeles' Toy District say the highly publicized Chinese toy recalls have cut into their sales. The 12-block area has been a longtime central point for imported toy cars, action figures and other knick-knacks. In many cases, sales are off about 40% from last year. "People see in the news that the toys are not safe. People are scared," one merchant says.
(Spencer Weiner / Los Angeles Times)
The Lakers' Lamar Odom comes in contact with Jameer Nelson's head as he reaches for a rebound during the second half at Staples Center. Orlando Magic won, 104-97.
(Lori Shepler / Los Angeles Times)