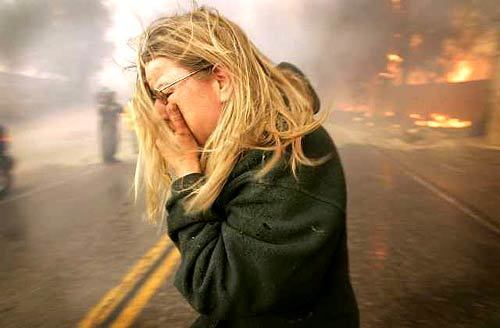 19 Images
The Week in Photos: Dec. 3-9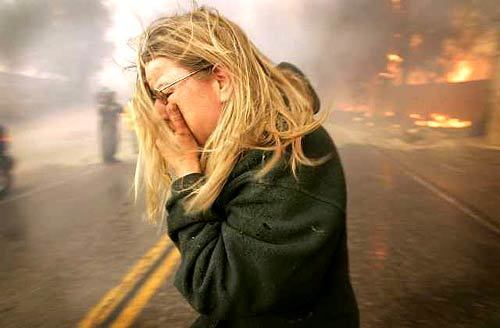 Debbie Gibson reacts upon learning that her boyfriend, Mike Plater, is safe. Their home had been threatened by the Shekell fire.
(Al Seib / LAT)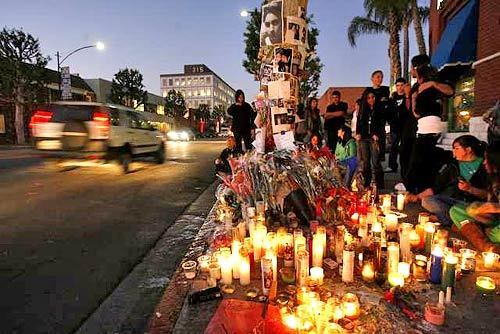 Beverly Hills High students remember Vahagn Setian, 17, who died in a crash of actor Lane Garrison's SUV. Police say it will be weeks before they'll know if Garrison will be charged.
(Myung J. Chun / LAT)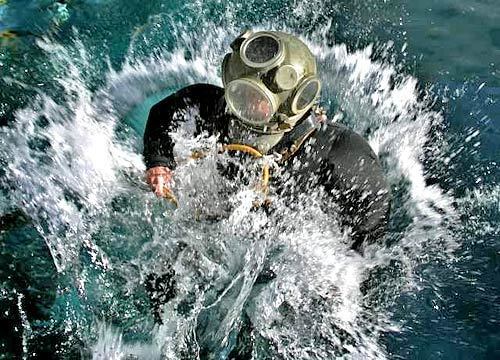 Chris Snow, an inmate at the California Institution for Men in Chino, plunges into a diving tank at the Marine Technology Training Center. The training center was rededicated last Friday and provides inmates with skills in an effort to curb recidivism.
(Irfan Khan / LAT)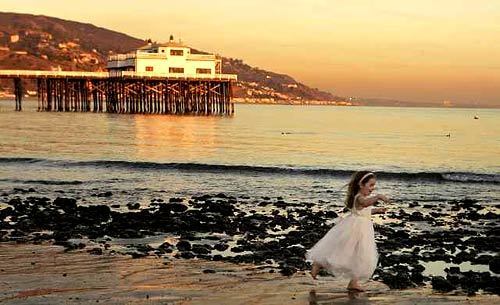 Willow Hall, 6, of Granada Hills plays on the shore Tuesday between poses for Christmas card photos being taken by her mother at Surfrider County Beach near the Malibu Pier.
(Allen J. Schaben / LAT)
UCLA freshman D'Juan Farmer joins the chant — "We are what diversity looks like!" — at a rally Wednesday opposing the ballot measure that barred public colleges from considering race in admissions.
(Brian Vander Brug / LAT)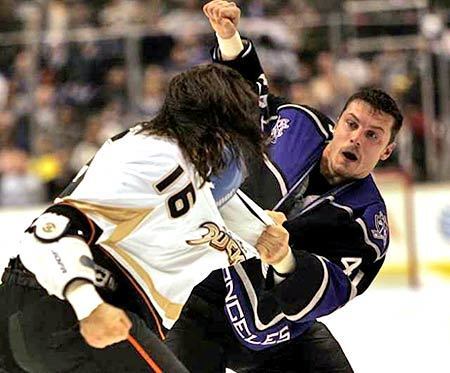 Anaheim Ducks right wing George Parros (16) fights with L.A. Kings left wing Raitis Ivanans, who took Parros' job in Kings training camp. The two scuffled during Saturday's game at the Staples Center. Ducks beat the Kings 4-3.
(Allen J. Schaben / LAT)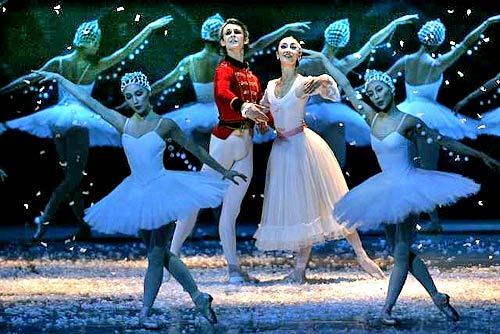 Semyon Chudin dances the prince and Hye-Kyung Lim is Clara, center, at a performance of "The Nutcracker" last Friday at the a Shrine Auditorium in L.A.
(Ken Hively / LAT)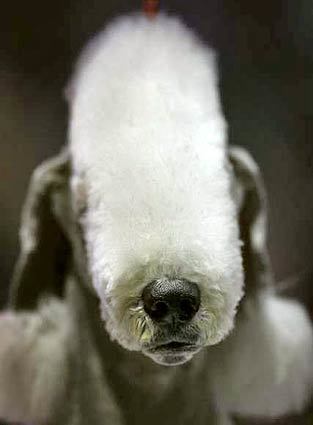 Chaz, a Bedlington terrier, is primped and ready for the AKC/Eukanuba National Championship held Sunday at the Long Beach Convention & Entertainment Center.
(Rick Loomis / LAT)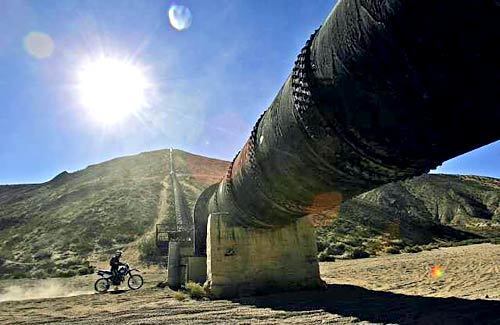 A dirt bike rider passes beneath large, riveted pipes constructed more than 90 years ago to transport water from the Owens Valley to Los Angeles.
(Luis Sinco / LAT)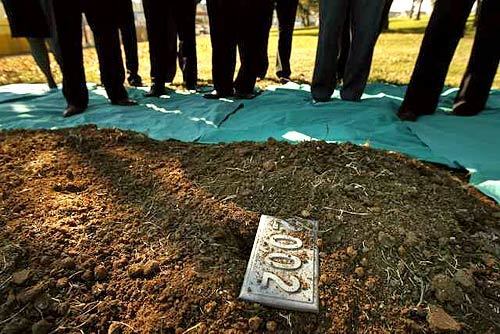 A simple marker adjacent to Evergreen Cemetery in Boyle Heights marks the cremated remains of 1,687 people who died in Los Angeles County in 2002.
(Rick Loomis / LAT)
Brothers of Ahmed Mahmoud, 21, a Shiite Muslim mechanic killed in a murky shooting, mourn over his coffin during his funeral Tuesday. Mahmoud's death has galvanized anti-government protesters.
(Hussein Malla / AP)
Villagers cross a makeshift wooden bridge on their way home Wednesday, six days after a mudslide in Legaspi, Philippines, triggered by Typhoon Durian forced them to flee.
(Dennis M. Sabangan / EPA)
The historic aircraft carrier USS Intrepid is towed down New York's Hudson River on Tuesday, a month after a failed attempt. The aircraft carrier-turned-museum will undergo renovations at a shipyard in Bayonne, N.J.
(Richard Drew / AP)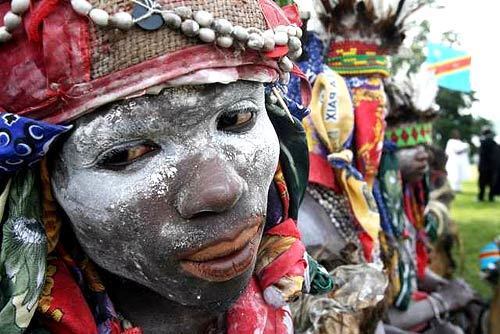 Traditional Congolese dancers take part in the inauguration ceremonies Wednesday for Congo President Joseph Kabila, at the Presidential Palace in Kinshasa, Congo.
(Jerome Delay / AP)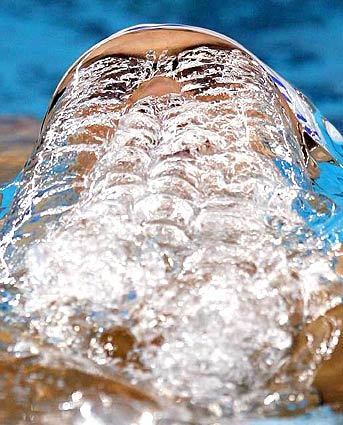 Japan's Junichi Miyashita races on his way to winning the gold medal in the final of the men's 100m backstroke at the Asian Games in Doha, Qatar on Tuesday.
(Junji Kurokawa / AP)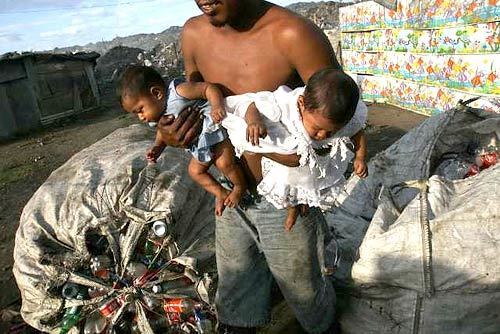 A man carries his twin daughters as he walks through Managua's municipal garbage dump, "La Chureca," on Sunday. Nicaragua is the second poorest country in the Americas, after Haiti, where 80% of the population lives on less than $2 a day.
(Esteban Felix / AP)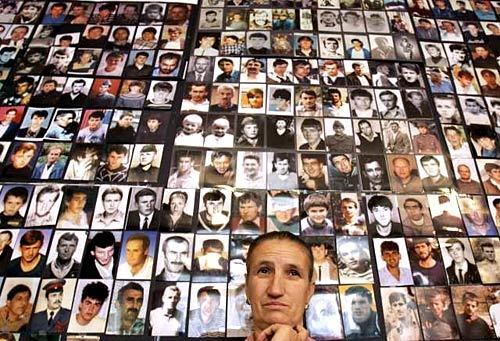 A Bosnian Muslim woman stands in front of a wall covered with photos at the Union of Women of Srebrenica in Tuzla, about 45 miles north of Sarajevo, Bosnia. The photos show those missing after the fall of Srebrenica in 1995.
(Amel Emric / AP)
A coal miner stands in a cage while waiting to be taken down to a mine in Petrila, Romania on Thursday. With Romania planning to join the European Union on Jan. 1, dozens of unprofitable mines in the country have been forced to close in accordance with stringent EU fiscal policies. The mine closures have resulted in the loss of thousands of jobs in areas like the Jiu valley, where coal mining has been the only stable form of employment.
(Spencer Platt / Getty Images)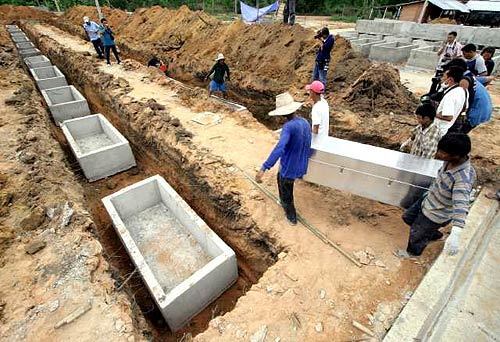 Workers prepare to bury a coffin in the Takua Pa district of southern Thailand. More than 100 unidentified victims of the 2004 Indian Ocean tsunami were buried at the cemetery Wednesday.
(AP)