26 Images
The Snowmen of El Manor
la-snowmen1
Since 1982, an army of snowmen (and women) have kept watch over El Manor, a tidy suburban street in L.A.'s Westchester neighbor near LAX.
(Photos by Steven Johnson / LAT)
la-snowmen2
According to longtime resident Kevin Minihan, the whole thing started when a group of four or five neighbors went down to the old Hughes airfield (now part of the proposed Playa Vista development), and gathered up a bunch of tumbleweeds.
()
la-snowmen3
They spraypainted the variously sized tumbleweeds and stacked them in their yards to make snowmen. Unfortunately, the tumbleweed snowmen didn't last very long.
()
la-snowmen4
The next year, the neighbors hatched a new plan. They went to Home Depot and bought a stack of 8'x4' sheets of plywood.
()
la-snowmen5
Using a snowman figure cut from a Christmas card as a model, they carefully sawed out a prototype. Fewer than half a dozen were created in the first batch.
()
la-snowmen6
Minihan says that in 1986 or thereabouts they passed out a flyer to all the houses on the street asking if anyone wanted a snowman for their yard. The response was tremendous and they cut out 25 that year alone.
()
la-snowmen7
Each snowman is cut the same shape, but can be painted to walk to the left or to the right.
()
la-snowmen8
The snowmen all start out painted white, but each house customizes their own. Some are fancier than others.
()
la-snowmen10
Even an abstract work of art.
()
la-snowmen16
Not everyone sticks to the theme.
()
la-snowmen12
People who sell their house and move out of the neighborhood often leave their snowmen behind for the new residents.
()
la-snowmen13
Minihan says they cut a few new snowmen this year. Others just get a new coat of paint, and sometimes a new look.
()
la-snowmen14
Residents of El Manor are a close-knit bunch. Every Fourth of July they throw a block party and generations of current and former residents return to celebrate the street.
()
la-snowmen15
Another annual tradition on the street actually commemorates a dark moment for the snowmen of El Manor.
()
la-snowmen17
One Christmas season, in the mid-'90s, the Kelleys of El Manor woke up to find their snowman missing.
()
la-snowmen19
It was assumed that some neighborhood kids were up to some mischief. But compared to garden variety thefts of yard gnomes or flamingos, this seemed to be at odds with the spirit of the season.
()
la-snowmen20
And besides, the snowmen are heavy and awkward to carry.
()
la-snowmen21
Word of the stolen snowman spread. Some children from the street set about looking for him.
()
la-snowmen22
Yes, awkward and heavy, the Kelleys' snowman hadn't made it more than a few blocks away, where it had been left by the vandals at the side of the road.
()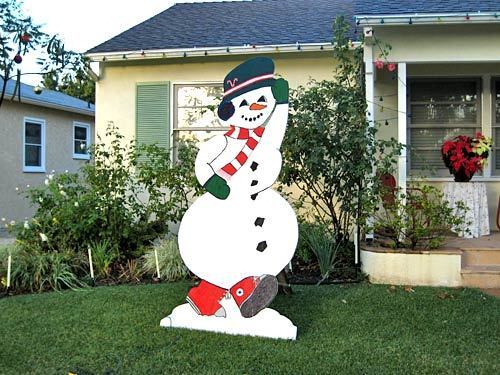 la-snowmen23
The children found the snowman and brought it back to the Kelleys.
()
la-snowmen24
That Christmas morning and every Christmas since, the neighborhood gathers to welcome back the snowman.
()
la-snowmen26
Champagne is poured and toasts are made in honor of the snowmen of El Manor and the festive nature of this cheery street in Westchester.
()
la-snowmen25
To share your neighborhood's holiday traditions, go to Latimes.com's
Your Scene
user photo galleries.
()