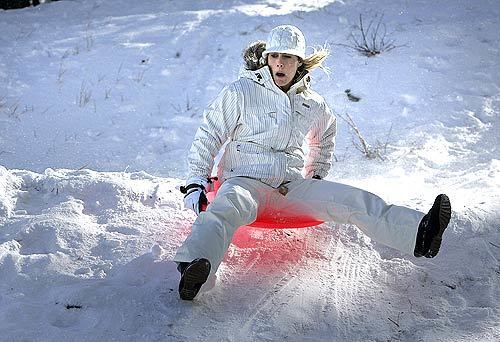 11 Images
In Focus: Staff photos from Dec. 9-15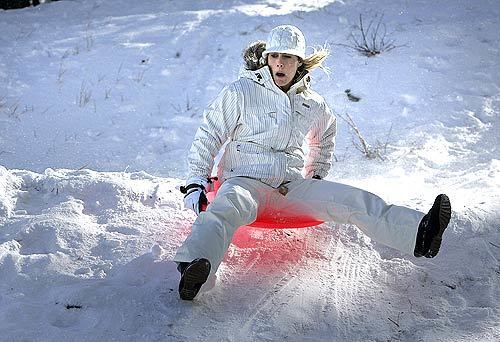 A weekend storm contributed to about 12 inches of snow in the Big Bear area, thrilling skiers and snowboarders alike. Near Running Springs, the powdery snow offered perfect play-time conditions.
(Robert Gauthier / Los Angeles Times)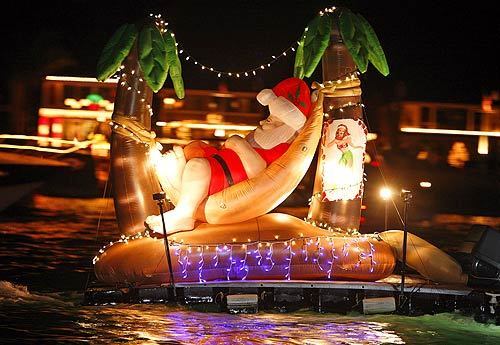 A balmy Santa Claus float helps kick off Newport Beach's 99th annual Christmas Boat Parade. This year's theme: "Twas the Lights Before Christmas." More than 100 decorated boats cruised the 14-mile waterways around Newport Harbor.
(Mark Boster / Los Angeles Times)
A bomb-sniffing dog sweeps Newport Beach's Horace Ensign Intermediate School after a student alerted campus security to what he thought were drugs in another students possession. After searching the 12-year-old's locker, police found bomb-making materials and immediately locked down the school. No one was harmed and the boy was arrested and booked on suspicion of felony possession of an explosive device.
(Mark Boster / Los Angeles Times)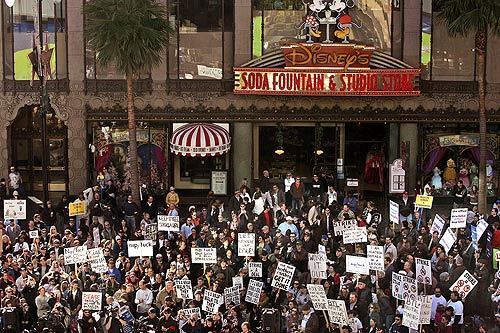 More than 200 non-WGA members, including so-called below-the-line workers such as set decorators and makeup artists, rally in front of the Hollywood & Highland shopping center. The industry professionals aimed to draw attention to the thousands of people who work in television and film as well as the businesses that support them whose livelihoods will be affected by a prolonged writers strike.
(Genaro Molina / Los Angeles Times)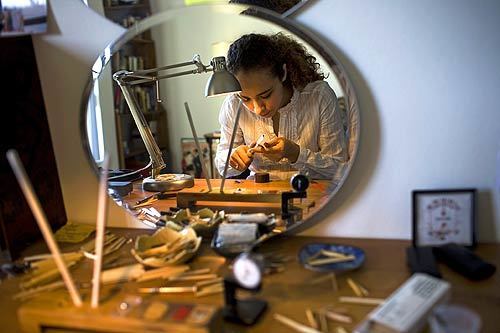 L.A. Philharmonic's principal oboe player Ariana Ghez, 28, makes her own reeds in her apartment and juggles the life of a young classical musician with other interests, including an appreciation for hip-hop. "Playing with this orchestra is extraordinary -- really singular in terms of the level of enthusiasm -- and, dare I say it, enjoyment," she says. "The audiences that come to our concerts tend to be a lot younger and appreciate intelligent music. I've been astounded by the mind-set here."
(Jay L. Clendenin / Los Angeles Times)
Chanelle Johnson holds her son, 4-year-old Allen Daniels, as they watch the city of Compton's 56th annual Christmas Parade.
(Gary Friedman / Los Angeles Times)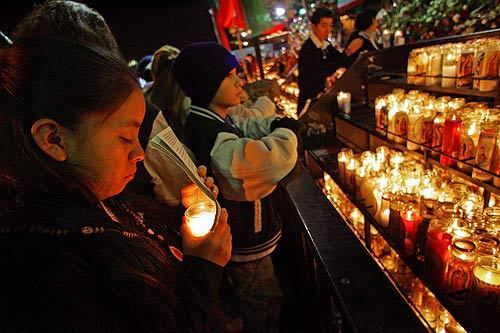 Fourteen-year-old Catalina Juan, left, offers a candle and prayer to the Virgin of Guadalupe. Thousands of Roman Catholic faithful visited Our Lady Queen of Angels Church in downtown L.A. to commemorate the day in 1531 when the Virgin Mary is said to have appeared to Juan Diego, a Nahuatl Indian.
(Richard Hartog / Los Angeles Times)
Rocker Eddie Van Halen's pool was flooded with mud after a valve broke on a water main, sending thousands of gallons of water rushing through his backyard and down Coldwater Canyon Avenue north of Mulholland Drive. Van Halen's home was the only one affected by the water, according to a fire spokesman.
(Al Seib / Los Angeles Times)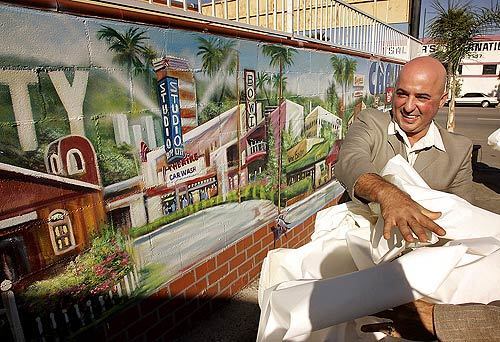 Studio City Hand Car Wash owner Ben Forat unveils the "Great Wall of Studio City" at his business on Ventura Boulevard. The 75-foot mural by Sylmar artist Ernesto Cinzano depicts a number of the community's commercial buildings. "I don't know what to say -- I like to consider myself someone who likes art," he said.
(Al Seib / Los Angeles Times)
Edwin Alvarado, 4, tries to keep his balance at an ice rink at the corner of 5th Street and Arizona Avenue in Santa Monica. The rink, operated by Bayside Corp., will be available to the public through Jan. 6. Admission is $10, which includes skates. The rink is open seven days a week starting at 11 a.m. except for Saturdays when it opens at 10 a.m. It's open until 9 p.m. except on the weekend when it closes at 10 p.m.
(Genaro Molina / Los Angeles Times)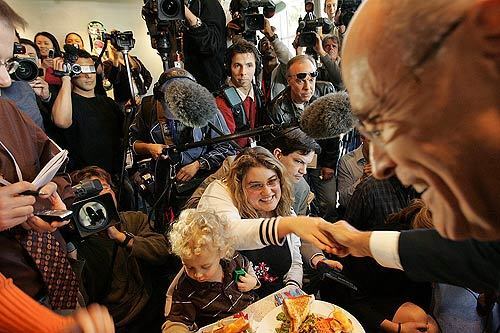 Republican presidential candidate Rudolph W. Giuliani makes a stop at The Counter restaurant in Santa Monica where he greets Randi Kaplan and son Donald -- and the media.
(Gary Friedman / Los Angeles Times)