10 Images
In Focus: Staff Photos from December 16 - December 22
Laura Montero gives a thumbs up after she is handed over to medical personnel in Coronado by sailors from the aircraft carrier Ronald Reagan. The 14-year-old from Illinois was plucked from a cruise ship by the Navy and flown to the carrier, where she underwent an emergency appendectomy.
(Rick Loomis / Los Angeles Times)
Abby Arana and her grandmother Marta Vasquez smile as Abby's brother Joshua Lopez gets a candy cane from Santa. The Salvation Army and Feed the Children were among the charities taking part in a food and toy giveaway for more than 2,000 poor L.A. families Monday.
(Michael Robinson Chavez / Los Angeles Times)
This week's rain didn't slow holiday business along Broadway in Los Angeles. A storm from the Gulf of Alaska brought snow to the mountains and more than an inch of rain downtown. But the National Weather Service said that doesn't mean the 2007-08 season will be wetter than normal.
(Luis Sinco / Los Angeles Times)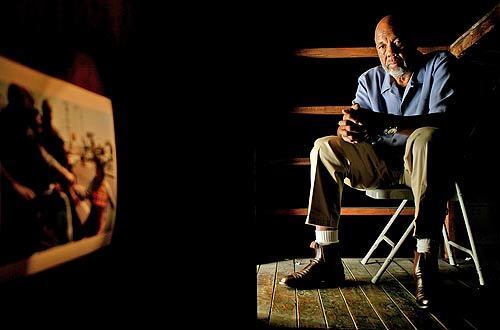 Howard Bingham, best known for chronicling the career of boxing champion Muhammad Ali, was documenting Sen. Robert F. Kennedy's 1968 campaign stop in Watts when he saw a young girl running up to the presidential candidate's car to shake his hand. Four decades later, he still wonders what happened to the happy girl he captured on film.
(Wally Skalij / Los Angeles Times)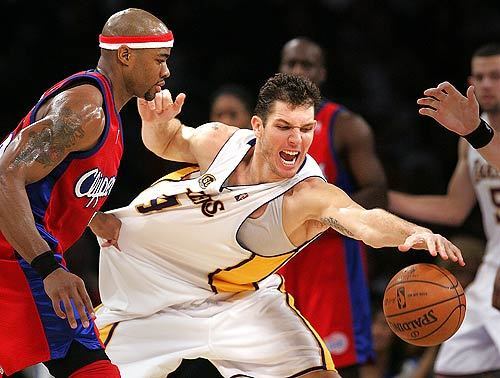 Corey Maggette of the Clippers, left, pressures Luke Walton of the Lakers in the second half. The Lakers won, 113-92.
(Robert Gauthier / Los Angeles Times)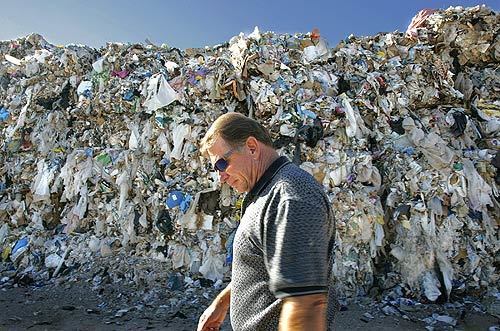 Blythe Assistant City Manager Charles "Butch" Hull walks amid piles of discards in a recycling yard near the city. Mission Fiber Group is under investigation by state, county and city agencies, which want the firm to clean up more than 15,000 tons of shredded paper, plastic and other materials now moldering at sites in Long Beach and Riverside County.
(Don Bartletti / Los Angeles Times)
A deer glides by spectators during the final round of the Target World Challenge golf tournament at Sherwood Country Club in Thousand Oaks. The tournament was won by a Tiger.
(Stephen Osman / Los Angeles Times)
The Rev. Howard Dotson, right, leads a vigil for a 28-year-old man gunned down in Angelino Heights. The minister at First Congregational Church of Los Angeles has pledged to hold a ceremony for each homicide victim in the Los Angeles Police Department's Rampart Division. But keeping up has proved difficult.
(Michael Robinson Chavez / Los Angeles Times)
About 300 students and alumni gather in front of Capistrano Valley High in Mission Viejo to offer moral support for history teacher James Corbett, who is being sued by a student and his parents for allegedly making anti-Christian statements in his classroom.
(Allen J. Schaben / Los Angeles Times)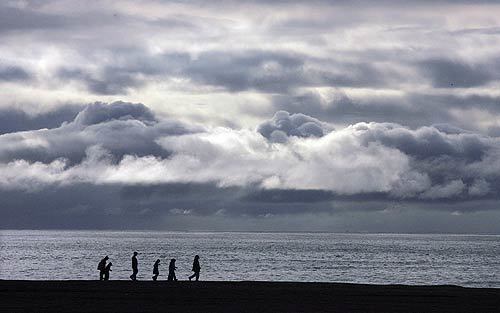 A stormy sky provides a dramatic backdrop for beachgoers in Playa Vista. Worries that this week's rains would bring flooding and mudslides to fire-denuded areas proved largely unfounded.
(Anne Cusack / Los Angeles Times)