20 Images
The Week in Photos: Dec. 17-23
Surfing Santa, a.k.a. Michael Pless, 56, of Huntington Beach, wears a specially tailored wetsuit and hat for an outing at the Seal Beach Pier. Pless, a surfing teacher who has been dressing as Santa since 1996, will don a tuxedo wetsuit and top hat on New Year's Day.
(Allen J. Schaben / LAT)
The snowy San Gabriel Mountains rise behind downtown Los Angeles in a view from Baldwin Hills. The brisk weather that put a sparkle on the scene also brought frost to some parts of the Southland.
(Stephen Osman / LAT)
Neighbors watch as firefighters battle flames at the Christian Life Church. An adjoining school was also damaged.
(Spencer Weiner / LAT)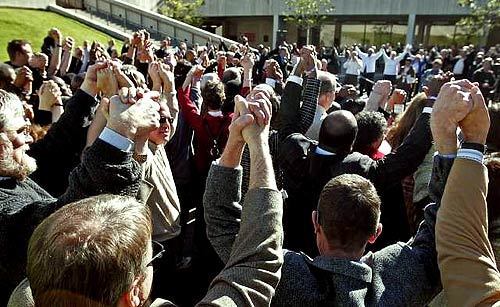 People at City Hall clasp hands to show solidarity and many of them wore wristbands with the motto "Long Beach One City." Leaders urge residents not to be swayed by outsiders who may try to rally support for the victims or the defendants.
(Luis Sinco / LAT)
Elvira Rodriguez, left, with her daughter, mourns for son Angel Secundino, who along with another teen was slain in Santa Ana. A third victim is in critical condition.
(Mark Boster / LAT)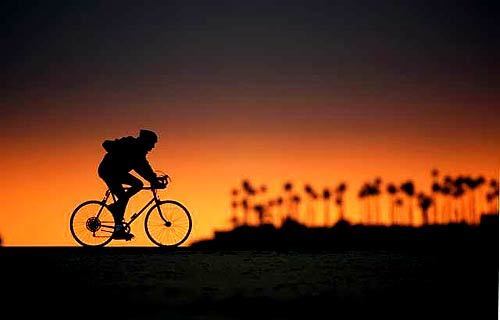 A cyclist rides along Belmont Shore Beach on Friday, with Island Chaffee in the background.
(Allen J. Schaben / LAT)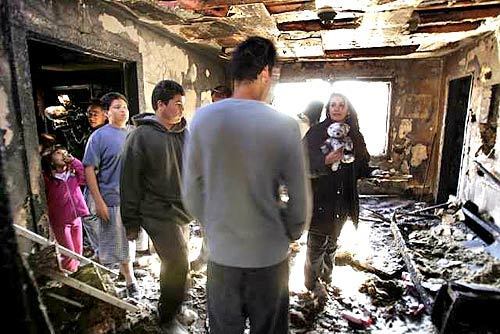 The Trujillos look through their gutted Stanton home. It took 20 firefighters about 50 minutes to battle the blaze. Damage was estimated at $250,000. Fire officials said the blaze started in a bedroom and appeared to have been caused by an electrical appliance.
(Don Kelsen / LAT)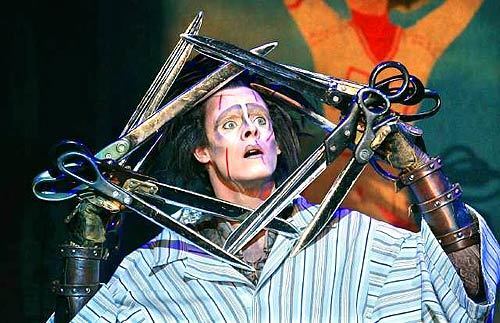 Sam Archer dances the title role in "Edward Scissorhands," Matthew Bourne's adaptation of the Tim Burton film.
(Ken Hively / LAT)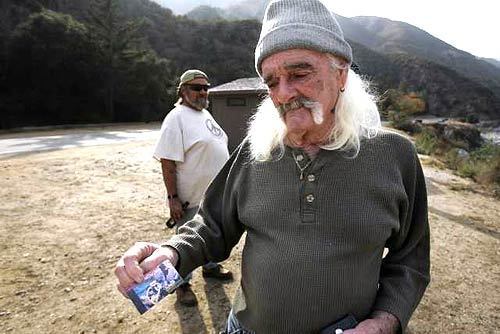 Prospector Bernie McGrath shows one of his business cards, which were made by his friend, Alexander Roglinov. The Bulgarian immigrant was found shot to death at his campsite in the Angeles National Forest.
(Gina Ferazzi / LAT)
Firefighters honor L.A. Fire Chief William R. Bamattre, who will officially retire in March with 31 years of city service, 11 of them as fire chief.
(Brian Vander Brug / LAT)
Officials have been phasing out beach access to surf fishermen along the North Coast, where the smelt catch has dwindled. Residents complain that the tourism boom promised by the National Park Service never materialized.
(Brian Vander Brug / LAT)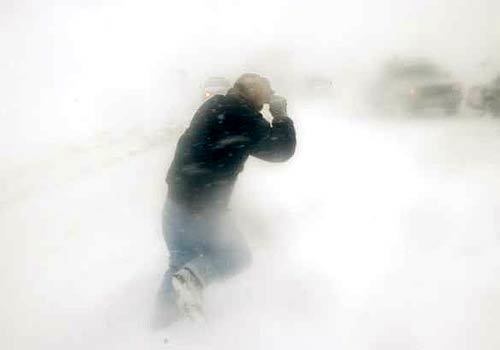 A driver walks back to his truck in heavy snow after helping a fellow motorist who was stranded near I-25 in Erie, Colo. Wednesday's blizzard dumped more than a foot of snow on Colorado, with screaming winds creating whiteout conditions across the high Plains.
(Peter M. Fredin / AP)
Mary Jackson, right, and her sister Dot Kupp, both of Philadelphia react as Jackson wins a jackpot playing a slot-machine at the Philadelphia Park Casino in Bensalem, Pa., near Philadelphia. Philadelphia Park, the home track of champion horse Smarty Jones, opened southeastern Pennsylvania's first slot-machine parlor, a facility expected to compete with the casinos in Atlantic City, N.J.
(Matt Rourke / AP)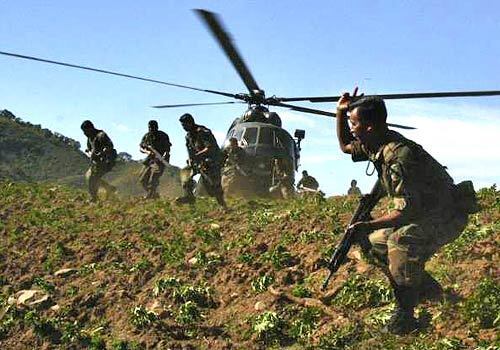 Mexican army soldiers get off an army helicopter as they arrive to destroy a marijuana field near the town of Aguililla, in the western Mexican state of Michoacan.
(Mark Stevenson / AP)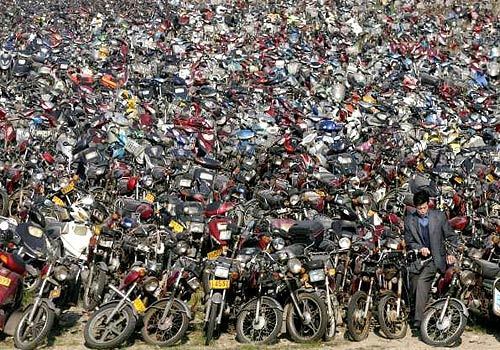 A man walks through motorcycles and electric bicycles to be destroyed at a dump in Shenzhen of Guangdong Province, China. Shenzhen authorities destroyed and confiscated 4,366 motorcycles and electric bikes after banning motorcycles from their downtown areas to curb pollution, decrease road traffic accidents and crack down on crime. According to state media, Motorcycles were involved in about half the city's accidents last year and used in 3,432 cases of robberies.
(China Photos / Getty Images)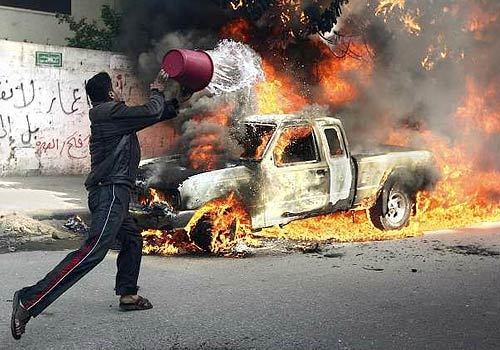 A palestinian man tries to put out burning vehicles belonging to the local electricity company in Gaza city, Gaza Strip. The vehicles were set on fire by relatives of two pro-Fatah militants who were killed during clashes with Hamas militiamen, only hours after the truce took effect.
(Abid Katib / Getty Images)
Emiratis cast their vote at a polling station in Dubai. The second phase of indirect elections to an advisory council got under way in the United Arab Emirates two days after a woman was voted into office in the first ever national polls in the Gulf country.
(Karim Sahib AFP/Getty Images)
An Israeli woman sits on a sofa looking at the view of the Palestinian West Bank as she visits the Jewish outpost settlement of Givat 725. This wildcat settlement is one of 100 illegal outposts that an Israeli parliamentary commission will have dismantled.
(Menahem Kahana AFP/Getty Images)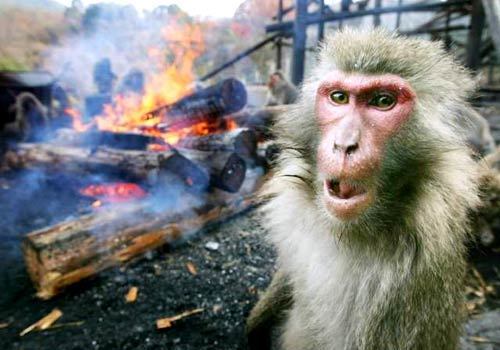 A Japanese macaque stands close to an open fire to keep warm at Japan Money Center in Inuyama city. The center started to provide open fires to some 130 macaques through the end of February.
(AFP/Getty Images)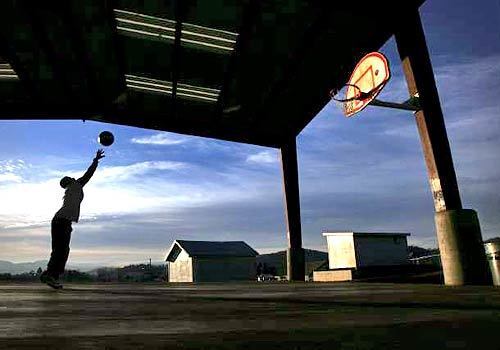 Andrew Perez, 15, shoots baskets during sunset at Joseph Lane Middle School in Roseburg, Ore.
(Jon Austria / The News-Review)