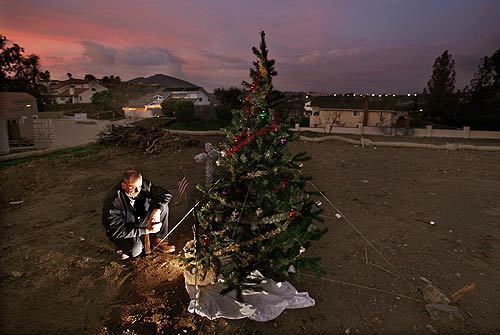 11 Images
In Focus: Staff photos from Dec. 23 - Dec. 30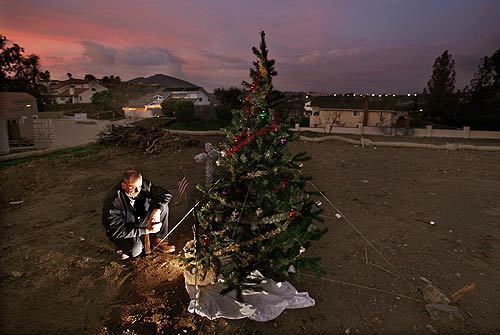 Steve Stout crouches next to a Christmas tree he and his family decorated on the Rancho Bernardo lot where their house stood before it was razed by wildfire in October. He said the tree represented hope to him and his family, which spent the holidays with relatives in Maryland. "All we lost were things," he said. "Nobody was hurt -- that's what is important. Family is important; things can be replaced."
(Mark Boster / Los Angeles Times)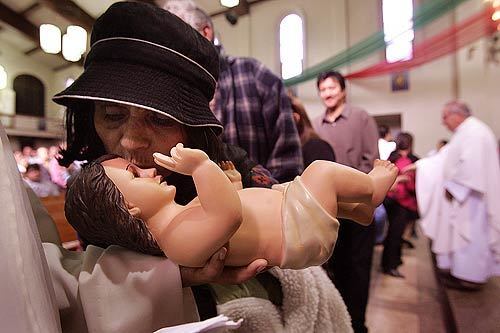 A woman takes part in a Christmas tradition by kissing a statue of the baby Jesus after Mass was celebrated at Our Lady Queen of Angels Church in downtown Los Angeles.
(Spencer Weiner / Los Angeles Times)
The setting moon imparts a peachy glow to downtown L.A. skyscrapers just before dawn. The photograph was taken with a telephoto lens from 30 miles away. The lens' long focal length makes the moon appear larger, and the distance of the photographer from the buildings makes the skyline appear smaller.
(Karen Tapia-Andersen / Los Angeles Times)
Investigator Denise Dube and L.A. County Dist. Atty. Steve Cooley are surrounded by crime evidence inside a walk-in closet at the Clara Shortridge Foltz Criminal Justice Building in downtown Los Angeles. The vault contains photographs, transcripts and other items from such infamous cases as the Black Dahlia murder and the death of Marilyn Monroe. Cooley has added to the evidence cache with his own extensive collection of crime memorabilia.
(Brian Vander Brug / Los Angeles Times)
Dayshawn Anthony, 4, receives a dollar bill from the Rev. Maurice Chase while Hannah Brown, 3, waits in line. Every Christmas for the last 24 years, Chase has arrived on skid row carrying thousands of dollars in cash. He says he solicits the money from Los Angeles celebrities.
(Rick Loomis / Los Angeles Times)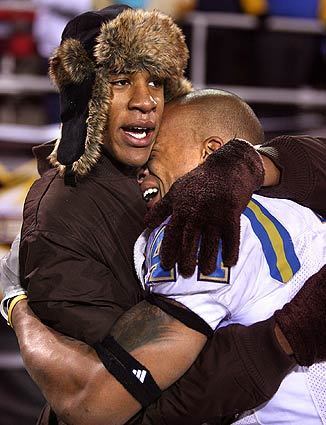 UCLA senior Bruce Davis, right, is consoled after the Bruins lost to BYU, 17-16, in the Las Vegas Bowl.
(Wally Skalij / Los Angeles Times)
A passerby photographs a wind-felled tree at Celtic Street and Fullbright Avenue in Chatsworth on Christmas Day. Winds gusted to 102 mph Monday night and early Tuesday morning atop Whitaker Peak, and to 78 mph in Malibu Hills, prompting high-wind and red-flag warnings across Southern California. Downed power lines left thousands of households and businesses without power during the week.
(Myung J. Chun / Los Angeles Times)
James Hill channels "Pirates of the Caribbean" star Johnny Depp's Jack Sparrow as he entertains tourists outside Grauman's Chinese Theatre on Christmas. In his clutches, for a photograph, is Kirsty Borriello, on holiday from New Zealand.
(Ken Hively / Los Angeles Times)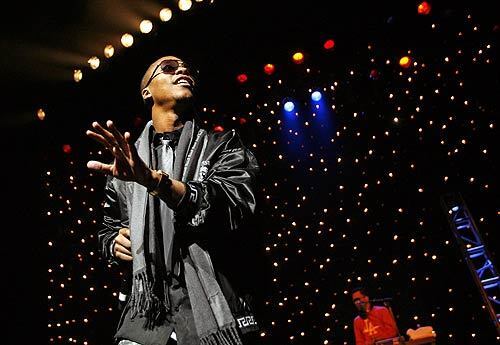 Lupe Fiasco performs at the Power 106 FM hip-hop show Dec. 6 in Los Angeles. The 26-year-old Chicago rapper approaches his wardrobe like an art collector, flying around the globe in search of the most cutting-edge styles. He recently hired L.A. designer Darren Romanelli's marketing agency to help him take cool to a new market.
(Barbara Davidson / Los Angeles Times)
An appreciative observer is silhouetted against the sunset on the boardwalk at Laguna's Main Beach.
(Marc Martin / Los Angeles Times)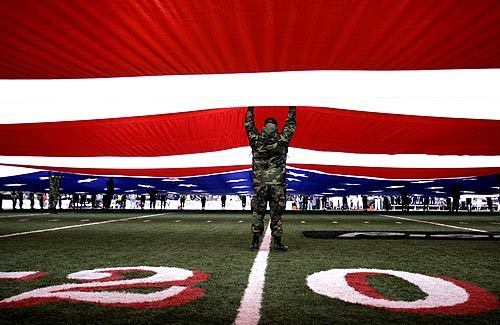 A member of the Air Force helps hold the American flag during the national anthem before the UCLA-BYU game at the Las Vegas Bowl.
(Wally Skalij / Los Angeles Times)