14 Images
Worldwide Celebrations
Tokyo
Japanese pray around "lucky smoke" early Thursday, Jan.1, 2004 during their first visit of the year to the Zojoji temple in Tokyo.
(AP)
Hong Kong
Revelers celebrate with balloons and confetti in Hong Kong's Times Square.
(AP)
Baghdad
U.S. Army 2nd Armored Calvary Regiment Lt. Col. Mark Calvert holds Benin Raad, an Iraqi baby, during a New Year 's Eve party for orphans and poor children in Baghdad.
(Mario Tama / Getty Images)
Tokyo
Worshipers strike a bell to celebrate the new year at Zojoji Buddhist temple in Tokyo.
(AP)
Jakarta
Thousands of Jakartans crowd a main street of the capital city.
(AFP)
Sydney
Fireworks light up Sydney Harbour Bridge and Opera House during celebrations.
(AP)
Baghdad
An Iraqi man waits for a bus along a street in Baghdad.
(AFP)
Ahmedabad, India
Indian girls celebrate in the western Indian city of Ahmedabad.
()
Lagos, Nigeria
Muslim girls lie on the sand after going into a trance-like state while praying for a healthy and prosperous New Year on a beach in Lagos, Nigeria.
(AP)
Bangkok
Security officials watch fireworks at the National Stadium in Bangkok.
(AFP)
Shanghai
Partiers celebrate the arrival of the New Year in Shanghai's Times Square.
(AP)
Montevideo, Uruguay
Office workers drench people in the street during traditional New Year celebrations in the Montevideo, Uruguay financial district.
(AP)
Newcastle-upon-Tyne, England
New Year celebrations get under way at Tyneside, Newcastle-upon-Tyne, northern England with a traditional representation of the pagan horned god on his way from Gateshead to Newcastle.
(AP)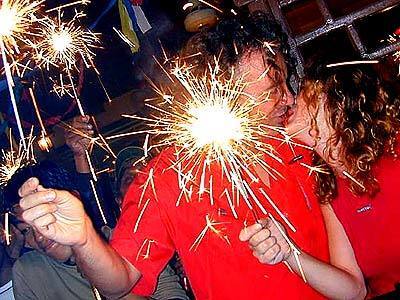 Jakarta
Two Indonesians in Jakarta celebrate 2004 with a kiss.
(AFP)