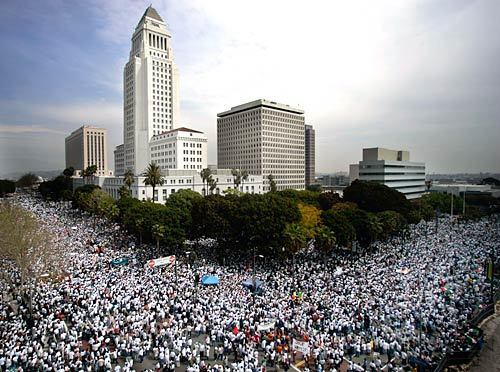 31 Images
The Year in Photos: 2006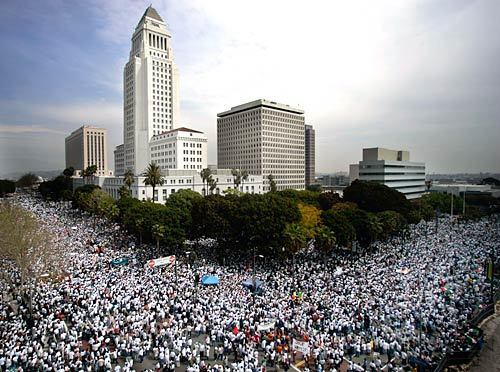 Thousands flood downtown streets near City Hall in March 2006 to protest immigration legislation. More demonstrations followed, in L.A. and around the country, as Latinos flexed their muscle.
(Gina Ferazzi / LAT)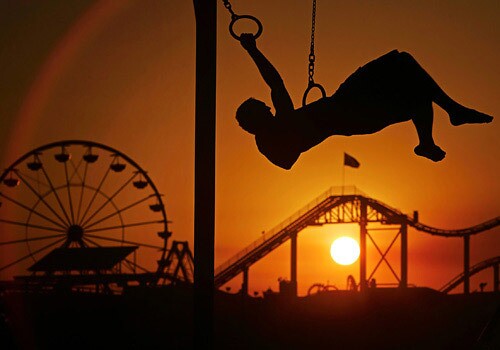 Beachgoer Paul Case swings on rings as the sun sets behind the Santa Monica Pier. Mild temperatures prevailed at the beach as hot summer weather continued to roast the rest of Southern California.
(Luis Sinco / LAT)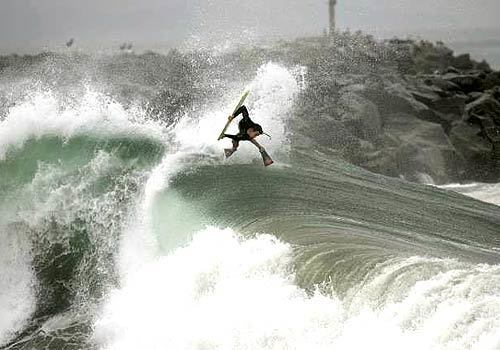 A bodyboarder goes airborne at the Wedge in Newport Beach, where surfers rode waves that reached as high as 20 feet. Other south-facing beaches in the area saw waves up to 12 feet.
(Allen J. Schaben / LAT)
Ed Velasquez of the California Department of Transportation checks a section of the Vincent Thomas Bridge to make sure paint crews didn't miss any spots. Maintenance crews work year-round on the L.A. bridge, the fourth-longest suspension span in the state.
(Bob Chamberlin / LAT)
Gov. Arnold Schwarzenegger and wife Maria hold their hands high as daughter Katherine reacts during the California Republican Party victory celebration at the Beverly Hilton hotel in Beverly Hills.
(Wally Skalij / LAT)
Designer Sue Wong loves her headgear, plunking parasols atop some models to be worn as hats. She has revisited international themes as she seeks to expand her markets.
(Béatrice de Géa / LAT)
Comedian and pundit Bill Maher has a new half-hour web talk show, Amazon Fishbowl with Bill Maher, which streams on Amazon.com.
(Damon Winter / LAT)
"The whole `party girl heiress' thing, I'm over it," Paris Hilton says. "I'm really serious as an artist. I'm a businesswoman." Hilton has recently recorded a pop music album and will launch the "brand of Paris Hilton."
(Wally Skalij / LAT)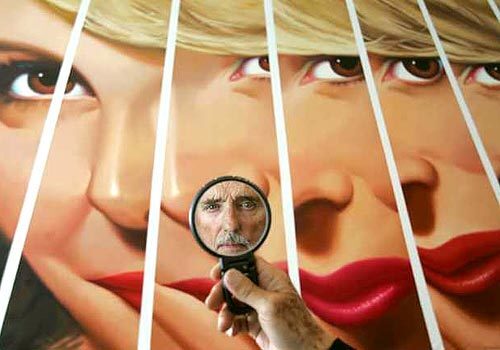 Dennis Hopper gazes at his image at an exhibition of his photographs and other works at Ace Gallery.
(Francine Orr / LAT)
Israeli soldiers fire artillery into Lebanon in support of ground operations hours before the Cabinet in Jerusalem voted to accept the United Nations resolution outlining a cease-fire.
(Damon Winter / LAT)
Residents of the Lebanese port city of Tyre rush to the site of an apartment building, said to be the home of a cleric with ties to Hezbollah, which was flattened in Israeli air strikes. A U.N. aid convoy reached the city with a supply of flour and medical kits.
(Robert Gauthier / LAT)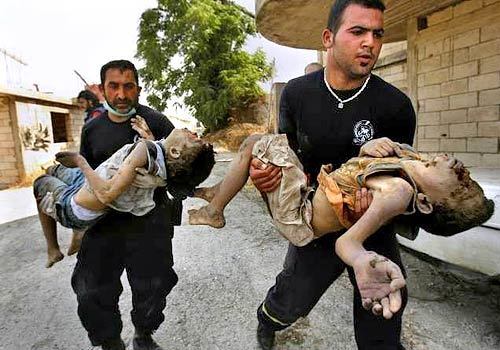 The bodies of two boys are pulled from the rubble in Qana. A lieutenant colonel in the Lebanese army said of the Israeli airstrike: "As a soldier, I know there are laws for war. This is a mass execution."
(Carolyn Cole / LAT)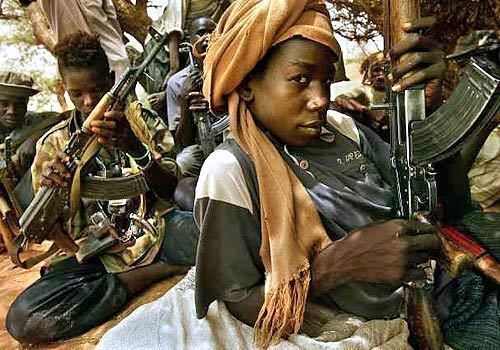 Annour Ahmed, 19, left, and Annour Issak, 17, have been with the Sudan Liberation Army for the last five years. The SLA, a leading Darfur rebel group, has set up a training camp across the border near Ade, Chad. Despite talk of a Sudan peace agreement, SLA members are training on the eastern border of Chad.
(Carolyn Cole / LAT)
Children attend St. Philip's Academy in eastern Swaziland. More than half the students have lost at least one parent to the disease, and many have lost both.
(Carolyn Cole / LAT)
Suffering from AIDS-related ailments, K. Sangeetha, 35, lies in her home in Gangaikondacholapuram, a village in India's Tamil Nadu state. She contracted HIV from her husband, who died of AIDS. This fall, she too died.
(Francine Orr / LAT)
A migrant worker piles bricks on her head, two at a time, as dust falls in her face. She works at a giant kiln in Red Hills, just outside of Chennai, India. In a report by prepared by South Asian Research & Development Initiative and UNDP: "The World Health Organization has identified the 1.2 billion people worldwide living in absolute poverty as the most vulnerable to infectious diseases such as malaria, TB, and HIV."
(Francine Orr / LAT)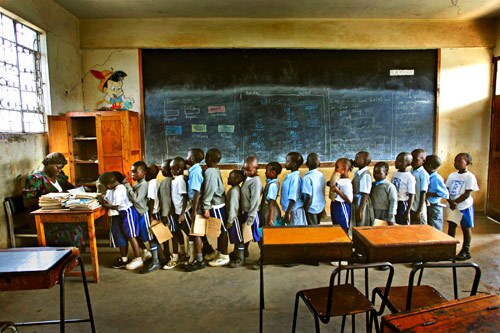 Christine Wauna's son, Edwin, second from right, and his fellow first-graders wait to receive their corrected lessons from their teacher, Judith Odima, at Pinocchio Primary School in Kisumu, Kenya. Edwin lives with two uncles while his mother works abroad to pay for his schooling.
(Don Bartletti / LAT)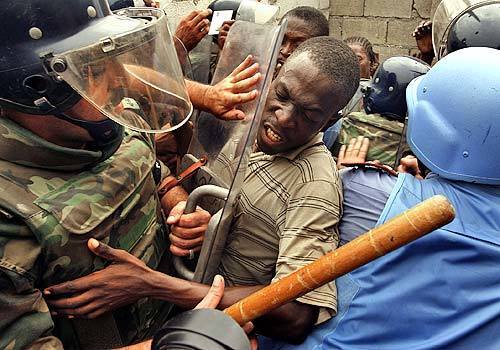 Haitians struggle to get into a voting station on the outskirts of the impoverished area of Cite Soleil, where UN troops and Haitian police work to control the crowd.
(Carolyn Cole / LAT)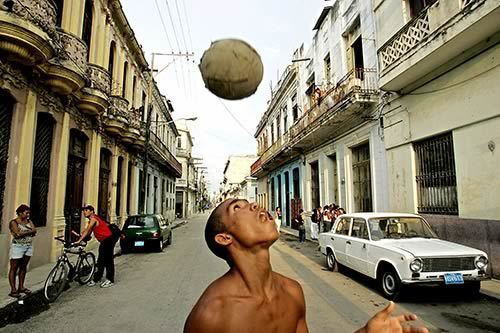 Luis Fernando Monzon Zantana plays soccer in a Havana street. Though Cuba's economy is booming, its buildings and infrastructure are falling apart.
(Genaro Molina / LAT)
Army Staff Sgt. Vincent Worrell, 25, at the Air Force Theater Hospital in Balad, Iraq, after he was injured by an explosive device near Tall Afar. Surgeons say no wounded American in Iraq is more than 30 minutes from a combat hospital.
(Rick Loomis / LAT)
Spc. Bryan Anderson, 25, reunites with Army buddies near Ft. Hood, Texas, seven months after losing his legs and most of an arm. During his visit, he rode a Jet Ski and went tubing. "I want to do everything I used to do," he says.
(Rick Loomis / LAT)
Judges operate in the new $185 million Clark County courthouse in Las Vegas, two blocks from wedding chapels, casinos, and strip clubs. An L.A. Times investigation found that judges routinely ignore financial and political conflicts of interest and rule in cases involving friends, former clients, business associates, even people to whom they owe money.
(Béatrice de Géa / LAT)
Procula Simmons, 77, ignored her family's wishes and sneaked back to her home in the Lower 9th Ward, one of the city's most insular areas. She said she planned to return often to clean up the mess.
(Carolyn Cole / LAT)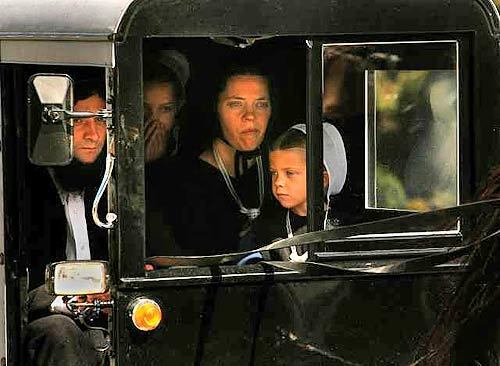 An Amish family in Bart Township, Pa., takes part in the funeral procession for Naomi Rose Ebersole, 7, one of the slain schoolgirls.
(Carolyn Cole / LAT)
Fast-growing algae coat a bronze sculpture called Christ of the Abyss along with coral reefs throughout the Florida Keys. The Key Largo attraction for divers and snorkelers gets scrubbed from time to time, but the growth quickly reappears.
(Rick Loomis / LAT)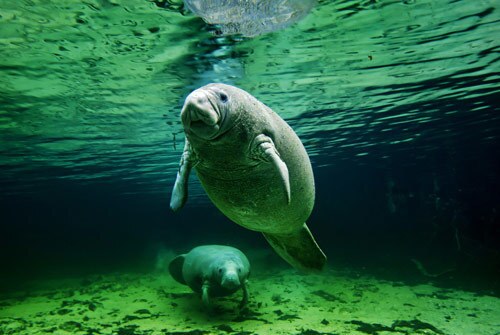 A manatee and her calf lounge in western Florida's Crystal River. A pathologist who has dissected the tissue of manatees has found that many died from inhaling air laden with red tide toxin just above the ocean surface. "The manatees are gassed to death," he said.
(Rick Loomis / LAT)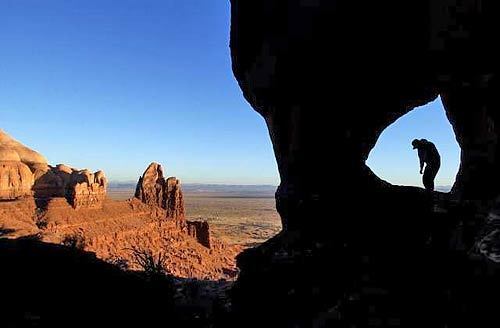 Uranium for the U.S. arms race with the Soviet Union was chiseled and blasted from a desert reservation that spans parts of Arizona, New Mexico and Utah. Part of the reservation is shown here.
(Gail Fisher / LAT)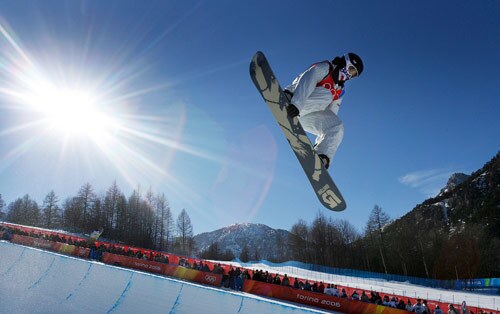 Shaun White of Carlsbad needed a second qualification run but aced it with a score of 45.3. He clinched the gold medal with a mark of 46.8.
(Wally Skalij / LAT)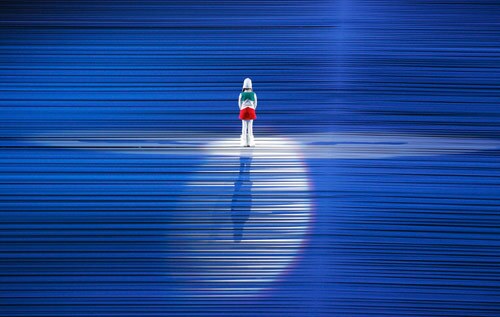 On a night that featured disco music over classical, Elenora Benetti, 9, sings the Italian national anthem during the opening ceremony of the Winter Olympics at Turin.
(Gina Ferazzi / LAT)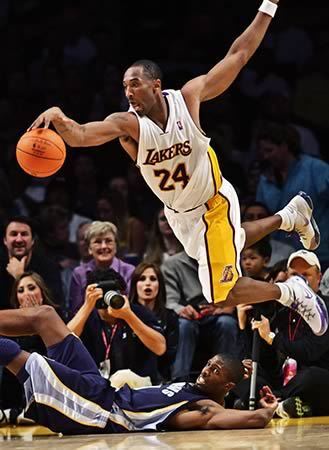 Kobe Bryant leaps over Memphis' Hakim Warrick to make a baseline save, preventing the ball from going out of bounds during the fourth quarter of the Lakers' 91-81 victory at Staples Center.
(Richard Hartog / LAT)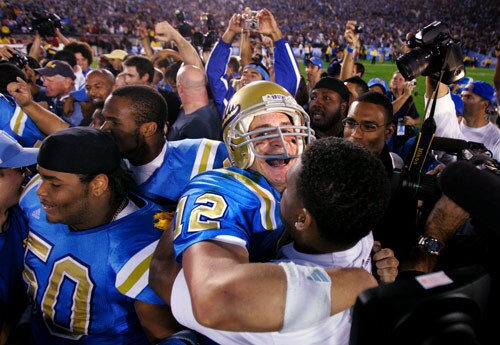 UCLA quarterback Patrick Cowan (12) is at the center of a powder-blue powder keg on the Rose Bowl field as the Bruins celebrate their upset of No. 2 USC.
(Wally Skalij / LAT)