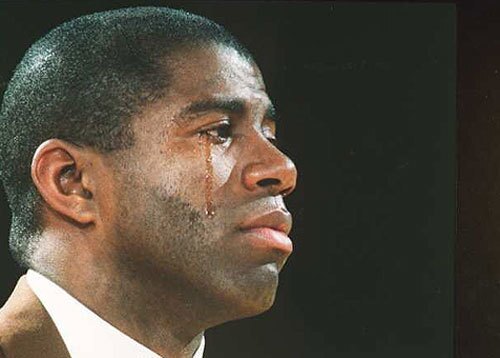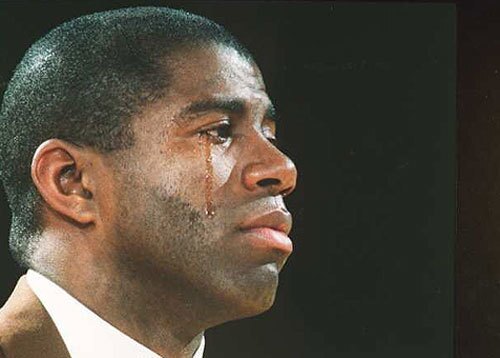 Magic Johnson stuns the nation on Nov. 7, 1991, with his announcement that he has tested positive for HIV and will retire from the NBA after 12 seasons.
(Steve Dykes / LAT)
Jim Murray celebrates winning the Pulitzer Prize with Times Editor Shelby Coffey III in 1990.
(Rick Meyer / LAT)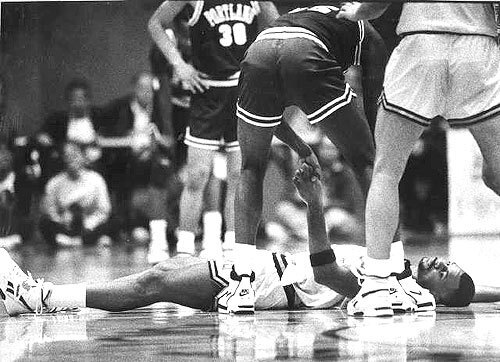 Hank Gathers collapsed and died during the semifinals of West Coast Conference tournament against Portland in March 1990.
(Gary Friedman / LAT)
Cameron Dollar had the biggest game of his career and Jim Harrick enjoyed his biggest victory on April 3, 1995 when UCLA won the National Championship at the Kingdome in Seattle.
(Robert Gauthier / LAT)
USC Heisman Trophy winner O.J. Simpson looks dazed as he pleads not guilty on June 20, 1994 to charges of killing his ex-wife and a friend. He was later found not guilty.
(Ken Lubas / LAT)
THE GREAT ONE
Wayne Gretzky broke Gordie Howe's scoring records and nearly won the 1993 Stanley Cup with the Kings
()
A WOMAN'S PLACE IS ON THE FIELD:
Brandi Chastain jubilates after her winning penalty kick in the World Cup in 1999.
(Anacleto Rapping / LAT)