9 Images
The dogs of August
By Patrick Day, Los Angeles Times Staff Writer
"Daddy Day Camp," the Cuba Gooding Jr.-starring follow-up to Eddie Murphy's hit "Daddy Day Care," came out last weekend and promptly tanked at the box office. In this summer of high-flying sequels, from "Shrek" to "Pirates of the Caribbean" to "Spider-Man," it seems surprising that any sequel would only manage $3.4 million in its debut. But look at the calendar. This is August, the dog days of summer and one of the more notorious studio dumping grounds. The odd late-summer hit aside ("The Fugitive" or "The Bourne Ultimatum"), August has become more known for what sinks than what hits. Here are a few of the more notable flops.
(Susie Ramos / TriStar Pictures)
'John Carpenter's Ghosts of Mars'
Release date:
August 24, 2001
Worldwide box office:
$14 million
The dirt:
Set on the planet Mars, but filmed in a New Mexico mine, director Carpenter's sci-fi/action/horror flick looks like an episode of the original "Star Trek" -- with the same budget. The mid-level cast, led by Natasha Henstridge, Jason Statham and Ice Cube, tried mightily to re-create the thrills of Carpenter's first masterwork, "Assault on Precinct 13," but the results were as thin as the Martian atmosphere.
(Neil Jacobs / Screen Gems)
'Serving Sara'
Release date:
August 23, 2002
Worldwide box office:
$20.1 million
The dirt:
The "Friends" juggernaut was chugging along full-force when Matthew Perry teamed with sometime-model Elizabeth Hurley for this late-summer romantic comedy. Filming reportedly was disrupted slightly by Perry's stint in rehab, but not even the whiff of scandal could draw audiences to a film that L.A. Times critic Manohla Dargis called "one of the more cynical and insulting Hollywood offerings in recent memory."
(Ron Phillips / Paramount Pictures)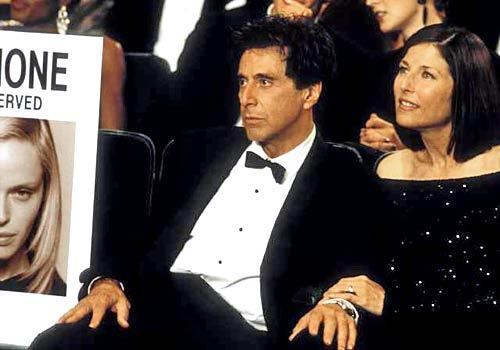 'S1m0ne'
Release date:
August 23, 2002
Worldwide box office:
$19.5 million
The dirt:
It was written and directed by the guy who wrote "The Truman Show" and it starred acting legend Al Pacino, so how did this film end up duking it out with "Serving Sara" at the bottom of the box office heap? Many factors, the least of which was Pacino's over-the-top performance, led to the sinking of this virtual reality turkey.
(Darren Michaels / New Line Cinema)
'Snakes on a Plane'
Release date:
August 18, 2006
Worldwide box office:
$62 million
The dirt:
The pre-release Internet phenomenon based solely on the film's title led the media and studio execs to believe that the Samuel L. Jackson thriller was going to be something special. Then the movie came out and everyone realized it was just another August dog in disguise. Not even the world's best marketing campaign could save this stinker.
(James Dittiger / New Line)
'Bless the Child'
Release date:
August 11, 2000
Worldwide box office:
$40.4 million
The dirt:
Mixing kids, supernatural powers and religion has paid off many times before: "The Omen," "The Exorcist" and "Kundun," to name a few. The producers of "Bless the Child" attempted to cash in -- they even included Oscar-winner Kim Basinger, indie darling Christina Ricci and prime-time network TV titan Jimmy Smits, but even the powers of God couldn't save this forgettable thriller from the seventh level of movie hell.
(Michael Gibson / Paramount Pictures)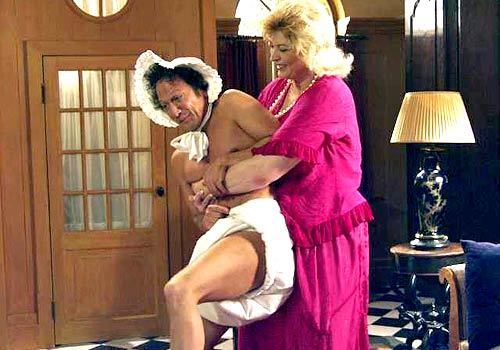 'Deuce Bigalow: European Gigolo'
Release date:
August 12, 2005
Box office:
$45.1 million
The dirt:
Most big sequels get front-loaded to the start of summer -- witness the spate of threequels that were released this past May -- but by the time August rolls around, we get the comebacks no one was clamoring for. Rob Schneider may have tried to add some old-world class to this dog, but even Jerry Lewis-loving Europeans were completely disinterested in seeing a grown man parade around in diapers.
(Dinand Van Der Wal / Columbia Pictures)
'Yu-Gi-Oh! The Movie'
Release date:
August 13, 2004
Worldwide box office:
$29.1
The dirt:
The worldwide phenomenon encompasses TV shows, card games and video games. When it became a feature film, the phenomenon either fizzled or got too confusing for anyone to comprehend. An excerpt from its Wikipedia entry explains: "Based on Yu-Gi-Oh! manga volumes 1-7, which do not focus much on Magic & Wizards. It is not connected in any way to Yu-Gi-Oh! Duel Monsters, another Yu-Gi-Oh! anime series made by Nihon Ad Systems (NAS), but is often referred to as the 'first series' to distinguish it from the latter (or, erroneously, as Yu-Gi-Oh! Season/Series 0.)" Got that? Neither did we.
(Kazuki Takahashi / Warner Bros. Pictures)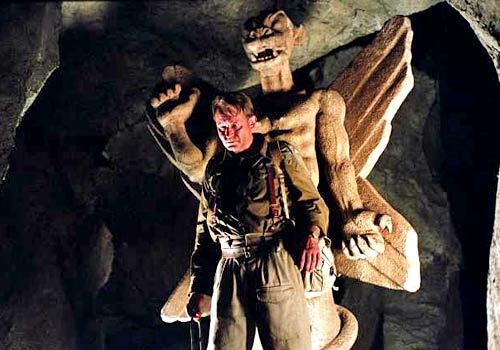 'Exorcist: The Beginning'
Release date:
August 20, 2004
Worldwide box office:
$78 million
The dirt:
Some producers will try to do everything they can to save their film from the fate of so many other August dogs -- reshoots, re-edits, even removing the movie from the calendar. James G. Robinson tried something novel: He took the same movie and shot it twice. When he wasn't happy with critcs' darling Paul Schrader's version of the movie, he brought in blockbuster auteur Renny Harlin to spice things up. Both versions were eventually released, but only Schrader's escaped with its dignity intact.
(Sergio Strizzi / Warner Bros. Pictures)