U.S. Olympic silver medal-winning sprinter Allyson Felix of Los Angeles., speaks to reporters during a news conference featuring 15 Olympic athletes who will compete in the Beijing Olympics
(Kathy Willens, Associated Press)
Members of the men's and women's relay teams celebrate after winning gold. Men's team members, from left, are Leroy Dixon, Darvis Patton, Tyson Gay and Wallace Spearmon. Women's team members, from left, are Allyson Felix, Mikele Barber, Lauryn Williams and Torri Edwards.
(Mark Baker, Associated Press)
Maurice Greene (2nd R), the Olympic 100m champion in 2000 and three-time world champion in 1997, 1999 and 2001, runs to pass the baton to Allyson Felix (L), the women's 200m world champion in friendly competition against schoolchildren in a promotional campaign on February 4, 2008 in Beijing.
(STR, AFP/Getty Images)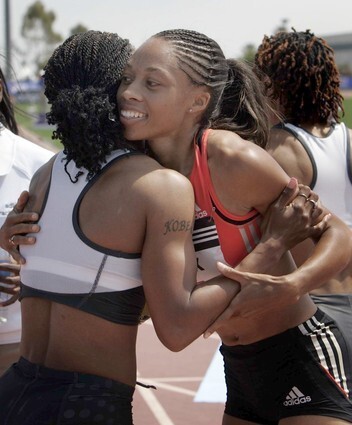 Allyson Felix is embraced by Rachelle Smith after she finished the Women 200 meter dash in 22.18 at the Adidas Track Classic at the Home Depot Center in Carson Ca. on Sunday, May 20, 2007.
(Stephen Osman, Los Angeles Times)
The women's 200m world champion Allyson Felix is seen in Beijing on February 4, 2008. Felix arrived in Beijing on February 2 with a group of world and Olympic champions from the US as well as Jamaica's Veronica Campbell-Brown, the women's 100m world champion and 200m Olympic champion and Ethiopian distance running sensation Haile Gabrselassie. The athletes are on a pre-Olympic visit of several days to scout out the capital and to visit the 90,000-seater main Olympic stadium, where they are all hoping to snatch glory at the 2008 Games.
(FREDERIC J. BROWN, AFP/Getty Images)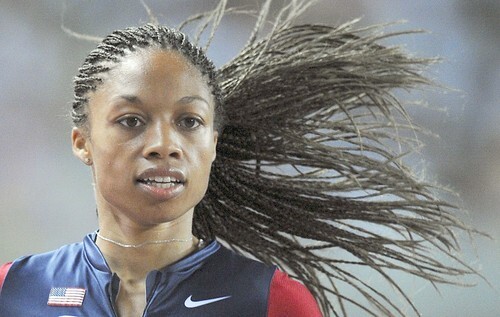 Allyson Felix, above, will be limited to 200 meters and won't go against Sanya Richards in 400 at 2008 Olympics.
(ERIC FEFERBERG, AFP/Getty Images)
Allyson Felix raises fist after running the world's fastest women's 200 meters in eight years. The 21.81-second performance left her thinking about trying for an Olympic 200-400 double.
(MARK RALSTON, AFP/Getty Images)