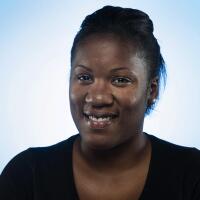 Alicia Banks
Alicia Banks is a former Metpro trainee at the Los Angeles Times. Previously, she worked at the Shelby Star and the Fayetteville Observer, both newspapers in her home state of North Carolina. In 2013, she received the Associated Press' O. Henry Award for her series on a former homeless student who attended Harvard University. Alicia is a graduate of the University of North Carolina at Chapel Hill.
Latest From This Author
And just like that, Neal Caffrey's (Matt Bomer) freedom might be in jeopardy, thanks to the arrival of friend-turned-foe Matthew Keller (Ross McCall) in the latest episode of USA Network's "White Collar."

USA Network's "White Collar" continues to prove there's not a pinch dapper con artist Neal Caffrey (Matt Bomer) can't wiggle out of as the cop-buddy drama enters its sixth and final season with the premiere of "Borrowed Time."

It was the first day of filming "Fury," the drama of a five-man tank crew that defies the odds behind enemy lines in Nazi Germany.

Bob Hastings, a radio actor who found his footing in television, notably for portraying "yes man" Lt.

About 75 fans trickled into Forest Lawn Memorial Park in Glendale on Wednesday morning to pay tribute to Michael Jackson five years after his death from an overdose of the anesthetic propofol.

A brush fire that broke out Sunday in Glendale burned through 50 acres by evening, disrupting wedding festivities at Brand Park but it did not threaten any homes or structures, fire officials said.

Three hikers were rescued Sunday from a canyon near Glendale where a brush fire has burned 25 acres, officials said.

An aerial crew has spotted what could be the remains of a 60-year-old hiker who has been the subject of an intense five-deay search on Mt.

Authorities have identified the 51-year-old man they say struck a Metro bus driver Thursday morning.