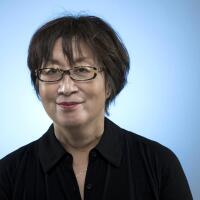 Elaine Woo is a Los Angeles native who has written for her hometown paper since 1983. She covered public education and filled a variety of editing assignments before joining "the dead beat" – news obituaries – where she has produced artful pieces on celebrated local, national and international figures, including Norman Mailer, Julia Child and Rosa Parks. She left The Times in 2015.
Latest From This Author
Didion bridged the world of Hollywood, journalism and literature in a career that arced most brilliantly in the realms of social criticism and memoir.

Ferlinghetti was the co-founder of the legendary City Lights bookstore and a champion of Allen Ginsberg and Jack Kerouac.

Joseph E. Lowery, civil rights leader who co-founded the Southern Christian Leadership Conference with Martin Luther King Jr., has died. He was 98.

Ram Dass died Sunday at his home in Maui, according to a post on his Instagram account.

Harper's Rhoda was everybody's best friend in the 1970s, the gal pal many faithful fans of "The Mary Tyler Moore Show" wished they had.

Gloria Vanderbilt experienced both loss and triumph on a grand scale.

La lápida de mi padre tiene tres renglones con caracteres chinos, la mayoría de los cuales yo, como china nacida en Estados Unidos, no sé leer.

My father's gravestone is lined on three sides with Chinese characters, most of which I, as an ABC (American-born Chinese), cannot read.

Hugh Hefner, the incurable playboy who built a publishing and entertainment empire on the idea that Americans should shed their puritanical hang-ups and enjoy sex, has died.

Lillian Ross, a celebrated New Yorker magazine writer who created classics of literary journalism, including novel-length pieces on Ernest Hemingway and the making of a Hollywood movie, has died.