5 Images
City West Development
ACROSS THE WAY:
Skyscrapers in L.A.'s downtown, east of the Harbor Freeway, are reflected in the mirrored windows of a self-storage building on 6th Street in the City West area.
(Mark Boster / LAT)
IN THE MOVIES:
Set painter Keni Davis takes a lunch break on the back lot of the 20-acre Los Angeles Center Studios campus.
(Mark Boster / LAT)
WHAT A VIEW:
Project engineer Aaron Case looks out the windows of a newly built loft in the old 1100 Wilshire tower, where new tenants favor the view of Los Angeles' skyline as a plus for moving to City West, across the Harbor Freeway from downtown.
(Mark Boster / LAT)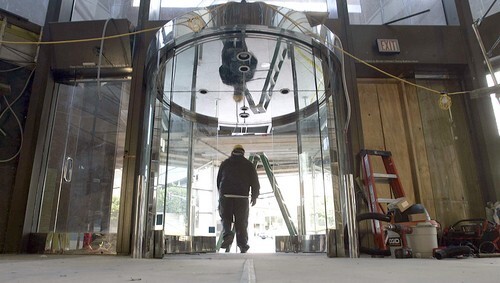 NEW IDENTITY:
Construction continues in the lobby of 1100 Wilshire, a 37-story geometric structure that never quite succeeded as an office building. It is being reinvented as 230 high-end, open and airy lofts to attract urban professional tenants.
(Mark Boster / LAT)
MAKEOVER:
Critics fear that many people will be displaced as areas such as Bixel Street, above, are gentrified.
(Mark Boster / LAT)