4 Images
Ann Powers' must-see Coachella
<b>SANTOGOLD</b>
I just want to be one of Santogold's dancers. Sexy-prim, blending the style of the "Addicted to Love" girls and Thandie Newton in "Beloved," they were the hottest thing at this year's South by Southwest fest. Next to Santi herself, of course: This veteran punk rocker blends Jamaican dub, Brooklyn psychedelia and the chill of Grace Jones in songs that have a post-millennial tension all their own.
(7:45 p.m. Fri., Gobi Tent)
(xx)
<b>MY MORNING JACKET</b>, <b>YELLE</b>
MY MORNING JACKET (pictured)
Funky white Southern boys with lots of hair and a penchant for jammy anthems -- is this 1973? Kentucky-born band My Morning Jacket's swampy sound honors the past, but a certain self-awareness and good humor bring it up to date. Listening to singer-songwriter Jim James hit new peaks with his falsetto as the band swells behind him is one of the great pleasures of concert-going today.
(7 p.m. Sun., Coachella Stage)
YELLE
Every Coachella needs a set for the coolest kids, and this Parisian electro-brat -- think Peaches, in French, with more sugar -- will deliver it. Break out your multicolored sneakers and pop some moves to her haute-vintage beats.
(9:30 p.m. Sat., Mojave Tent)
(Autumn DeWilde, xx)
<b>PRINCE</b>, <b>SPIRITUALIZED</b>
PRINCE (pictured)
When the Purple One's Coachella set was finally announced, a huge huzzah! erupted from the ranks of ticket-holders. What had seemed like a good-not-great fest suddenly had the potential to make history. Mr. Nelson, will you throw down the funk and inspire the greatest lovefest the Polo Field has ever seen? We'll go all night if you do.
(10:45 p.m. Sat., Coachella Stage)
SPIRITUALIZED
Who will have the most fun at Coachella this year? Brit-rock fetishists! Not only are space-rock kings the Verve and trip-hop inventors Portishead reuniting, Jason Pierce has rekindled the spark of the majestic Spiritualized with the beautiful new "Songs in A&E," the band's first album in years. Known for their intoxicating live sets, Spiritualized should transform the Polo Field into a cathedral.
(6:20 p.m. Sun., Mojave Tent)
(CHRIS CARLSON, Associated Press)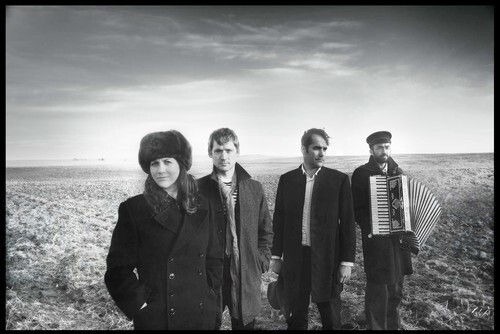 <b>DEVOTCHKA</b>
Need some romance in your festival? Look no further. Denver-based DeVotchKa blends world music influences from Romany Europe to Mariachi plaza in swooning ballads that tell of last-dance dreams and dusty desperation. Expect to see a lot of kissing during this set.
(3:35 p.m. Sat., Outdoor Theater)
(Gary Isaacs, xx)