12 Images
Tony Awards 2013: Best and worst
Neil Patrick Harris in the show's opening number -- the best of his four Tony hosting stints? A highlight: He called for his "Tom Hooper 'Les Miz' close-up" and the camera came waaay in. "On Broadway we don't need extreme close-ups to prove we're singing live," he said to an appreciative roar from the Radio City Music Hall audience.
(Andrew H. Walker / Getty Images )
Looks like Mike Tyson isn't as natural on the dance floor as he is in the ring. Harris shared a hilarious moment with the heavyweight boxing champ, who tried out some fancy footwork in the opening number and who at one point seemingly wanted to take a bite out of the host's ear. The one-man show "Mike Tyson Undisputed Truth" had a limited Broadway run and later ran at the Pantages Theatre in
Los Angeles.
(Andrew H. Walker / Getty Images)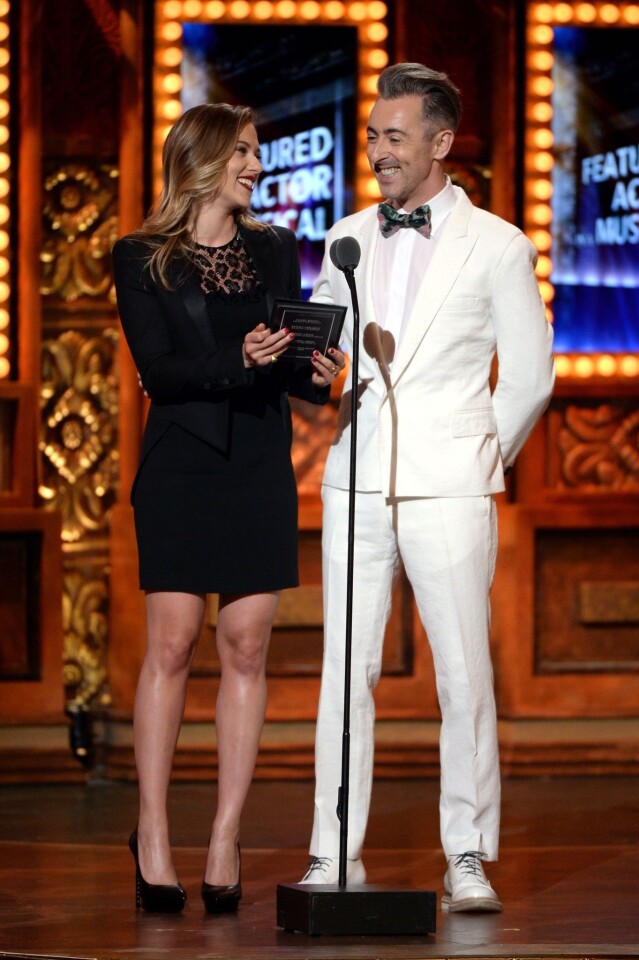 Scarlett Johansson and Alan Cumming, who were both passed over for Tony nominations this year, looked quite the pair when they stepped on stage with a quip about their graciousness in agreeing to present even though their performances were overlooked.
(Andrew H. Walker / Getty Images)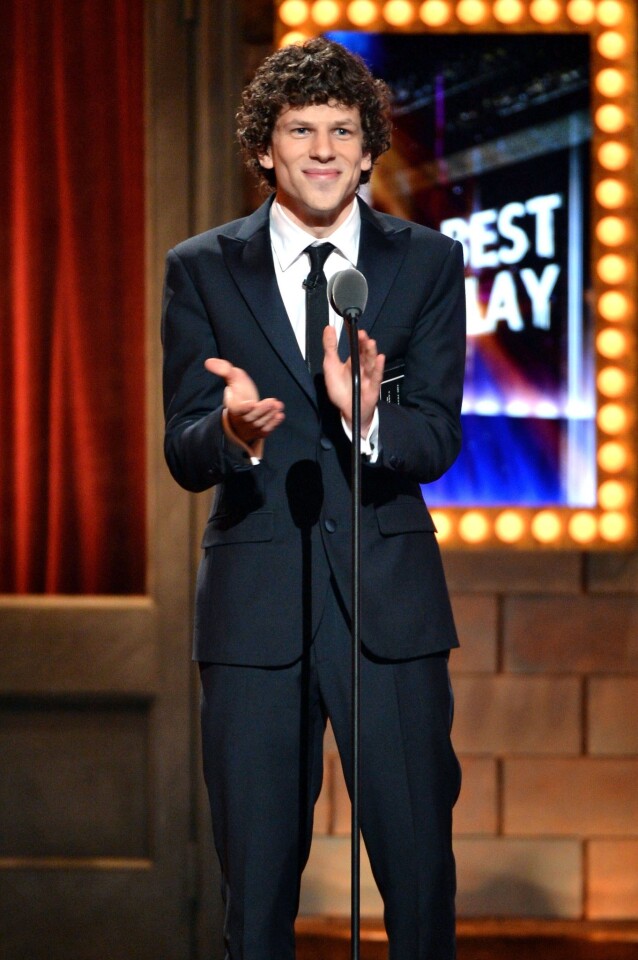 Jesse Eisenberg's fast-paced presentation of best play seemed to leave many audience members wondering if he was nervous or just in a hurry.
(Andrew H. Walker, Getty)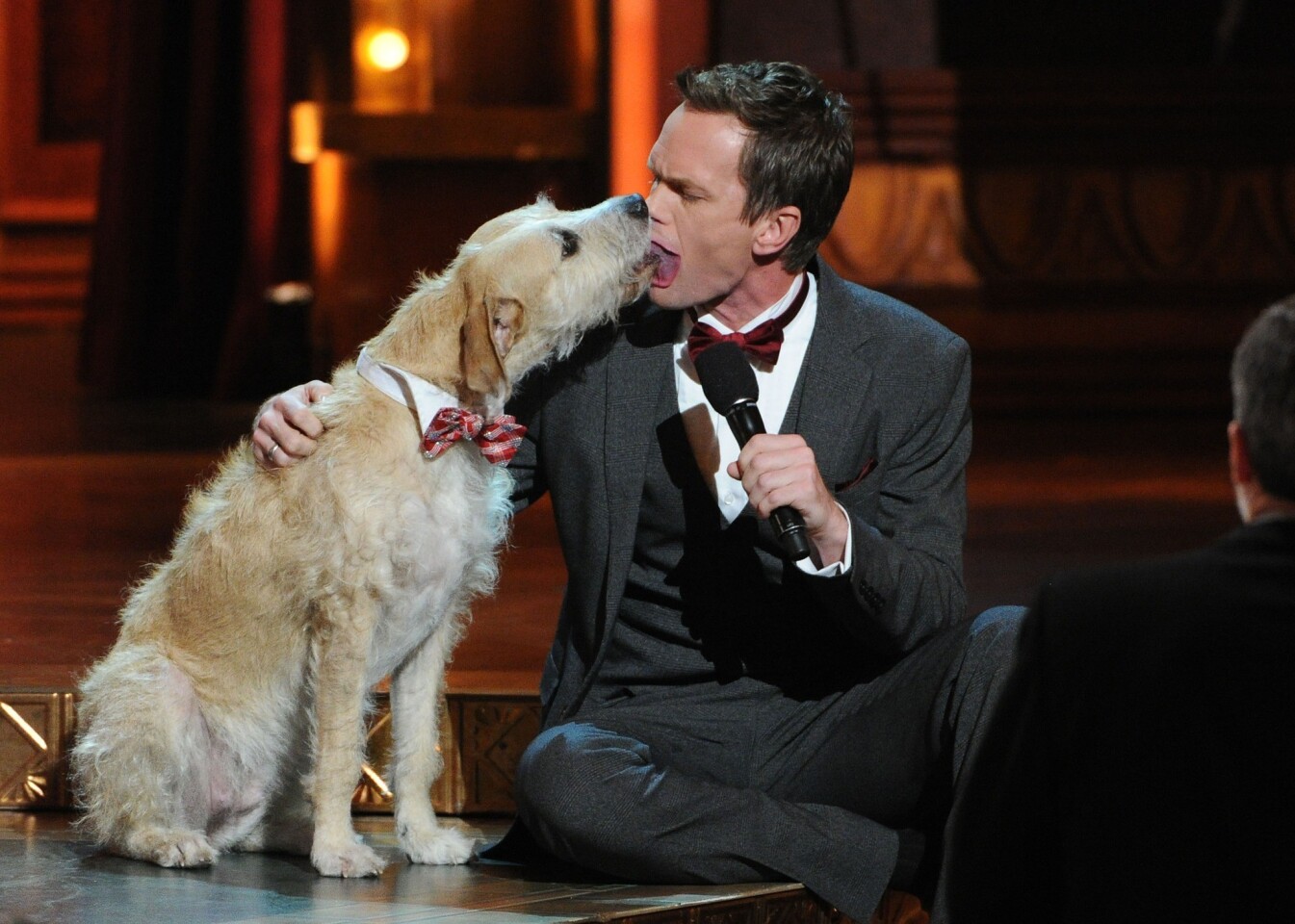 Perhaps the best tongue-in-cheek moment was when Neil Patrick Harris and Sunny, the dog from "Annie," shared an on-stage kiss.
(Evan Agostini / Invision / AP)
Women took the two awards for direction -- Diane Paulus for the revival of "Pippin" and Pam MacKinnon for the revival of Edward Albee's "Who's Afraid of Virginia Woolf?"
MacKinnon reserved her biggest thanks for Albee, for giving her career "a spine." The director was nominated last season for Bruce Norris' "Clybourne Park," which ran at the Mark Taper Forum in L.A. before opening on Broadway.
Paulus also was nominated last year for "The Gershwins' Porgy & Bess."
(Getty)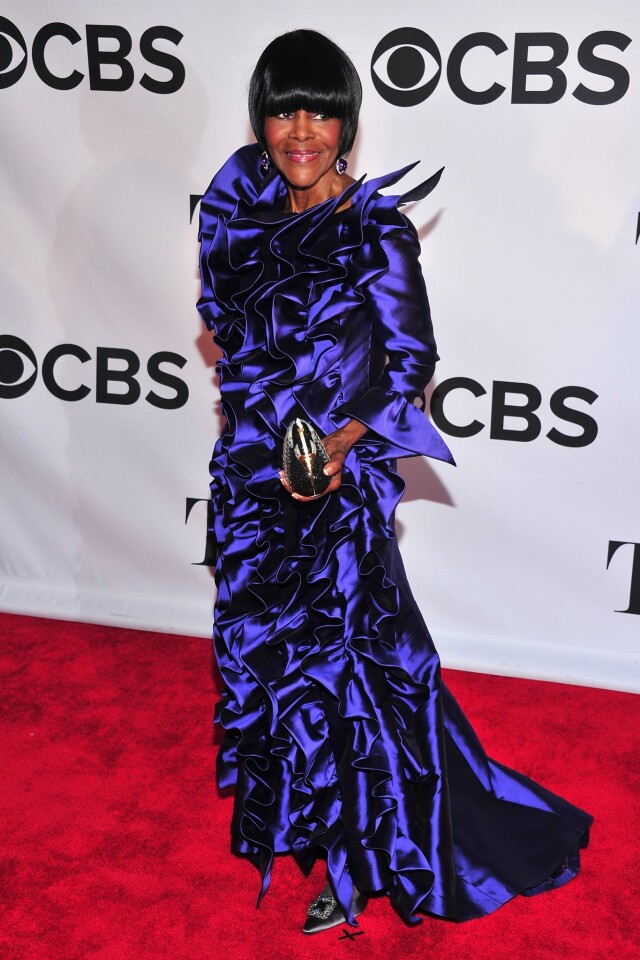 Cicely Tyson won her first Tony Award for the revival of Horton Foote's "The Trip to Bountiful." "It's been 30 years since I stood on the stage," said the 79-year-old, who had a list of people to thank.
As the music played signaling Tyson had exceeded her time, the actress noted she was being asked to wrap it up.
"That's exactly what you did," she said, "you wrapped me up in your arms, and now I can go home with a Tony."
(Charles Sykes / Invision / AP)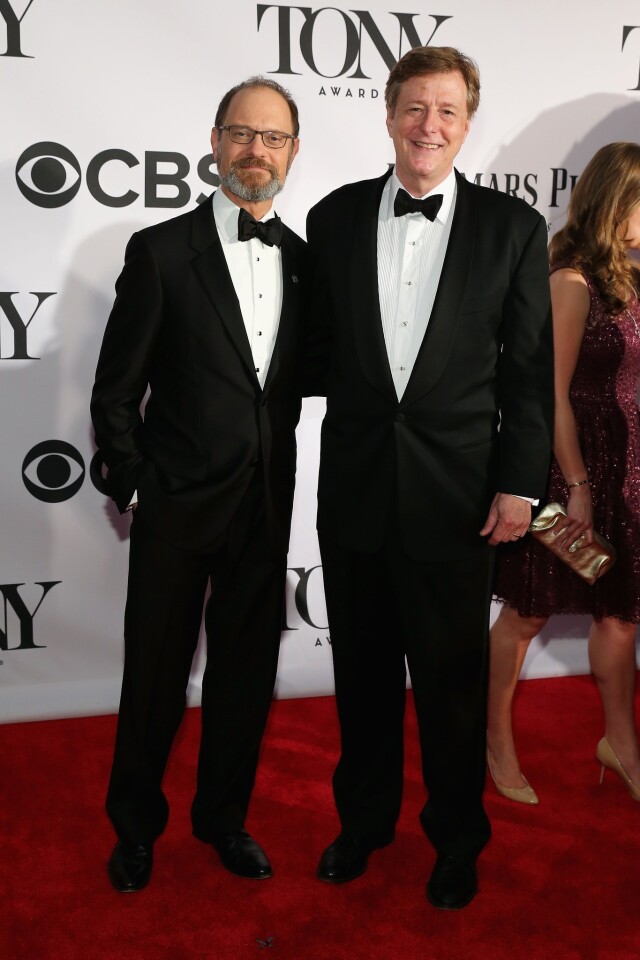 When Harris took the stage while fondling his cell, David Hyde Pierce, left, snatched the phone and stomped on it. The stunt was no doubt a nod to Broadway's love-hate relationship with digital chatter. For better or worse, the phone seemed to stay intact.
(Neilson Barnard / Getty Images)
The acclaimed revival of Edward Albee's "Who's Afraid of Virginia Woolf?" wasn't expected to be a major factor in Sunday night's Tony awards. Instead, it was named best revival of a play, director Pam MacKinnon best director and Tracy Letts pulled off the biggest upset of the night, winning lead actor in a play over perennial award-snaggers Tom Hanks and Nathan Lane.
(Michael Brosilow / Booth Theatre)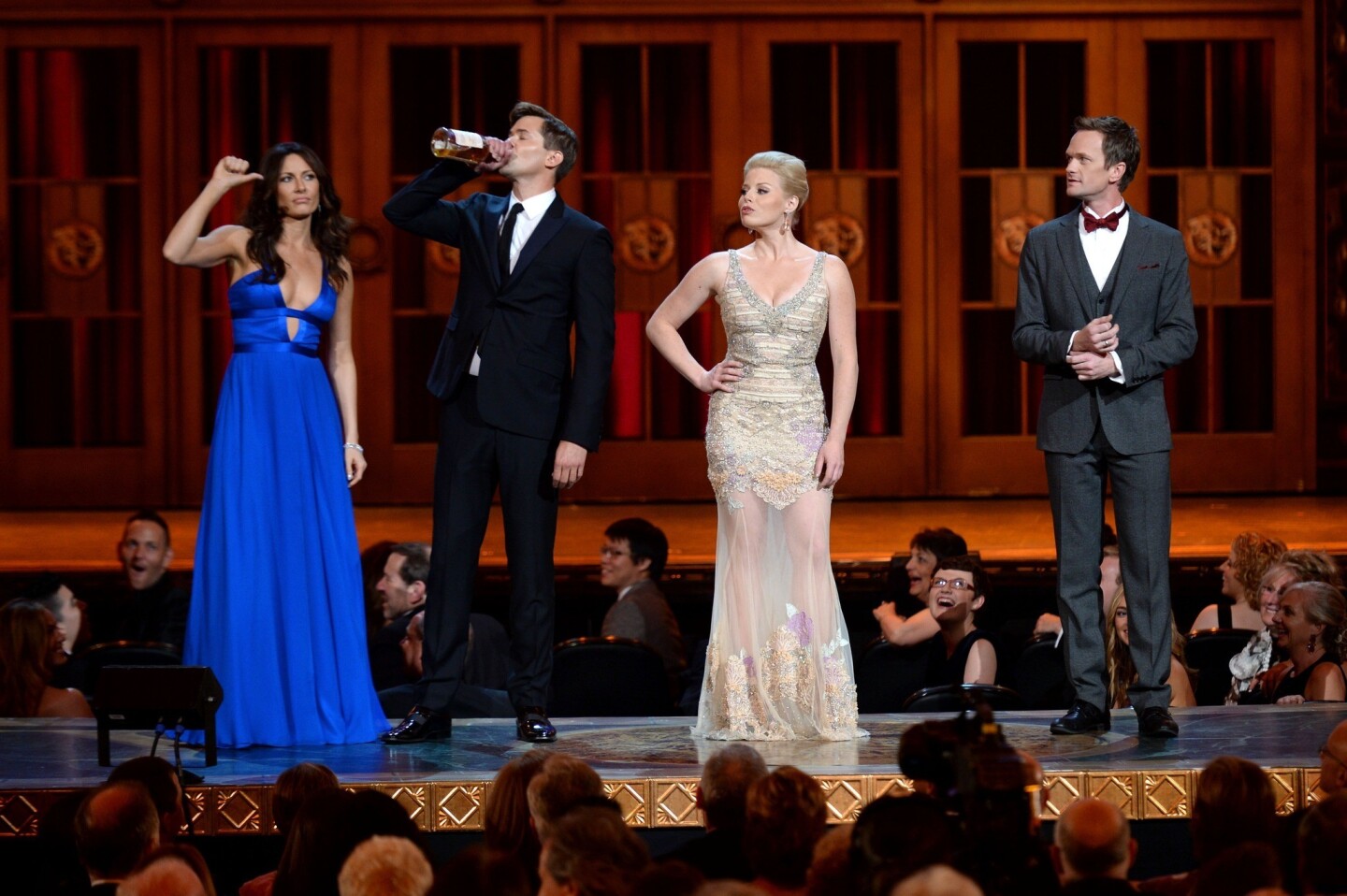 A trio of stars from recently defunct NBC series joined Neil Patrick Harris in an ode their canceled shows. Laura Benanti, Andrew Rannells and Megan Hilty of "Go On," "The New Normal" and "Smash" lamented their former TV gigs. Harris, star of the hit CBS series "How I Met Your Mother," offered counterpoint.
(Andrew H. Walker / Getty Images)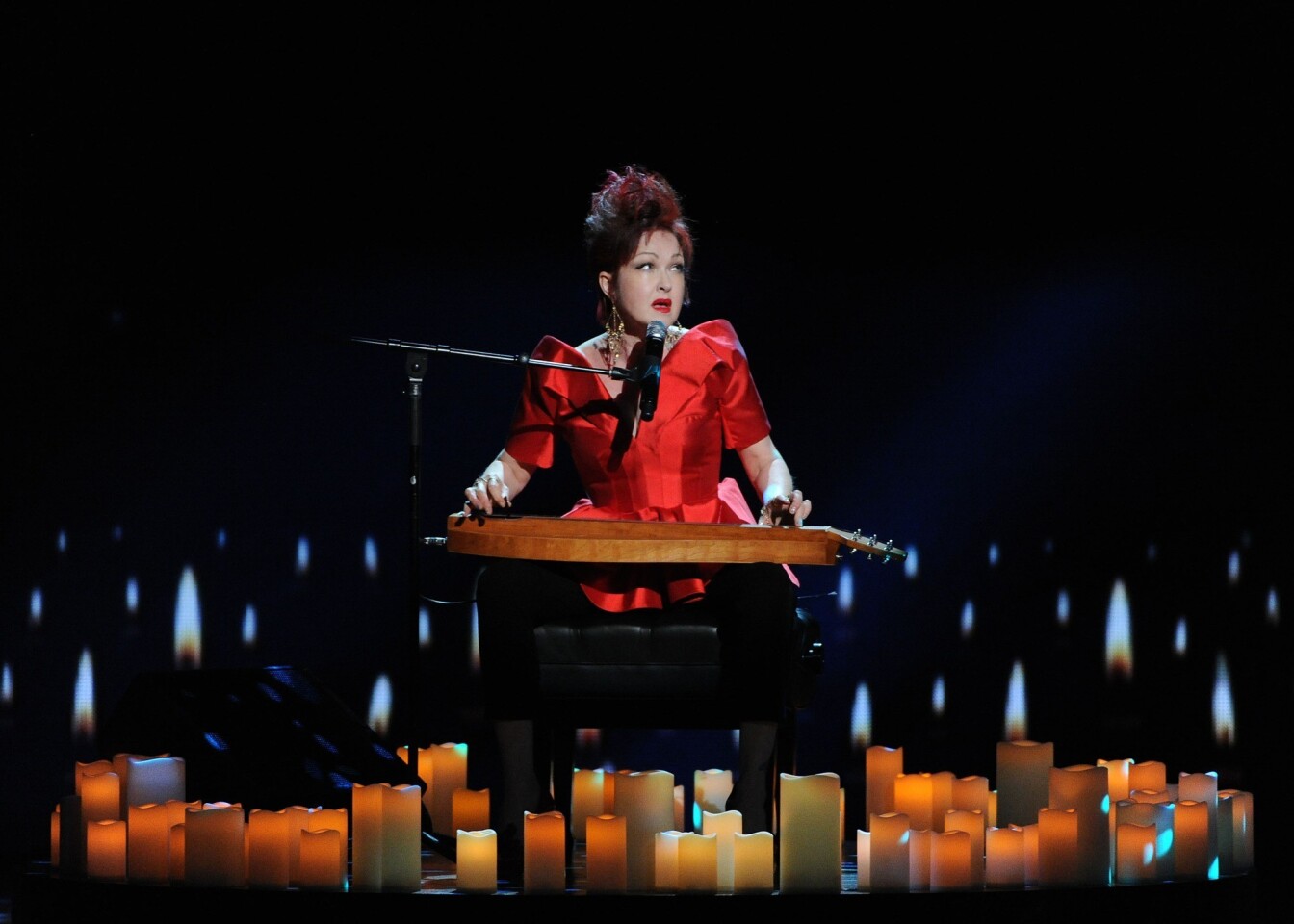 Grammy winner -- and now Tony winner -- Cyndi Lauper performed her '80s ballad "True Colors" in the show's "in memoriam" segment, saluting the stage greats who died over the past year.
(Evan Agostini / Invision / AP)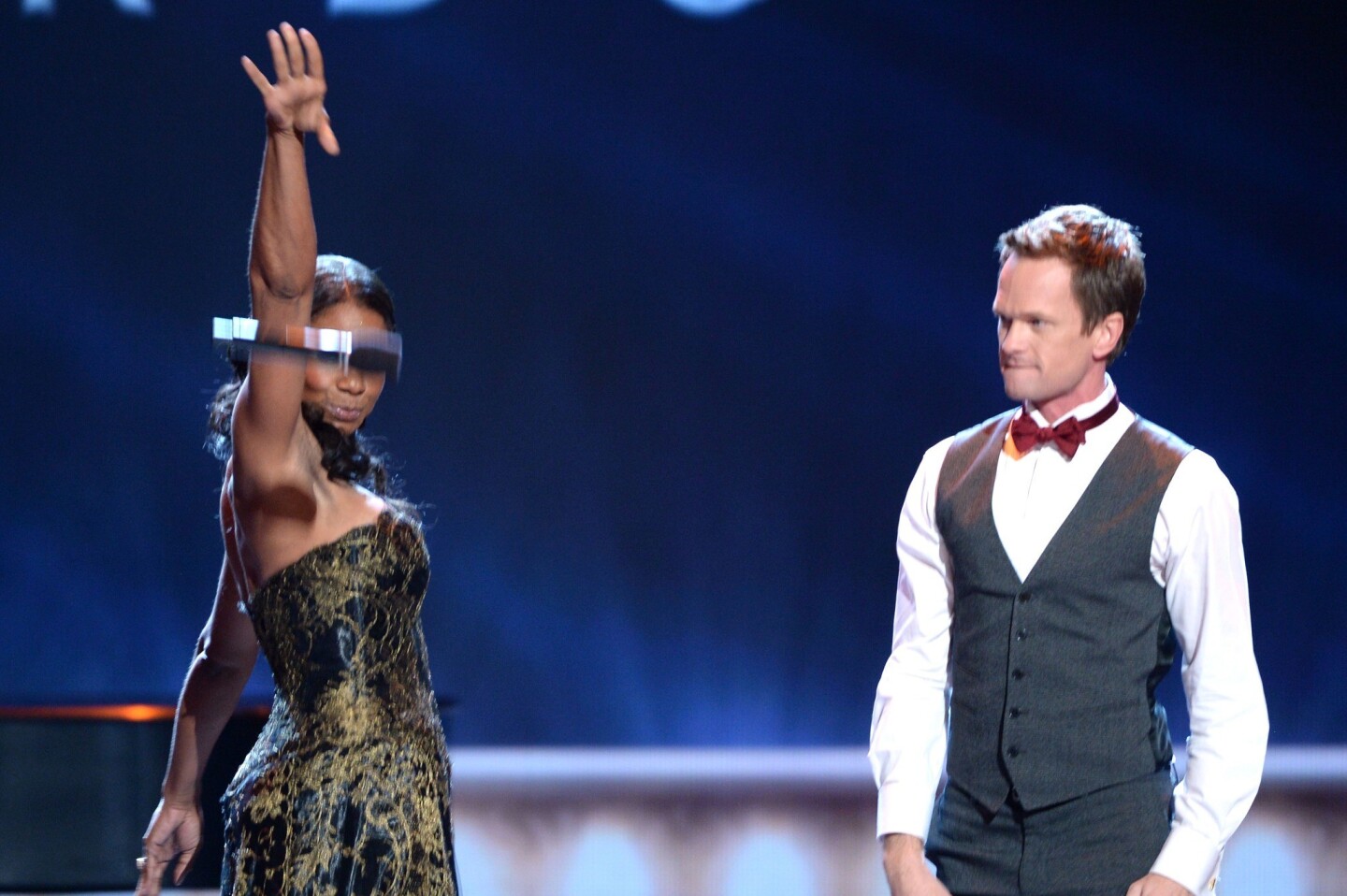 Turned out Neil Patrick Harris was kidding when he said there was no time for a closing number. The host performed a rap that summed up the show set to Jay-Z and Alicia Keys' "Empire State of Mind." Audra McDonald, or "Audra McD," joined Harris to sing the number, written by Lin Manuel Miranda ("In the Heights").
(Andrew H. Walker / Getty Images)