In "I've Heard the Mermaids Singing," Sheila McCarthy plays Polly, who gets a crush on a co-worker.
(Outfest)
Steve Buscemi's career took off after 1987's "Parting Glances." A restored print screens Monday.
(Outfest)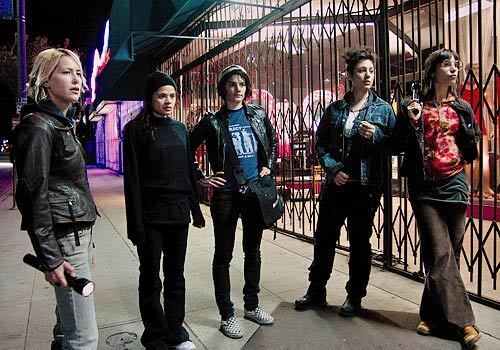 Nicole Vicius, left, Melonie Diaz, Lauren Mollica, Deak Evgenikos, Carly Pope star in "Itty Bitty Titty Committee.
(Outfest)
Tori Spelling, left, Dean Nolen, James O'Shea and Philipp Karner costar in "Kiss the Bride."
(Outfest)
Michele Mulroney, left, and Micah Schraft star in the mockumentary "Sunny & Share Love You."
(Outfest)
Jesse Archer, left, and Charlie David star in "Four Letter Word."
(Outfest)
Trevor Wright , left, and Brad Rowe star in "Shelter," a coming-of-age story.
(Outfest)
Chad Allen, left, plays Mark, and Robert Gant is Scott in "Save Me," which also screened at the Sundance Film Festival.
(Outfest)
'Bears' is a documentary that chronicles men who vie for pageant titles.
(Outfest)