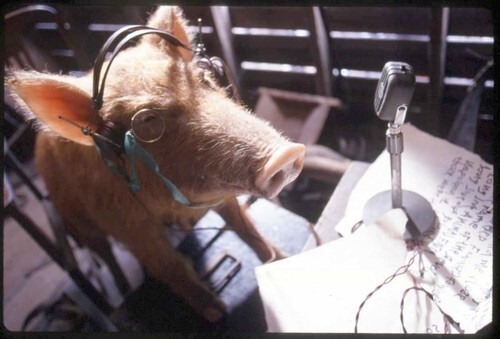 11 Images
Don't hate the swine: Great movie pigs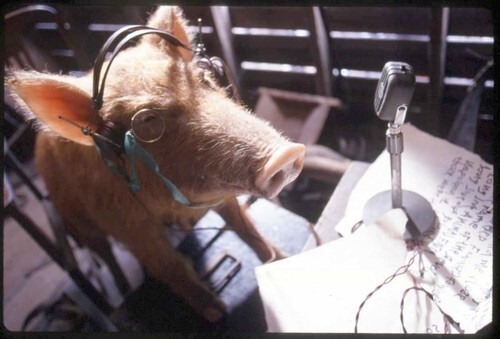 By Susan King, Los Angeles Times Staff Writer
Oink! Oink!
The Swine Flu has definitely not helped the profile of pigs lately, and they've gotten a bad rap over the years as well. Just mention the word "pig" and visions of fat, lazy creatures slumming in the mud come to mind. Calling someone a "pig" is considered a major-league slur.
But we're hog wild about the animals. Pigs are clean, intelligent critters who are easy to train and even can make good house pets. George Clooney even cried in public after his 18-year-old pot-bellied pig Max died.
And pigs have done quite nicely in literature, cartoons, TV and feature films. In fact, "Babe," the 1995 fable of a farm pig, was nominated for the best picture Oscar.
Animal trainer James P. Warren, who was a pig trainer on the 2006 film version of "Charlotte's Web" and the new comedy "College Road Trip," which opens Friday, says pigs are popular in films because they are so darned cute and photogenic. "If you look at all of those films, they tend to use the smaller pigs," he says. "They go for the cute look -- the little pug nose. I think they are so animated when they move and how they look at the camera. What they can offer is so much, it's very appealing."
And pigs are easy to train. "They are very neat and, very, very intelligent," he says. "I put them on par with a dog or even more intelligent than a dog. They pick up things very, very, very quickly."
Here's a look at some of our favorite pigs:
(Gregory Heisler / TNT)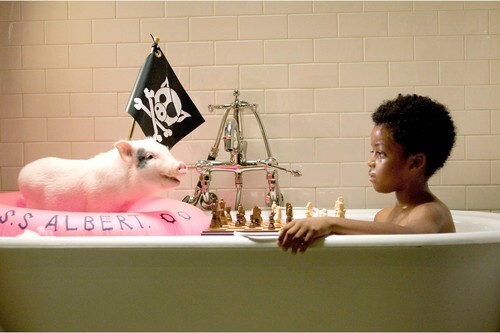 Albert from "College Road Trip"
Albert, a baby, pink pot-bellied pig, provides most of the laughs in this Martin Lawrence-Raven-Symoné Disney family comedy about an overprotective father who goes on a road trip to look at colleges with his daughter. Albert, who also goes along for the ride, plays chess, knocks off a garbage can, disrupts a wedding and even lays down. Eleven different pigs were used to play Albert during the three-month shoot. "Our pigs were three and four months old and they ended up doing a whole bunch of behaviors and working with actors," says Warren. They trained the little guys with food. "We actually use their regular pig diet — a pig pellet — and we will use a little dog food as a reward. We wanted to make sure they were getting the proper nutrition for the whole time they were with us."
(Barry Wetcher / Walt Disney Studios)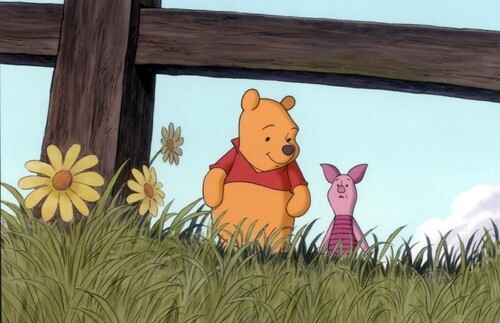 Piglet
The sweet, diminutive pig is the best friend of A.A. Milne's beloved honey-crazed bear Winnie. A "Very Small Animal" who is often timid, Piglet strives to conquer his fears. Disney brought the gang to life in 1966 in "Winnie the Pooh and the Honey Tree." Piglet , though, was replaced in the film by a character named Gopher. After a wave of protests, Piglet arrived with pink skin wearing a pink jumper in the 1968 classic, "Winnie the Pooh and the Blustery Day," voiced to perfection by the high-pitched raspy actor John Fiedler. Piglet has proved to be so popular, he even headlined his own feature, 2003's "Piglet's Big Movie." Fiedler was the voice of Piglet until his death in 2005, when Travis Oates took over.
(Disney Enterprises)
Arnold the Pig, a.k.a. Arnold Ziffel from "Green Acres"
One of the most famous TV pigs, Arnold provided the majority of laughs on the rural 1965-71 CBS TV series starring Eddie Albert and Eva Gabor. Arnold could change channels on a TV set, drink through a straw, deliver letters and newspapers, and even play cricket. Numerous female pigs, all pedigree Chester Whites, were trained by Frank Inn for the role of Arnold. Though females don't grow as quickly as males, an adult sow could reach 900 pounds by the age of 2. During the show's run, Arnold received thousands of fan letters, received awards and guest-starred on such TV shows as "What's My Line?" and "The Joey Bishop Show."
When the original Arnold died, Inn had her cremated and her ashes placed in an urn. When Inn died, the urn was placed in his casket and buried with him, per the trainer's wishes.
(MGM)
Snowball, Squealer, Old Major and Napoleon of "Animal Farm"
The piggies in George Orwell's landmark 1945 satire of Soviet totalitarianism are total swines. But then again, they are thinly disguised porky incarnations of Karl Marx, Lenin, Stalin, Leon Trotsky and Vyacheslav Molotov. An animated version of the story directed by John Halas and Joy Batchelor was released in 1954. In 1996, it became a stage play in England. And, in 1999, a lavish new TV movie version of the allegory aired on TNT with Kelsey Grammer as the voice of Snowball, Patrick Stewart as Napoleon, and Ian Holm as Squealer. The realistic animals were provided by Jim Henson's Creature Shop.
(Jonathan Hession / Hallmark Entertainment)
Porky Pig
The Academy Award-nominated cartoon character who starred in countless Warner Bros. Looney Tunes and Merrie Melodie series made his debut in 1935's "I Haven't Got a Hat." The fat, stuttering pig, who ended shorts with "Th-th-th-that's all folks!" was designed by animator Bob Clampett. Friz Freleng directed Porky in his first appearance. He quickly became one of Warner Bros.' biggest cartoon stars and then later a popular supporting player and sidekick. And the stutter? Well, the original Porky voice actor, Joe Dougherty, had a stutter. But he couldn't control it. And because it took so long to record his lines, Mel Blanc was brought in to replace him. Blanc kept the stutter and used it for comedic effect. In later years, Blanc said that he thought Porky's stutter suggested the grunting of real pigs. As years went by, though, stutterers were upset with Porky. In 1991, the National Stuttering Project of San Francisco picketed Warner Bros., insisting they stop "belittling" stutterers. The studio ended up giving a grant of $12,000 to the Stuttering Foundation of America and also produced a series of public service announcements in which Porky spoke out against the belittling of stutterers.
(Cartoon Network)
The Three Little Pigs
Though a published version of this tale of three little pigs, who each attempt to build the strongest house, dates back to the late 18th century, supposedly the story itself is far older. In 1933, Disney scored a hit with his Oscar-winning Technicolor version, which introduced the song "Who's Afraid of the Big Bad Wolf?" with music by Frank Churchill and lyrics by Churchill and Ann Ronell. It has been adapted many times, including a version for the "Wonder Pets" series on Nick Jr.
(Nick Jr.)
Babe from "Babe" and "Babe: Pig in the City"
Hooves down, 1995's "Babe" is the best pig move ever made. Based on Dick King-Smith's award-winning children's book, known in the United States as "Babe the Gallant Pig," the film revolves around the runt of a pig litter of Large White Yorkshires who is saved from being fattened up for slaughter when he is won at a country fair by farmer Arthur Hoggett (James Cromwell). And when he gets to the farm, the "unprejudiced heart" decides that he wants to learn how to herd sheep so he can also please his border-collie stepmother and Hoggett. Some 48 Yorkshire piglets plus an animatronic double played the little talking piglet. The makeup artists added a little toupee and eyelashes to each pig. And star Cromwell became so smitten with his little pink co-star that he became a vegetarian.
The darker 1998 sequel, "Babe: Pig in the City," didn't catch on with audiences.
(Carolyn Jones / Universal Studios)
Wilbur from "Charlotte's Web"
Some 47 Yorkshire piglets were trained to play the plucky little Wilbur in the 2006 adaptation of E.B. White's 1952 novel about the friendship between the little pig and a sweet barn spider named Charlotte. When the old sheep in the barn tell Wilbur he's going to be killed and eaten at Christmas, Charlotte begins to write words in her web extolling the little pig's virtues, like "Some Pig." Not only does Charlotte save Wilbur's life, he becomes a prize-winning pig at a fair. There's also a 1973 animated version of the beloved story.
(Paramount Pictures)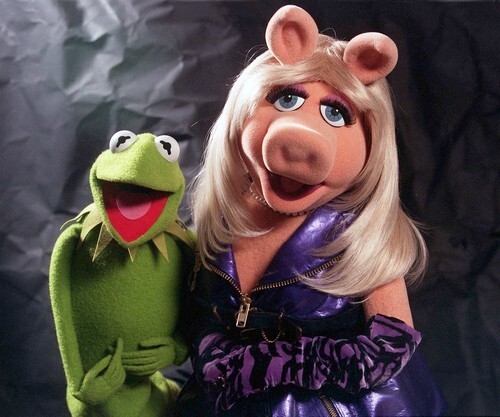 Miss Piggy
Kermie's beloved girlfriend — the piggy diva who was voiced primarily by Frank Oz — first appeared on the 1974 ABC special "Herb Albert and the TJB," singing "I Can't Give You Anything But Love." But Miss Piggy was destined to become a superstar. When "The Muppet Show" premiered in 1976, she didn't have a name, but she certainly had the look — big blue eyes, big bosom and blond hair. Though in love with Kermit, she isn't above giving him a karate chop — she even holds a pink belt in Pig Wan Do — any time she believes she has been insulted. She became a major player in Hollywood in the late 1970s and '80s and even took a pen to her hoof writing a best-seller. Miss Piggy has appeared in several of the Muppet feature films, and even played all four witches in the 2002 TV movie, "The Muppets' 'Wizard of Oz.' " She hasn't changed much over the last three decades. But she's been uncharacteristically mum if she's had any cosmetic surgery.
(Kirk McKoy / Los Angeles Times)
Hamm from "Toy Story" and "Toy Story 2"
John Ratzenberger of "Cheers" fame is the voice of the piggy bank in the Pixar/Disney CGI animated classics.
Modeled after Little Tikes' Piggy Bank, Hamm is a wise-cracking piggy who is best buds with Mr. Potato Head.
(Disney / Pixar)