10 Images
SMART LIST: Pop culture talking points (week of July 29)
By Deborah Netburn, Times Staff Writer
We can't tell if you'll talk about:
"Hot Rod."
This movie is confusing us. We're big fans of the star Andy Samberg who blasted to fame with that "Lazy Sunday" short on SNL, but we've watched the trailer several times and we never even crack a smile. Our husband is convinced there's funny stuff in there that the trailer isn't showing us. We want to believe him. (Friday)
(James Dittiger / Paramount)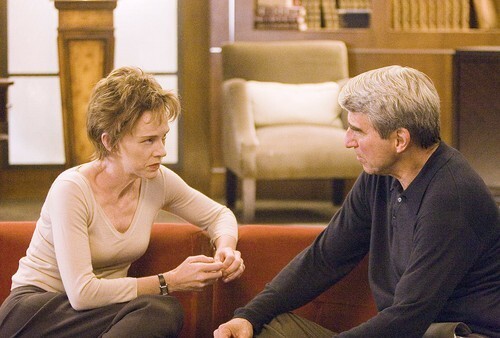 You could talk about:
"Masters of Science Fiction."
We like Sci-fi. It's imaginative, and neat and when it's good, it is smart and thought provoking too. But for some reason we don't pursue it unless someone shoves it in our face. This week ABC does just that with the launch of its four part series "Masters of Science Fiction." Famous genius Stephen Hawkings hosts, and the first hour-long episode stars classy actors Judy Davis and Sam Waterston. (Saturday)
(Bob Akester / ABC)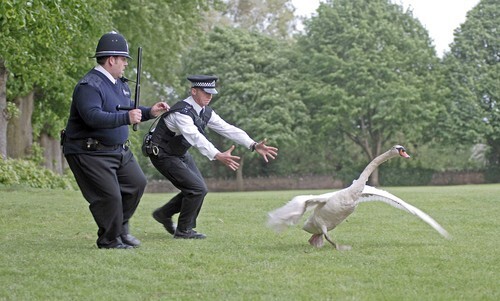 You should talk about:
"Hot Fuzz."
We get sent DVDs all the time and keep most of them in a shopping bag under our desk. But this movie from "Shaun of the Dead" creators went straight into our purse and then, five hours later, into our DVD player at home. Hilarity! (Tuesday)
(Matt Nettheim / Rogue Pictures)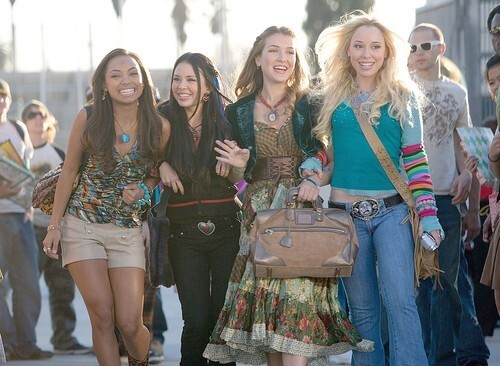 You might talk about:
The politics of dolls.
The release of "Bratz," a movie based on the popular doll line (with "a passion for fashion") inspires discussion about how fast kids are growing up these days (ultimately not that much faster than they ever did), the future of Barbie (as her Dream House is replaced by the Bratz Movie Mansion), and how healthy it is for girls to play with dolls whose feet are permanently in high heel position. (Friday)
(Chuck Zlotnick / Lionsgate)
Grown-ups should talk about:
Zac Efron.
For those of us with no contact with kids, tweens or teenagers, our exposure to the "High School Musical" phenomenon is limited to the knowledge that it exists, and that Zac Efron stars. This week we learn more about the star if not the made for TV spectacular when the ladies of "The View" get their hands on the heartthrob du jour. (Thursday)
(Disney Channel)
We can't wait to talk about:
"The Bourne Ultimatum."
The tightly controlled action movie is such a relief after all those showy blockbusters. Plus, we're sort of in love with Matt Damon these days. Quiet. Strong. Not ridiculous. We've been waiting for this movie all summer long. (Friday)
(Jasin Boland / Universal Studios)
We'll be talking about:
Sabra Elise Johnson.
She's our favorite contestant on "So You Think You Can Dance" as well as the favorite of our favorite judge Mia Michaels. (Girlfriend is so right on—she doesn't just judge, she teaches.) We just can't wait to watch this girl dance again. Oh those lines! (Wednesday)
(Kelsey McNeal / Fox)
You'll definitely hear about:
"300" on DVD.
Frankly, we're not interested in this film, but we know that lots of people are, and we think those people will want to own it on DVD. This week they can. (Tuesdsay)
(Warner Bros. Pictures)
How about talking about:
"The Ten."
There are many reasons to talk about this movie—it's quirky 90's premise (ten short films based on the ten commandments); the fact that Winona Ryder is in it (and Jessica Alba). But we'd like to see the movie because of director David Wain. "Stella" may have been the death of original series on Comedy Central, but we loved it! (Friday)
(Jason DeCrow / AP)
We're not sure if you'll talk about:
Lonely Girl II.
The creators of Lonely Girl II are now actually getting paid cash money to make a second real-time series for social networking site Bebo. The show, called Kate Modern is about a young woman in London and starts airing on the site Monday. (Monday)
(IPTC / LonelyGirl15)