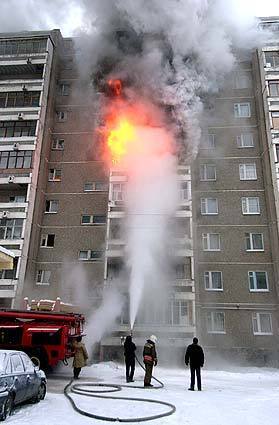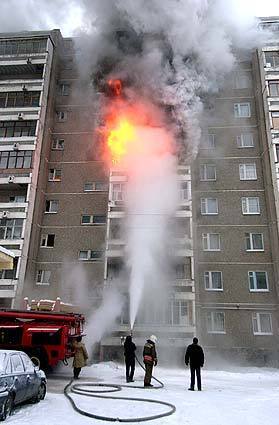 Firefighters try to extinguish the fire at an appartment building in Yekaterinburg, about 900 miles east of Moscow on Tuesday. People try to use electric heating devices in addition to central heating systems, which frequently causes accidental fires.
(Alexei Vladykin / AP)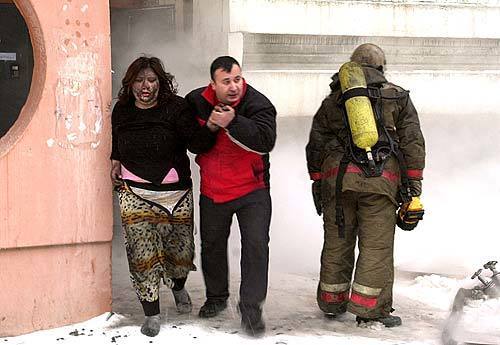 A man helps a fire victim to get out of the residential block as a firefighter stands outside the entrance to an appartment building in Yekaterinburg Tuesday.
(Alexei Vladykin / AP)
A homeless woman is covered with plastic bags to protect herfself from the freezing cold on a Moscow river bank Tuesday. Two people froze to death in Moscow, officials said, as Arctic cold from Siberia descended on western Russia.
(Mladen Antonov AFP/Getty Images)
A homeless man with dogs warms himself at an underground ventilation grill in central Moscow Tuesday. Russian media reported that Moscow utilities were operating normally, and that police were under orders to make an exception to their usual practice of evicting homeless people from the subway, building entrances and other shelters.
(Alexei Sazonov / AP)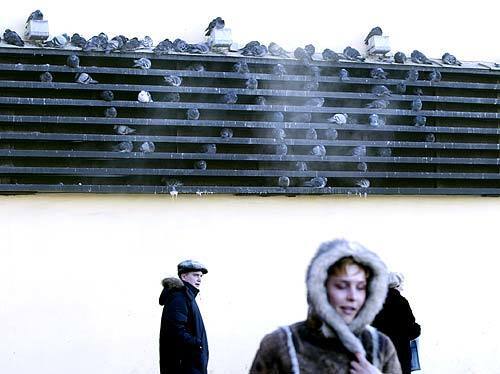 Pigeons huddle in the warmth to save themselves from the cold in Moscow Tuesday.
(Alexei Sazonov / AP)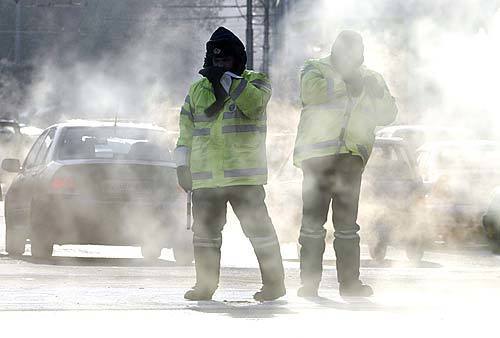 Traffic police brave sub-zero temperatures in downtown Moscow Wednesday. Muscovites endured the third day of a cold snap, using a record amount of electric power to keep warm.
(Alexei Sazonov / AP)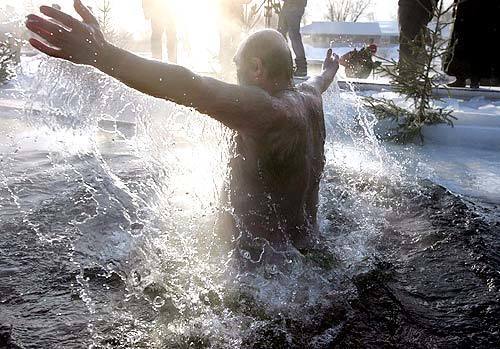 A man takes a dip in freezing waters during Epiphany celebrations in Moscow Wednesday. Believers took ice baths despite the extremely low temperatures in the Russian capital.
(Sergei Ilnitsky / EPA)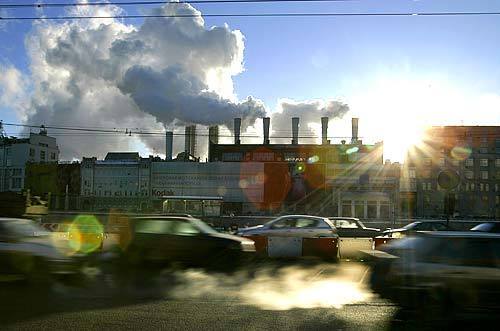 Smoke billows from a power plant in Moscow, where a cold wave hit after inflicting record low temperatures across Siberia.
(Alexander Zemlianichenko / AP)
A woman crosses Moscow's Red Square, with the Kremlin in the background, on Tuesday. Two people died of exposure and 14 more were hospitalized as temperatures plunged in the Russian capital.
(Alexander Zemlianichenko / AP)