Mexican mayor killed in a town threatened by drug traffickers
Alleged drug cartel members Jose Manuel Garcia Simental, center left, and Raydel "Crutches" Lopez Uriarte, center right, together with two unidentified men, are guarded by federal police as they are presented to the media in Mexico City.
(Alexandre Meneghini / Associated Press)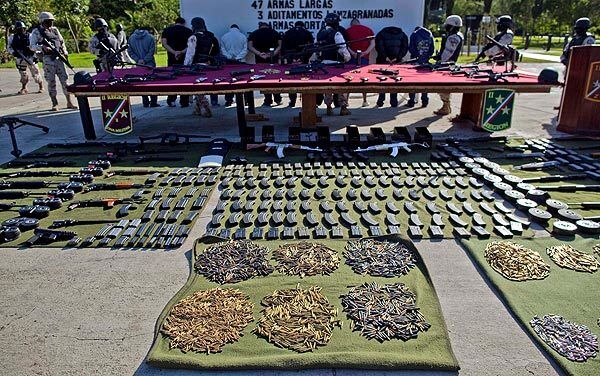 Weaponry and suspects are on display in Tijuana after authorities conducted raids in two neighborhoods.
(Guillermo Arias / Associated Press)
Mexican soldiers escort Gabriela Vega, far left, Catalina Castro Lopez, center, and an unidentified man during their
presentacion
in Mexico City. Critics say the media events violate suspects' rights.
(Miguel Tovar / Associated Press)
Packages of seized marijuana are presented with a suspect in Tijuana.
(Guillermo Arias / Associated Press)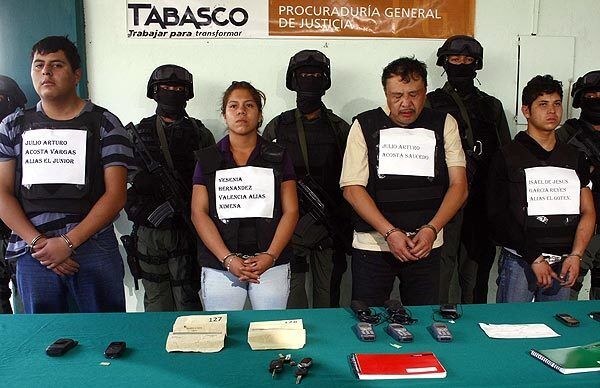 A
presentacion
in Hermosillo. Where critics see politically motivated spectacle, Mexican officials see proof of victories in the nation's drug war.
(America Rocio / Associated Press)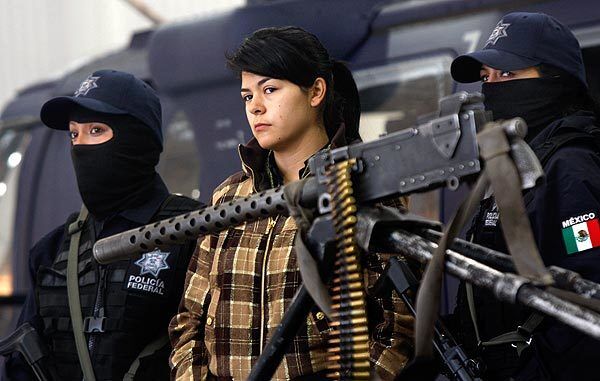 Anahi Beltran Cabrera, 20, who was arrested while allegedly guarding a weapons arsenal, is presented to the media in Mexico City.
(Marco Ugarte / Associated Press)
Alleged drug boss Teodoro Garcia Simental is presented in Mexico City after his arrest in La Paz.
(Alexandre Meneghini / Associated Press)
Mexican soldiers flank a suspect behind a table of weapons confiscated during a shootout in Tijuana.
(Don Bartletti / Los Angeles Times)
Soldiers in Mexico City escort suspects arrested in two shootouts.
(Marco Ugarte / Associated Press)
Reporting from Mexico City —
A mayor who took the job when every other official in his town quit out of fear of drug traffickers was reported slain Monday, the fifth Mexican mayor killed in six weeks.
Authorities said Gustavo Sanchez, mayor of the town of Tancitaro in Michoacan state, had apparently been beaten to death with rocks. He had been missing since Saturday and his body was discovered Monday along with that of an aide on the side of a rural road. Large bloodied rocks were found nearby, witnesses said.
"We've had executions of people, a town official, a councilman, but always shot to death … never anything like this," Michoacan state prosecutor Jesus Montejano said in a radio interview. "We are worried because this situation is very different from what organized crime usually does."
Sanchez was a 27-year-old schoolteacher who took charge of the municipal government in December after the town's mayor, city council and police department resigned en masse, saying they were being threatened by drug traffickers. The former mayor's family had been kidnapped to pressure him to step down.
"We made this difficult decision because the conditions do not exist that would allow us to do our jobs," the officials said at the time in a statement. "There have been incidents that threaten our physical integrity."
Sanchez, who did not belong to a political party, was sworn in as mayor a short time later after a committee from the Michoacan state congress promised that any new officials would be safe.
Sanchez "was sure he could be a good mayor because he did not have enemies in the region nor had he ever offended anyone," the online Michoacan newspaper Quadratin said in an editorial titled "Dying in good faith."
Tancitaro sits amid rich avocado orchards and marijuana fields in the mountains of western Michoacan, on the edge of wild territory known as the Tierra Caliente ("hot land"). It is an important crossing for drug shipments.
Sanchez was the 11th mayor killed this year. Many in dangerous northern border towns like Ciudad Juarez have begun to live in the U.S., or have moved their families there, and return to Mexico to work and for brief periods.
Also in Michoacan on Monday, navy special forces battled presumed traffickers through much of the day, killing four. A marine was also slain. Michoacan, the home state of President Felipe Calderon, is the turf of a vicious drug gang known as La Familia, which controls much of the trade in methamphetamine and marijuana.
Elsewhere in Mexico, gunmen burst into the central police armory in the state of Chihuahua before dawn. The well-armed team of about six men overpowered guards and seized about 40 assault rifles and other military-style weaponry, said public security spokesman Fidel Banuelos.
Federal police on Monday announced the arrest of Jose Ivan Contreras Lumbreras, a suspect in the July 15 car bombing that killed four people in Ciudad Juarez, an incident that marked a sharp escalation in cartel tactics. Contreras is reputedly an enforcer for the La Linea gang, the armed branch of the Juarez cartel, police said.
wilkinson@latimes.com
---