A 'Japanese lantern' in the hills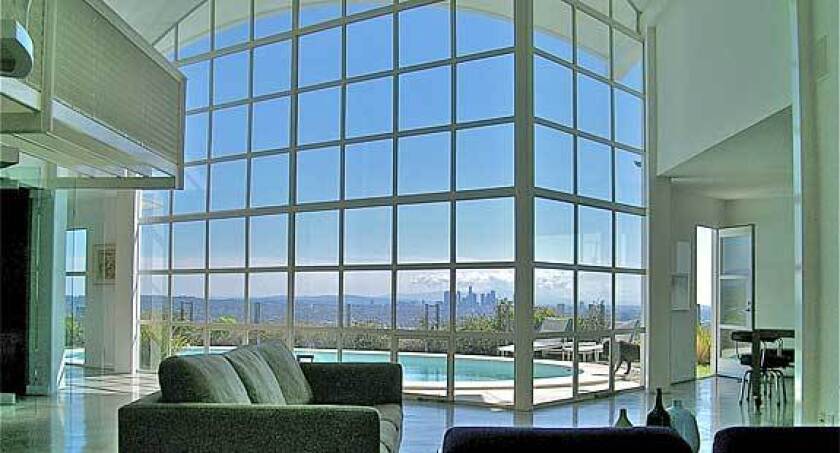 Nicknamed "the world's largest Japanese lantern" for the soft yellow glow it emanates at night, this Brian Murphy-designed house in the Hollywood Hills is the brainchild of an architect known for his edgy, offbeat creations. The effect is caused by light reflecting off the home's corrugated fiberglass shell.
With views of Los Angeles from every room and an interior flooded with natural light coming through glass walls and half a dozen skylights, the Sunset Strip-area house had its current owners instantly hooked.
"We saw this house and just fell in love with it," said Rob Johnson, who has lived there with literary agent Stephen Rose for more than a decade. "It's my favorite house I've ever lived in," said Johnson, a real estate agent. "And I've lived in a lot of houses."
Johnson, 46, and Rose, 53, have done next to nothing to change the original design, which was completed in 1991. The steel, glass and concrete house has a two-story living room with a spiral staircase leading up to an industrial steel mezzanine. Architecture buffs Johnson and Rose have stocked the cantilevered shelves of the library with volumes of architecture books.
Glass is prominent throughout the sparse, clean layout of the home. Inside the master bath stand four clear glass boxes: one is the shower, one is the toilet closet and two are storage spaces.
Some of the interiors are designed to look unfinished, with a slightly offbeat feel. The powder room has a four-sided glass shower in the center, with a swimming pool-style light on the floor of the stall. A convex mirror and a sink with exposed pipe and steel round out the look.
The quirks don't stop there. The front gate, made of zinc, contains small glass spheres, creating the illusion of hundreds of tiny lightbulbs against a metal backdrop. Instead of standard gutters, when it rains, water cascades down chains that run down to basins in the ground.
Murphy also designed much of the furniture in the house, including triangular kitchen tables that can be rearranged when entertaining guests. Some of the pieces are negotiable for sale with the house.
To submit a candidate for Home of the Week, send high-resolution color photos with caption and credit information on a CD and a detailed description of the house to Lauren Beale, Business, Los Angeles Times, 202 W. 1st St., Los Angeles, CA 90012. Questions may be sent to homeoftheweek@latimes.com.
---