5 Images
Some popular choices
The 30-year-old Whirley-Pop is a 6-quart, aluminum, stove-top pot and split lid with a hand-crank mechanism to agitate kernels. It produces 10 cups of popcorn in about three minutes. All parts are washable by hand.
What's the difference:
While the pot's on the burner, you turn the crank. When the popping slows or the crank becomes difficult to turn, remove the pot from the heat. Open the lid flap and pour out the popped corn.
What we thought:
An old-fashioned machine that is fun to use and gives great results. What could be more satisfying than turning the crank as the aroma of fresh popcorn rises?
How much:
About $30 at Sur La Table and Cost Plus stores.
(Robert Lachman / Los Angeles Times)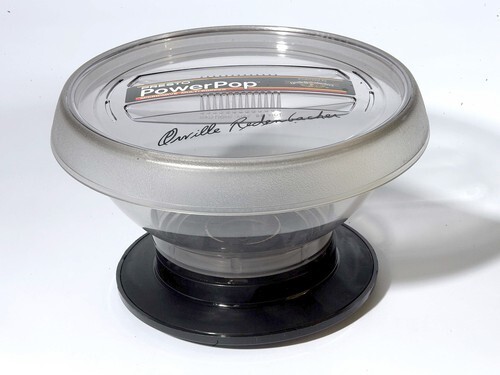 It takes Presto PowerPop three minutes to produce 8 cups of popcorn in the microwave. The plastic popping bowl and cover are dishwasher-safe. The see-through lid can be used as a serving bowl.
What's the difference:
There are several plastic microwave poppers now on the market. To focus the microwave energy, this one relies on a PowerCup "concentrator," a mini paper plate you place in the bottom of the popping bowl. You can pop with or without oil.
What we thought:
Good results, but the manufacturer's suggestion that you reuse the concentrators seems questionable. After one use, the plate was scorched and oily and not very appealing. A fresh concentrator may be needed each time, which adds to the cost if you're a frequent popper.
How much:
About $13 at Wal-Mart and Amazon.com. Extra concentrators are about $2 for a package of eight.
(Robert Lachman / Los Angeles Times)
Nordic Ware's Grilling Essentials Popcorn Popper is made up of two simple pieces: a large metal popping pan and a lid that looks like a beekeeper's helmet. It has an 8-cup capacity. There's nothing to plug in and no buttons to push. Just hold it over a heat source and shake for about five minutes.
What's the difference:
You can use this popper on a campfire, a backyard grill or a stove top. Flipped over, the lid becomes a serving bowl. The pan can be used for other campfire or grill cooking.
What we thought:
A great tool for camp or patio cooking. Not a practical gadget for the kitchen, because with all the shaking, you may end up scuffing your burners or stove top.
(Robert Lachman / Los Angeles Times)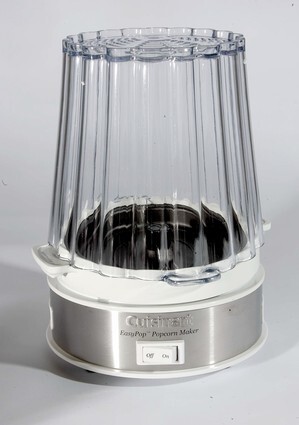 Cuisinart's new electric EasyPop Popcorn Maker is a white, plastic and stainless steel cylinder that's 12 inches tall and looks a bit like a chef's toque. It has a 10-cup capacity and takes less than five minutes to pop a batch. You plug it in, put in oil and popcorn and press the button. It shuts off automatically when popping is complete.
What's the difference:
The lid transforms into a large, great-looking serving bowl. The popping plate has nonstick coating and is dishwasher-safe.
What we thought:
Easy to use and clean, and attractive enough that you don't need to hide it away. Steam vents allow all the moisture to escape, resulting in perfectly crunchy popcorn.
How much:
$60. Available in white at Sur La Table and in red or pink at Bed, Bath & Beyond.
(Robert Lachman / Los Angeles Times)
West Bend's Stir Crazy Corn Popper is an electric machine that comes in 6- or 8-quart sizes. It's like a large, round hot plate with a plastic dome. A motorized stirring rod flips the kernels in the oil.
What's the difference:
The lid has a well on top with slits that allows butter to drizzle onto the popcorn as it pops. When the popping cycle is complete, you snap a plastic cap onto the butter well and invert the lid, turning it into a serving bowl.
What we thought:
A few kernels didn't pop, but overall, the machine produced crunchy, tasty results. We would have been more enthusiastic if the base plate was removable so it could be immersed in water for washing. Instead, you can only wipe it off for cleaning.
How much:
About $30 at Target and iKitchen.com.
(Robert Lachman / Los Angeles Times)