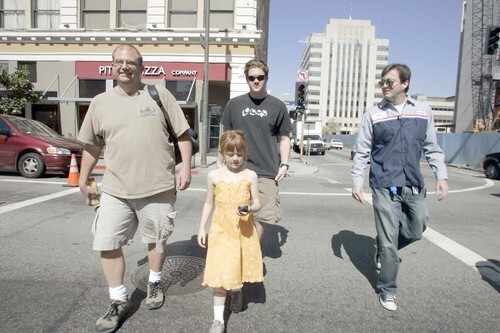 6 Images
Action Man: Geocaching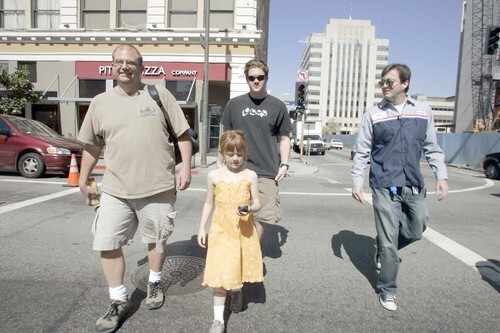 Geocaching is a novel activity in which players stash a cache of articles in a public area, then post basic geographical coordinates and hints of its precise location at the game's official website. Action Man Liam Gowing gives it a go:
After meeting up at Groundwork Coffee Company, where free wi-fi access allowed us to download coordinates and clues to several nearby caches from geocaching.com, Golden West College professor Travis Vail, his 6-year-old daughter Mikaela and 17-year-old son Tim and I head out for our first geocaching search of the day. Eyeing the GPS device in her hand, Mikaela leads the way.
(Annie Wells/ Los Angeles Times)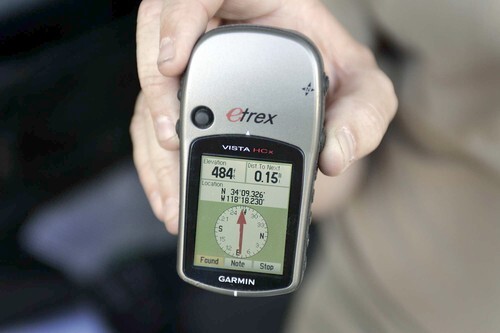 The Vail family's GPS unit, a Garmin eTrex Vista HCx which Travis purchased for about $300, was our constant companion. Not all geocachers rely on a GPS device--some map out the rough coordinates before commencing their search--but it sure makes things easier.
(Annie Wells / Los Angeles Times)
Travis discovered our first cache in downtown LA's Little Tokyo. It came in a rather popular geocaching container--a magnetized Altoids tin.
(Annie Wells/ Los Angeles Times)
The fourth cache of the day proved a bit of a struggle. There were several obvious hiding places at the geographical coordinates provided. Finally, after much searching along with several minutes sitting idle while waiting for a crowd of "muggles"--non-geocachers watching our movements a little too closely--to disperse, Tim made the grab.
(Annie Wells/ Los Angeles Times)
Even with a search narrowed down to fairly precise location, it can be tough to find caches, particular the small ones. Here I am, somewhere in Lincoln Heights, searching vainly for a cache along the underside of a newspaper kiosk, while Mikaela looks on.
.
(Annie Wells/ Los Angeles Times)
Mikaela holds open one of the classic Altoids-tin-caches we found for the camera. In addition to the mandatory log book, which finders are encouraged to sign, there were a few signature items left behind by other geocachers. The skeleton was a particularly nice touch.
(Annie Wells/ Los Angeles Times)