MID CENTURY:
Emmy Award winning film producer Bryan Delancey lives in a 1922 vintage cottage in Venice with mid-century modern interiors.
(Mark Boster)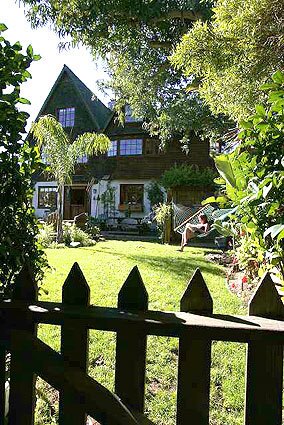 SOAKING UP THE SUNSHINE:
Tricia and Brian McLoughlin's cottage is the last original one atop a hill overlooking Manhattan Beach, possibly owing its longevity to its sizable 2,600 square feet. With storybook gables, shingle siding and a Dutch door, it more closely resembles an English country cottage — albeit one with surfboards and beach cruiser bicycles. At top, whimsical, small interiors like the one above top preserve the feeling of intimacy despite the home's scale. "This is a house you can beat up. It's easy, casual, uncomplicated living," Tricia says.
(Allen J. Schaben / LAT)
SUN CATCHERS:
Lizzie McGraw's nearby cottage in Inglewood brims with antique touches, open shelving and muted prints. "You've got to be a certain kind of person to live in a cottage," McGraw says.
(Genaro Molina / LAT)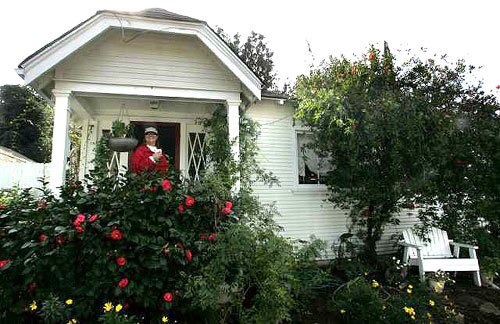 STEEPED IN THE LIFE:
Summers spent in a cottage on the shore of Lake Erie left their mark on McGraw, above, who apart from living in a 1920s cottage also runs Tumbleweed & Dandelion, a store on artsy Abbot Kinney Boulevard that sells custom furnishings and accessories celebrating the lifestyle.
(Genaro Molina / LAT)
SCALED-DOWN SLUMBER:
Although Lizzie McGraw sums up her small bedroom as "a dresser, a nightstand, a bed," the space's crisp white linens, bright flowers, stuffed pillows and other personal touches infuse it with a sense of warmth and simplicity.
(Genaro Molina / LAT)