A heady scent of happiness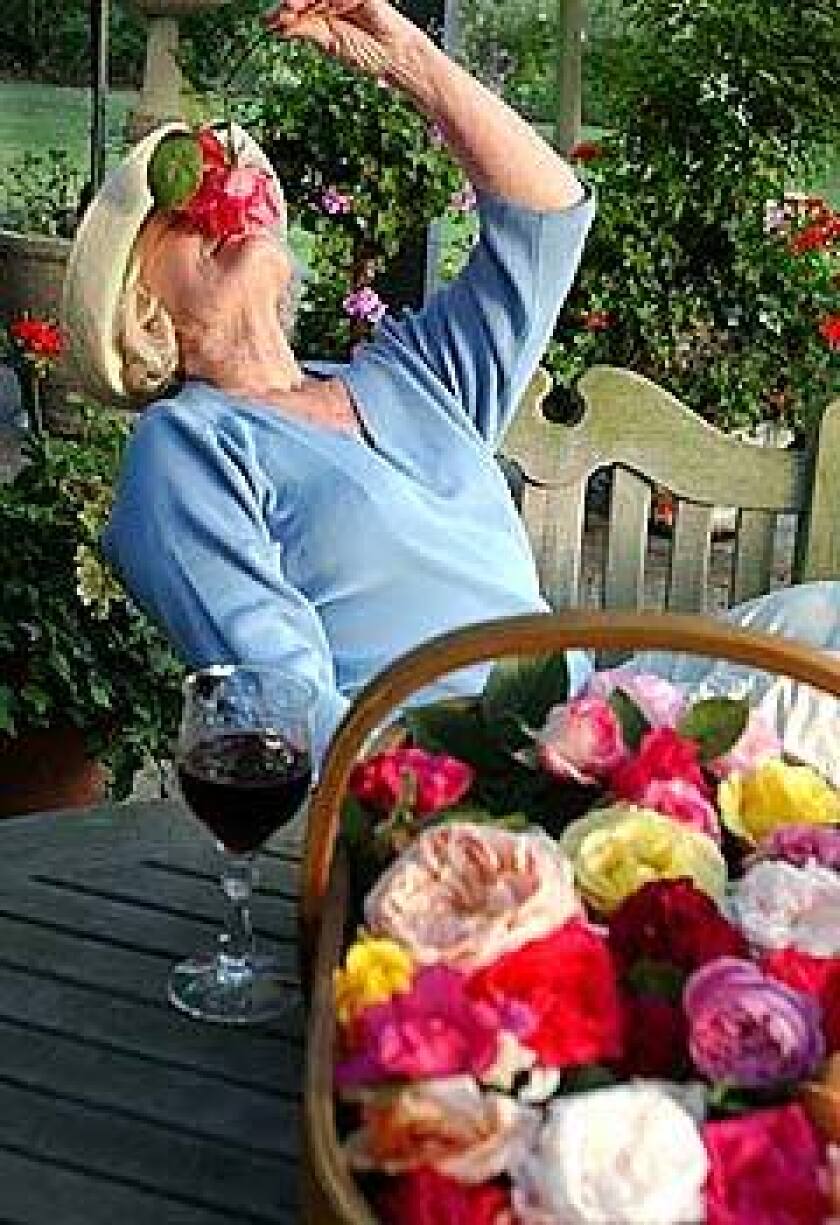 Times Staff Writer
Mel O'Hair wears a bathrobe over his T-shirt and jeans. He's just got out of the hospital after a case of indigestion turned out to be a heart attack. To the annoyance of his wife, Edie, he won't follow doctor's orders and stay inside the house. She gives up chiding him when she realizes that he's settled down somewhere far more restorative — under the arbor on the patio. The first spring roses are in bloom. Their perfume carries on rising vapor as a late spring rain evaporates in midday heat.
"Did Edie tell you what people around here call her?" he asks in a teasing voice. "They call her 'the Rose Lady of Temecula.' I know that because they call me 'the Rose Lady's Husband.' "
His wife's worried look melts into an expression of helpless amusement. Edie O'Hair is, undeniably, the Rose Lady of Temecula. He is, indeed, the Rose Lady's Husband. Beyond them stretches one of the most outstanding private collections of roses in the state. Since moving to their ranch in the DeLuz hills 18 years ago, they have planted more than 3,000 climbers, ramblers, shrubs and miniatures along the terraces of their 3-acre flower garden. Come looking for the rarest specimens, the copper rose of Persia, a rugosa from Japan, the first 19th century tea rose, hybrid perpetuals, hybrid musks, French bourbons, the Iowa prairie series of roses: They're all here.
Yet what's remarkable about the O'Hairs' collection is that they're not collectors. Collectors tend to acquire roses like museum pieces. They plant the shrubs in tidy rows, kept orderly by hard pruning. The blooms can be impressive, but roses don't grow this way naturally. To achieve it, you'll need the pesticide industry's assistance and you'll want to wash your hands after handling a stem.
By contrast, the only thing that mists the O'Hairs' roses is dew. Their garden isn't a museum, but a luxuriant retreat overflowing with all manner of fruit trees, flowers and herbs. As a garden, it's a love story. Between them, Mel and Edie have created something so sensuous, so aromatic that it seems less of this world and more sprung from a painting of a medieval paradise garden.
They met as teens in Pasadena, married in 1955. She was 20, he was 22. She worked at a series of jobs — secretary, librarian — and he laid the foundation for what would be a successful business manufacturing water purifiers. When they earned enough to buy their first home in Arcadia, they shocked their neighbors by pulling up the lawn. "They were all standing out, they couldn't believe we'd dug up the lawn and put in a haphazard English garden," says Edie. In the 25 years they lived in that house, they raised two children and amassed more than 500 rose bushes in a typical suburban garden.
She laughs at the modern custom of banning roses from schoolyards because of bees and thorns. "I had a theory when my children were young," she says. "If they fall into it once, they learn to back off."
By the mid-1980s, the O'Hairs were still collecting roses, but had run out of garden. They moved to a 5-acre ranchette, where a mock-Tudor cottage stood incongruously in coarse chaparral. Its north-facing slope, descending to a shaded creek bed, was every rose gardener's dream.
Mel designed the plan for the new garden on the back of a napkin, and he and his wife began digging out the terracing, hauling stone, digging in compost and creating winding paths crisscrossing the lot. They adopted a Belgian shepherd, Della, which they found after it was hit by a car, and now pads every path in Edie's steps. To her husband's dismay, Edie also began keeping roadkill. He'd open the garage freezer and find gophers, rattlesnakes and possums, all frozen to act as fertilizer for the next round of planting. "You just had to be careful what you unthawed for dinner," says Edie.
Until Mel retired four years ago, planting could be done only on weekends. "I'd bring truckloads of plants home on my pickup truck and on weekends we'd plant them," he says. They used to battle gophers; now everything, including trees, is planted in wire baskets. "By the time the tree roots bust out, it's established," says Mel.
Based on the English model, they interspersed roses with every conceivable variety of flowering trees: redbuds, crab apples, peaches, cherries.
Eighteen years later, the result starts out tamely enough. As a red brick path leaves the house, you could mistake this area for a slightly blowsy flower garden. But past the first row of perfumed beds with tea roses that really smell of tea, the hybrid perpetuals, the damasks, the French noisettes and the '50s roses named after jazz singers, a stand of sycamores signals a transition to something wilder. Past more roses, musks and prairie roses the color of a fiery sunset, the gardeners have created small woodlands: an unirrigated planting of oaks, native lilacs, a grove of pepper trees. These dapple the light, cool the air, usher in wildlife, California spice and a woodland quiet.
With each change of tree type, the path changes too, from cul-de-sacs to circles, from brick to gravel. As magnolias give way to pines, English roses to German ones, lilac to wisteria, the perfume of roses suddenly mingles with the scent of pines. All at once it's clear why Edie O'Hair is still in love with the man she met at 14, why at 70 she is as radiant as a bride, why Mel O'Hair is happy to be known as "the Rose Lady's Husband." This isn't just a rose garden, it's a place where happiness grows.
Several years ago, Mel O'Hair counted the specimens they'd planted together: more than 3,000 roses, 1,000 trees and an incalculable number of irises, salvias and wildflowers. She can't remember when she stopped reading conventional care tips involving hard pruning of rose bushes and regular treatment with fungicides and insecticides. Mention of them is one of the few things that can harden her twinkling eyes. "But my dear," she says pityingly, "the companies that recommend this make the pesticides. The routine is meant to sell product."
Mites can be dealt with by seven successive mornings of being sprayed from underneath by a hose, she says. Roses prone to black spot still have gorgeous flowers. Mosaic virus might come in from a nursery, but it doesn't spread in her garden, she says.
She wonders if the garden isn't becoming too dark in its woodiest heart, and whether they'll need tree trimmers soon. However, she's not a big one for pruning roses. "The rose world is divided between those who believe in constant pruning and hacking and people like me who love to let roses grow and billow," says Edie. "The reason the others don't understand is they've never seen a rose unbridled."
She thinks about it for a moment, jams a newly cut rose to her nose, tosses her head back for a deep snort, then declares, "I say, give the rose her head and let her go!"
---