10 Images
Glamour that lingers
Bold legacy
Haines, who died in 1973, put his own distinctively Modern spin on postwar Hollywood glamour.
(Nicholas Ackerman)
A pastel glow
William Haines collaborated with architect A. Quincy Jones on this 1950 home, featuring Haines' long, low couch and Brentwood chairs.
(Julius Shulman / Getty Institute)
Bel-Air house
Haines furnished the terrace of a Bel-Air house with Regency-style iron chairs.
(Russell MacMasters)
Coauthors
Jean Mathison, left, and Peter Schifando are coauthors of "Class Act," documenting Haines' design work.
(Ken Hively / LAT)
Screening room
Haines and architect Roland E. Coate transformed Jack Warner's mansion into a Georgian palace. The screening room had classical columns and a rotating sofa.
(Jeffrey R. Hayden)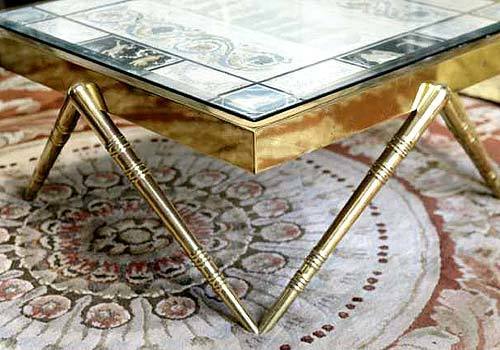 Coffee table
Haines and studio designer Michael Morrison incorporated an antique Italian fresco into a modern coffee table with slender brass legs that resemble bamboo.
(Myung J. Chun / LAT)
Hostess chair
The often-imitated Hostess chair with its simple curves and custom designed upholstery.
(Ken Hively / LAT)
Fine details
In Peter Schifando's library, a bronze equestrian lamp occupies a table top alongside a vase-like Lucite cigarette holder.
(Myung J. Chun / LAT)
Ageless style
A monkey lamp with its bamboo shade casts a soft light.
(Ken Hively / LAT)
Walnut chair
A 1952 walnut chair by Haines awaits upholstery at Peter Schifando & Co. in West Hollywood.
(Myung J. Chun / LAT)