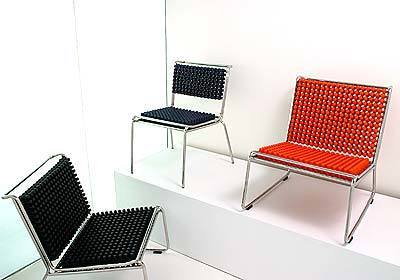 9 Images
The weather beaters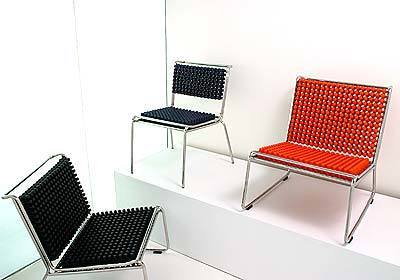 Pros:
Tubular construction makes this 2003 Cologne Furniture Fair-winning lounge chair a featherweight, plus the webbed polypropylene nodes on the seat conform to the body.
Cons:
Manufacturer recommends a once-yearly application of Minwax to protect the metal frame. Accupunto chair by DellaRobbia, $399 from Blueprint, Los Angeles, (323) 653-2439.
()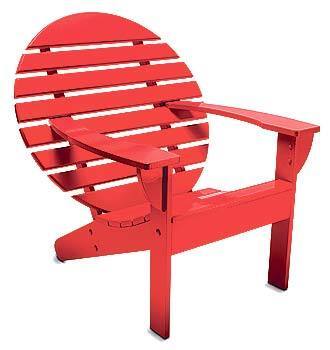 Pros:
The classic Adirondack receives a colorful and shapely update in weather-resistant mahogany with a durable marine enamel.
Cons:
Somewhat heavy, many wood chairs also may require retightening when they swell or shrink in changing weather conditions. Round-back chair, $450, from www.archiesisland.com, (800) 486-1183.
()
Pros:
Powder-coated heavy-gauge steel makes this old-fashioned glider sturdy. Its pierced back provides ventilation.
Cons:
At nearly 70 pounds, it's not for constant furniture rearrangers. On some metal chairs, a powder-coated finish may require touch-ups and oil to avoid rust around moving parts. Grandin Road gliding chair, $299, from www.frontgate.com, (800) 491-5194.
()
Pros:
Warm and sensual, the wood on this hand-carved, hand-joined bench/side table ages to a silvery gray.
Cons:
Without a sealer, teak should be treated with linseed oil at least once a year. Larger pieces made from solid teak can be weighty. X Bench, $992, available to the trade from David Sutherland, Pacific Design Center, (310) 360-1777.
()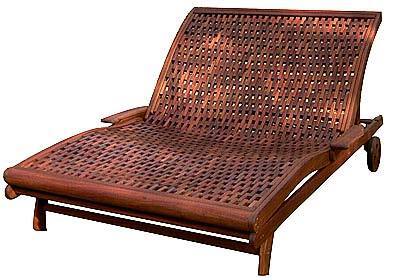 Pros:
Also known as Mexican nogal, the tropical hardwood of this chaise for two has a rich reddish tone that weathers more slowly than teak.
Cons:
As dense as it is durable, this double-wide may weigh more than you do — and would appreciate a linseed oil rubdown in summer. Tzalam chaise, $1,950, from Avitatt, San Diego, (619) 338-8245.
()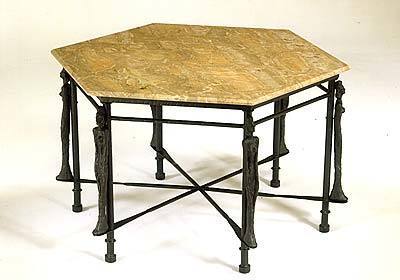 Pros:
This sculptural hexagonal table in rust-finished cast iron with marble top will last several lifetimes.
Cons:
Manufacturer needs to seal the base with a marine varnish for outdoor use. Olympic weightlifting skills required to move solo. Caryatid VI iron table with travertine top, $5,000 from Pierce Martin, Los Angeles, (310) 652-0299.
()
Pros:
Powder-coating protects the iron base, and the all-weather Sunbrella shade is fade-resistant. Additional safety features include sealed circuitry and a Teflon-coated bulb.
Cons:
Although UL rated for outdoor use, this outdoor lamp is only recommended for covered areas. Villa Terrace outdoor floor lamp, $379, from www.frontgate.com, (888) 263-9850.
()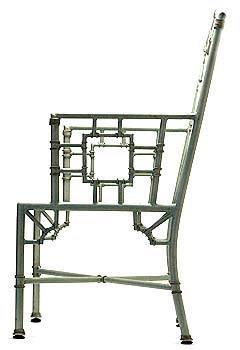 Pros:
This elegant Chinese Chippendale chair is made of tubular aluminum that is extremely lightweight and patinated with a celadon finish that prevents corrosion.
Cons:
By contrast, many other aluminum pieces are solid-cast furniture, making them hard to move. Armchair, $695, available to the trade from Bruce Eicher, West Hollywood, (310) 657-4630.
(Eric Boyd / LAT)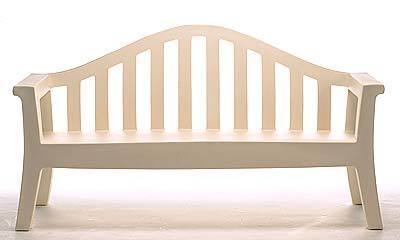 Pros:
Lighter than its wood counterparts, this colorfast molded version of a classic English garden bench can be hosed down and has a sloping seat for water runoff.
Cons:
Although not shiny like cheap resin furniture, polyethylene is still plastic. Giulietta Bench, $795, from www.conran.com, (866) 755-9079.
()