A New Frontier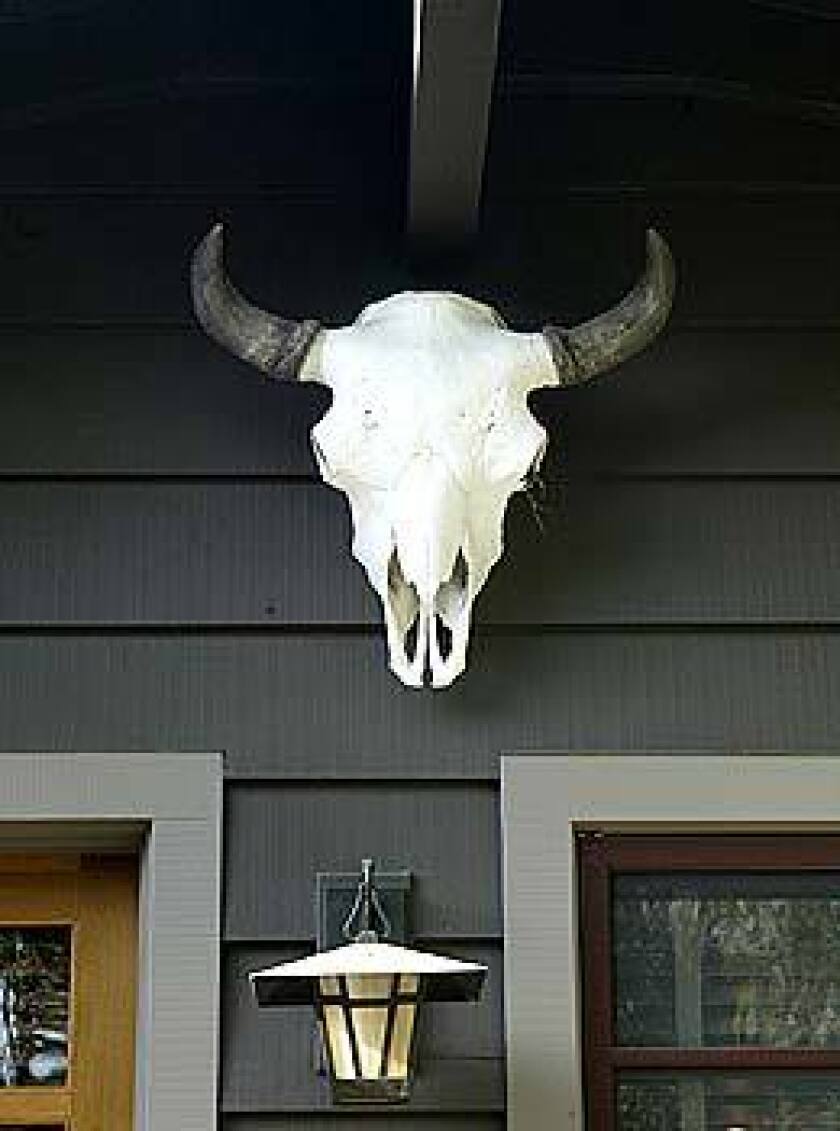 Special to The Times
Arno Grether did not shoot that buffalo. "It was struck by lightning in Nebraska," says the peaceable Pasadena native, who hung the beast's skull on the back porch of his 1906 Craftsman home. Another souvenir of the Wild West, the horseshoe embedded in his front drive, is not only for good luck but also sort of a signature for Grether, who raises thoroughbreds. It's no surprise then that the inside of Grether's homestead looks like a tableau from the Autry. But, whoa, what's that twig table doing by the Arts and Crafts stained-glass window? And isn't that an Oriental rug and Asian coffee table at the foot of the burl wood sofa?
Welcome to a new frontier: 21st century Western, an old style of decor that is newly popular. With a look that embraces traditional cowboys-and-Indians iconography along with East Coast rusticity, Old California influences and modern proportions, Western is primed for a remake. Steeped in screen history, but miles away from Hopalong Cassidy's hacienda or J.R. Ewing's glitzy Dallas compound, the new down-home is growing up to accommodate a world of tastes.
"You can have willow Adirondack furniture and Middle East textiles like kilims" in the new Western interior, says Su Bacon, Grether's decorator. For an Altadena client, Bacon put wicker and New Guinea art in front of an adobe fireplace. Even die-hard urban modernists warm up to contemporary furniture with cowboy detailing, such as New York designer Thomas O'Brien's saddle-blanket upholstered Leo chair for Hickory Chair of North Carolina.
Traditional decorators are also back in the saddle-stitched style.
"I just covered a fully upholstered English loveseat in cowhide, which always looks chic," says Joe Nye, a Los Angeles interior designer. "I'm ready to put leather fringe on my sports jackets."
As with many home design movements, pop culture helped blaze the trail. In 2000, three home decor books, "Rancho Deluxe," "Cowboy Chic" and "Monterey," helped a new generation rediscover ranch architecture, Western furniture and the pre-World War II Spanish Revival in Los Angeles. As horse operas returned to the screen — both big ("The Alamo") and small ("Deadwood") — this year, cowboy hats and snap-front Western shirts once again made the trip from runways to retail. Gucci and Polo featured tooled and leather jackets, and Vogue photographed a pony skin clutch hanging from a horned skull.
Now chandeliers made from antlers are galloping onto the market alongside buffalo-check blankets and Navajo-style rugs. The Western clothing company Double D Ranchwear licensed a line of furniture to the William Alan company, which also makes sofas with horn legs and branded leather ottomans with hoof-shaped wooden feet.
High-end 20th century antique dealers on La Cienega Boulevard are dabbling in a sophisticated form of Western for their Hollywood clientele. Blackman Cruz is offering a pair of hacienda-style sling-seat butaca chairs by famed 1930s Mexican architect Luis Barragan, and Pegaso has tooled leather director-style chairs from South America. At Chez Camille, a glass tabletop is mounted on a pedestal of carved horse heads that is pure Bel-Air Regency.
Western decor has always been a jigsaw puzzle of influences that are equally rough-hewn and refined, functional and decorative. For every tufted Victorian fainting couch brought West by the railroads in the late 1800s, there were benches and beds hacked out of trees, fireplaces made from river rocks, and tables crafted from old oxen yokes and wagon wheels. In California, additional flavors spiced the stew, including the ironwork, tiles and heavily carved dark wood cabinetry of the Spanish missionary designs and the boldly colored fabrics and wood furniture from Mexico.
Hollywood helped define the romance of the West. According to Alan Weintraub, author of "Rancho Deluxe," cinematic sodbusters from the 1920s and '30s brought the style home. It was in Will Rogers' "half ranch, half Beverly Hills mansion" in Pacific Palisades abode, Weintraub writes, "that the cowboy style was codified."
While these "shrines to vanished ways of life" were good publicity, Weintraub writes, they also exemplified "an authentic American style, based on native materials and vernacular forms, raised to the sumptuousness and clarity of any other style, Colonial, Gothic or Modern."
The 1930s also saw the rise of dude ranches, where city slickers could live like cowboys. Many of these vacation spots were decked out with exuberant pieces from the Shoshone Furniture Co. of Cody, Wyo. Founder Thomas Molesworth applied artistry and whimsy to rustic furniture, adding pine poles, brass tacks and leather fringe as decorative elements to burl wood pieces. Reproductions of his intricate designs from 1931 to 1958 run to $10,000 for sofas; originals may fetch six figures.
In "Cowboy Chic: Western Style Comes Home," Chase Reynolds Ewald explains the endearing qualities of the work. "Molesworth introduced vibrant yellow, lime green and turquoise leather … substituted bent deer legs for handles and made sconces out of coyote heads. It goes without saying that he had a sense of humor."
So did the artists, many of whom also worked at Disney Studios, who painted the bucking broncos and prairie flowers on Monterey furniture sold through the Barker Brothers showroom in downtown Los Angeles. This Spanish Revival collection featured furniture with lathe-turned legs, scalloped edges, heavy iron hardware and rope seat webbing.
"They stopped doing that because women complained it ran their hose," says Michael Trotter, co-editor of "Monterey" and curator of Santa Monica's California Heritage Museum, which has maintained a permanent Monterey display since 1999.
Produced from 1929 to 1945, Monterey furniture has become sought after, particularly after Diane Keaton's collection in a Wallace Neff home was published in Architectural Digest. The Monterey line preceded the postwar boom in ranch houses that were furnished by less-attractive mass-market pieces including the barrel-back tub chairs and wagon-wheel chandeliers of the "Bonanza" era.
"Monterey is furniture that pays homage to our heritage and looks perfect in California homes," says Trotter. "It's casual and it complements many other things people collect from that era, whether it's tile, pottery or paintings."
Even the floral designs applied to Monterey furniture do not detract from their rough-hewn masculine appeal. Many believe that the new Western look will rope in a larger male audience that has gained an interest in interior design by watching home décor television.
"Men are more involved in decorating than they ever were and they fall for anything that's rugged. Show them a swatch of chintz and they'll faint, but show them cowhide and they will melt," Nye says.
The style is often wrongly perceived as macho. "The West wasn't won just by men," Bacon chides. "That pioneer woman was strong, very much like the woman of today with career and family."
If Western style creates a place for repose that makes men and women feel protected in a stressful urban center, it also provides a sense of value, especially in uncertain economic times. "America feels comfortable with the look because it is casual and livable," Nye says. "The parents of little ones don't have to worry about the coffee table getting beaten up because it already is."
The underlying quest for something that lasts also informs the Western revival. "Shabby chic was great," says Bacon, "and chintz was super, but they went in and then out. There's something about wood and leather pieces that make them the heirlooms of tomorrow."
Having a Texan in the White House hasn't hurt either, says Bacon. Twenty years ago, another president, Ronald Reagan, added a Western twang to the California casual construct with his Santa Barbara weekend ranch style. Indeed, the Western revival might be traced to people who own second homes in the mountains and deserts. Furnished with oversized, rustic pieces that typify the put-your-feet-up ease of the West, these vacation nests stir the desire for a more earthy hearth.
The massive raw timber and stone furniture in Montana ranches and over-the-top Rocky Mountain lodges also works in 10,000-square-foot L.A. McMansions. Older architectural styles in Los Angeles — Spanish and Mediterranean Revivals and California cottages — have always made traditional Western decor feel right at home.
"You don't have to own an adobe or a ranch. You can bring this look into a bungalow, a colonial or even an English Tudor," says Bacon, who put a client's collection of original Mission furniture by Limbert and Stickley into an ultracontemporary Pacific Palisades home. "Once there were Indian rugs and pottery and baskets which were strong enough to stand alone as pieces of art on the concrete floors, it all worked."
Western and Modern often stray into each other's turf. A respect for the organic qualities of wood is evident in both 19th century tables made from tree roots and the polished walnut slabs of the modern Japanese woodworker George Nakashima. Early 20th century classics such as the leather and cowhide seats and chaises by Bauhaus designers Le Corbusier and Breuer exude a Western vibe, while the raw simplicity of old Indian and Mexican textiles look like they could have been woven yesterday.
"Navajo rugs are so geometric and crisp," says Nye, "that they always look completely modern."
For the gun-shy, contemporary furniture designers add just a pinch of the Old West to tailored classics. The Texas-based contemporary furniture manufacturer American Leather, which produces a line by noted Modernist Vladimir Kagan, forged a deal with Stetson to make an easy chair with trimmings that mimic the leather band on a ten-gallon hat. In his namesake Los Angeles and Malibu stores, the Italian belt and bag designer Henry Béguelin has launched a sleek hand-stitched home collection that weaves leather and wooden pieces with a Milanese flair.
The Western style can also be achieved by updating antiques, says Bacon, who reupholstered her mother's French chairs with Indian motif fabric and Pendleton plaids studded with nailheads. Accessories can also do the trick. "In a real Western home, art was not just what was hanging on the walls," Bacon says. "It was the saddles you put on a stand, the chaps you hung on a hook, the blanket you put on a railing and the pottery you ate off of."
While many original Western items can still be found, there has also been an explosion of decorative objects. Bandana prints and serape stripes can be found at Pottery Barn and Pier 1, and there's been a huge increase in reproduction Monterey and Molesworth furniture as well as classic midcentury pottery from Bauer.
"This is a revival that is alive and well," declares Bacon, who has discovered a burgeoning herd of contemporary craftsmen working in the cowboy tradition in the San Gabriel Valley and beyond. "All of the bones that created it a hundred years ago are back."
For Arno Grether, it never went away. His dad rode a horse to school as a child in Ventura County and raised his family in an Arts and Crafts home in Pasadena. Grether started buying Craftsman furniture about 15 years ago while living in a Mediterranean Revival "because it was comfortable and familiar." An avid fly fisherman, Grether has also "spent a lot of time in the great lodges of Colorado and Montana and the furniture designs of Molesworth stayed in my mind."
Consequently, he says his style of decorating has "evolved organically."
By the time he renovated and moved into his current home in 1999, Grether had a collection of Mission and Molesworth-influenced furniture, rustic hickory twig pieces and hand-painted Monterey collectibles. He has iron beds in the guest room and a privy wallpapered in a medallion print that looks as if it came from the best little whorehouse in Texas. Grether displays a collection of 20th century bungalow pottery in Stickley cases in his living room. In his library, vintage packing labels from fruit crates are framed and hung on the walls.
"I've never been a trendy guy," he says sitting in an overstuffed roll-arm leather chair. "I like what I like. I figure if I wear these Teva sandals long enough, someday even they will be back in vogue."
*
---
David A. Keeps is a frequent contributor to Home. He can be reached at home@latimes.com.
*
(Begin Text of Infobox)
Where to get the Western look:
*
Antiques: T.L. Gurley Antiques, Pasadena, (626) 432-4811, Mark Jager Antiques, South Pasadena, (626) 799-2640.
*
Monterey furniture: Roger Renick Fine Arts, Pasadena, (626) 304-0008, https://www.renickarts.com ; The Old California Store, Ventura, (805) 643-4217.
*
Reproduction and contemporary Western furniture and accessories: H.L. Ranch, Monrovia, (626) 303-4899, https://www.historiclighting.com ; Rituals, Los Angeles, (310) 854-0848, https://www.rituals decor.com.
*
Furniture collections: Stetson by American Leather at Horizon Furniture, (310) 652-7400; Double D and Furniture Journal by William Alan, Peter Lang, (310) 652-0700, https://www.william alan.com; Henry Béguelin Home, Malibu, (310) 317-6177, and Los Angeles, (323) 653-1905, https://www.henrybeguelin .com; Thomas O'Brien, https://www.hickory chair.com. Acquisitions Borderland by Henredon, https://www.henredon.com .
*
Serape pillows: Iguana, Long Beach, (562) 433-1713.
*
Tooled leather frame: Target.
---