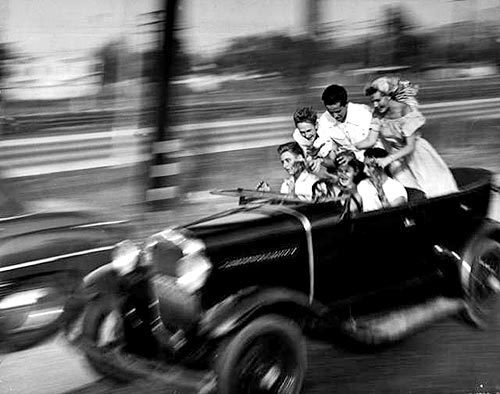 12 Images
Fun with Wheels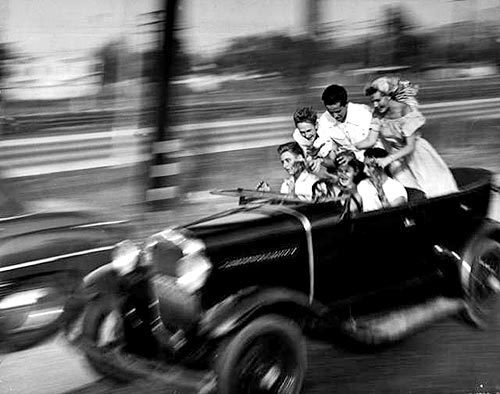 Ralph Crane's classic 1949 image of a teenage joyride captures the thrills and fears of this rite of passage. The shot — taken in Los Angeles — graced the cover of Life that year, and has been making parents nervous ever since.
(Ralph Crane / Time Life Pictures / Getty Images)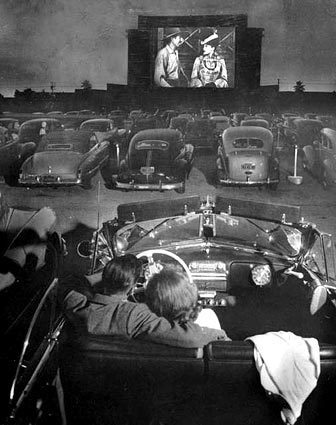 A young couple snuggles behind the wheel of a convertible as they watch the big screen flick at a drive-in movie theater.
(J. R. Eyerman / Time Life Pictures / Getty Images)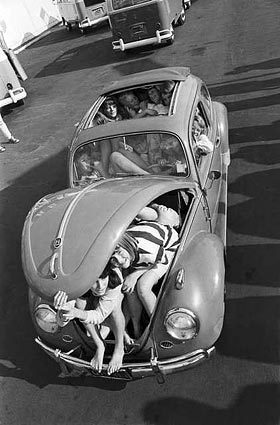 During the 1960s, car cramming was all the rage. Here, students from Ladera Vista Junior High in Fullerton stuffed themselves into a Volkswagen Beetle. Ten boys and 21 girls fit in the car, breaking the old record of 25.
(Bettmann Archive / Corbis)
Car collector Gerald McCrystal of New York walks between a 1954 Coupe, left, and a '56 Sedan de Ville on display at the Great Labor Day Cruise and Car Show in Costa Mesa. The annual event draws classic and antique car devotees from all over the country. This year's show will be held Sept. 2-4 at the Orange County Fair & Exposition Center.
(Don Bartletti / LAT)
Stephanie Baltierra founded the "Blessing of the Cars" in Los Angeles. She is all dressed up matching her red and white 1964 Comet Caliente. The event started as a friends and family affair 10 years ago; it's turned into an gathering of more than 10,000 classic car fans who show up at Hansen Dam Park to have their cars blessed and admired. This year's Blessing of the Cars will be on July 29.
(Bob Chamberlin / LAT)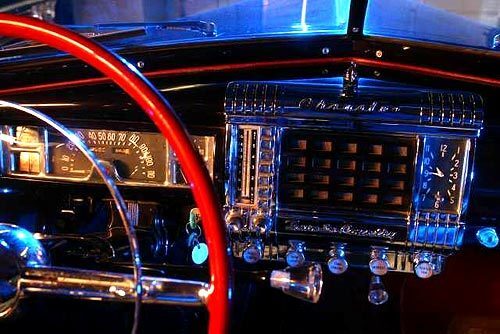 What road trip would be complete without tunes for the road? A 1947 Chrysler Town and Country comes with this radio.
(Mark Boster / LAT)
Ed "Big Daddy" Roth, shown here in the early 1990s, was an icon of hot rod culture. He designed custom cars and drew Rat Fink.
()
Los Angeles residents Heather Collins, left, and her friend Kenya Reeves enjoy a drive on Sunset Boulevard at night.
(Béatrice de Géa / LAT)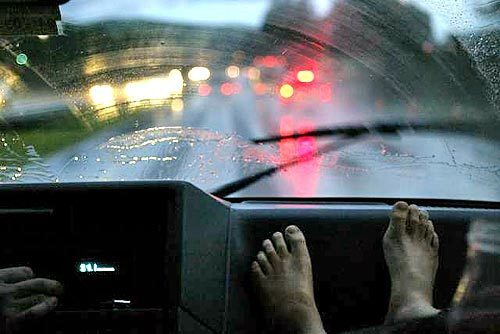 Regine Chassagne of the band Arcade Fire puts her feet up while on a drive through the rain near Pismo Beach, Calif. She and her husband and bandmate, Win Butler, took to the road to do a little sightseeing while on tour last year.
(Myung J. Chun / LAT)
It seems like surfing and station wagons have always gone together in SoCal's car culture. Guy Adams' 1948 Ford Woody is photographed at Huntington Beach.
(Allen J. Schaben / LAT)
Barry Lavette bought a Subaru Legacy wagon for the room — for surfboards.
(Luis Sinco / LAT)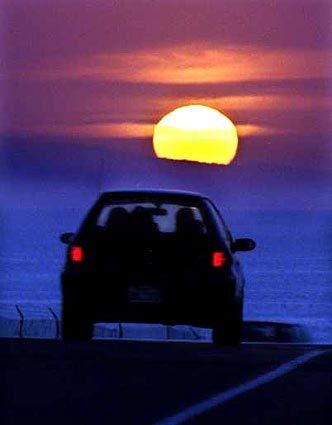 The setting sun makes for a nice drive along Coast Highway in Laguna Beach, Calif.
(Geraldine Wilkins-Kasinga / LAT)