A lowrider drives along a side-street in Los Angeles.
(Gary Friedman / LAT)
John Baioa with his 1969 Impala.
(LAT)
Young women admire a cruising lowrider on Crenshaw Boulevard.
(Gary Friedman / LAT)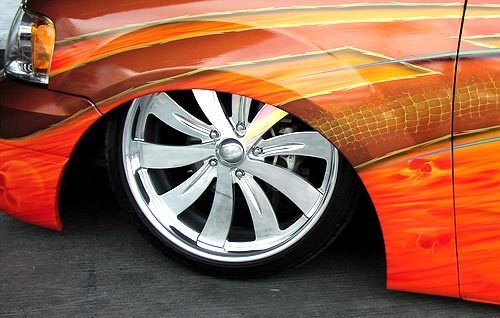 Big wheels and lift kits may be the big thing with truck owners, but the lowrider culture is big and growing, especially in Southern California and the Southwestern states. This "slammed" pickup in incendiary desert colors is an extreme example of the genre.
(John O'Dell)
George Luna's 1947 Chevrolet Sedan Delivery, christened 'Midnight Illusions,' took three years to customize for the lowrider show circuit.
(Petersen Automotive Museum)
Lowrider creator Mario de Alba and his 1951 Chevrolet.
(Iris Schneider / LAT)
A 1949 Chevrolet delivery vehicle is tricked out in lowrider style.
(Petersen Automotive Museum)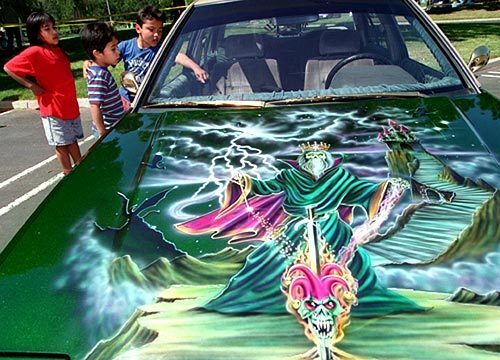 From left, 7-year-old Maria Rodriguez of Irapuato, Mexico; 4-year-old Christopher Sonega of Orange; and Maria's 8-year-old brother Jose examine a Honda Accord at a Lowrider Alliance of Orange County's car hopping contest.
(LAT)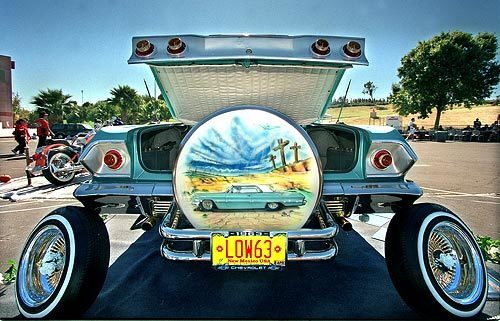 This '63 Chevy is displayed on jacks to highlight its elaborate chrome work.
(Jim Laurie / For The Times)
Jesse Valadez's 1964 Impala 'Gypsy Rose.'
(Petersen Automotive Museum)
1951 Chevy "El Corazon."
(Petersen Automotive Museum)
Joseph Valdez, 14, right, of Santa Ana, makes an adjustment on his dad's 1959 Impala lowrider that is equiped with a hydraulic system to make the car hop up and down.
(Allen J. Schaben / LAT)
Yuzuru Oishi, owner of House of Lowriders, checks out a 1963 Chevy Impala "street pro hopper" with four pipe hydraulics and fully wrapped frame that will be shipped to Japan to sell for $25,000.
(LAT)
Linda Lopez cleans the chrome on the chrome bumper of her 1947 Chevy which she has named, "Golden Dream."
(Karen Tapia-Anderson / LAT)
"Golden Dream" rolling along in all its ground-hugging glory.
(Karen Tapia-Anderson / LAT)