6 Images
The Intelligence War
Sketch of a tank in a student's lesson book found laying amid the rubble of family housing at the former Taliban military headquarters in Kandahar.
(DON BARTLETTI / LAT)
Soldier from the 101st Airborne Division collects documents in a cave in the Zhawar Kili al Badr complex in the mountains of eastern Afghanistan on April 7, 2002.
(AP)
U.S. troops guard captured Al Qaeda suspects on Dec. 31, 2001 in Northern Afghanistan. U.S. forces moved them to a staging area in Kandahar for interrogation.
(AP)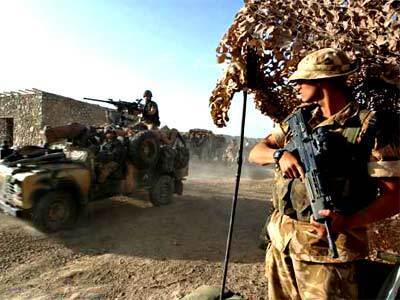 British Royal Marines roll out of Bagram air base toward the eastern Afghan city of Khowst on May 30. As part of Operation Buzzard, troops gathered information from villagers on Taliban or Al Qaeda hide-outs.
(SCOTT NELSON / Getty Images)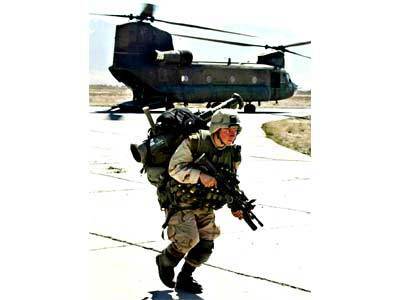 A U.S. soldier runs after disembarking from a CH-46 Chinook helicopter at Bagram Air Base on March 12, 2002.
(AFP)