Congressman Dennis Kucinich (Democrat- Ohio) speaks at the Democratic National Committee (DNC) Fall Meeting in Vienna, Virginia.
(Stefan Zaklin / EPA)
U.S. Rep. Dennis Kucinich announces his reelection bid for Ohio's 10th district seat at the Laborers International Union hall in Cleveland Wednesday.
(Mark Duncan / Associated Press)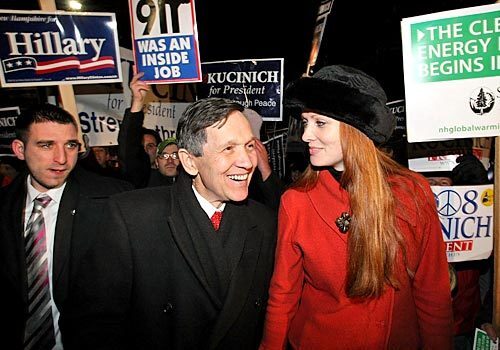 Presidential hopeful Rep. Dennis Kucinich (D-OH) arrives with his wife Elizabeth to protest his exclusion from back-to-back presidential debates being held at St. Anselm College in Manchester, New Hampshire. ABC arranged the debate in conjunction with the social networking website Facebook three days before the New Hampshire primaries.
(Mario Tama / Getty Images)
Representative and Democratic presidential candidate Dennis Kucinich answers a question during the Iowa Brown and Black Forum, in Des Moines, Iowa. The Iowa Brown and Black Forum was founded in 1984 and is the nation's oldest continuous minority presidential forum in which candidates answer questions concerning issues affecting African-Americans and Latino-Americans.
(Steve Pope / EPA)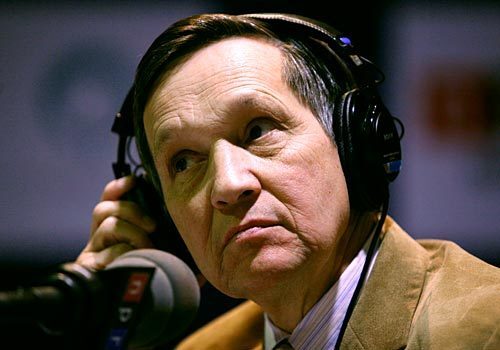 Democratic presidential hopeful, Rep. Dennis Kucinich, D-Ohio, waits for the start of the National Public Radio debate Tuesday, Dec. 4, 2007, at the State Historical Museum in Des Moines, Iowa.
(Charlie Neibergall / Associated Press)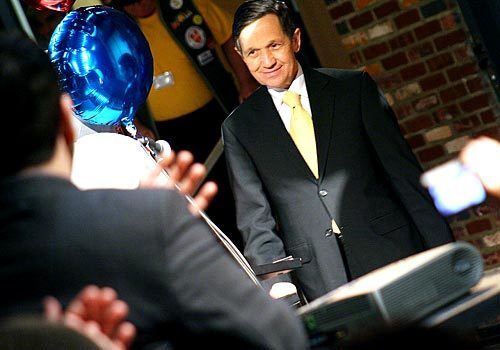 Democratic Presidential Candidate Dennis Kucinich speaks at the Black Box Theater at New Jersey City University on Monday, Nov. 19, 2007 in Jersey City, NJ.
(Pamela Suchy / The Jersey Journal via AP)
Supporters of Rep. Dennis Kucinich (D-OH) march outside Cashman Center before a Democratic presidential debate January 15, 2008 in Las Vegas, Nevada. After a dispute with NBC, the Nevada state Supreme Court ruled to block Kucinich from participating in the debate.
(Ethan Miller / Getty Images)