17 Images
Naturally Stylish
19th century cedro wood chair from the Guatemalan highlands, available at Dos Gallos, Hollywood.
(LISA ROMEREIN)
Waterlilies grow in a shallow pool in which stands a bronze sculpture by Simon Toparovsky. Agave and blue fescue are planted next to limestone columns from a 17th century castle. A teak trunk topped with a terrazzo slab is used for dining in the outdoor space that landscape designer Scott Shrader calls the best "room" in the house.
(LISA ROMEREIN)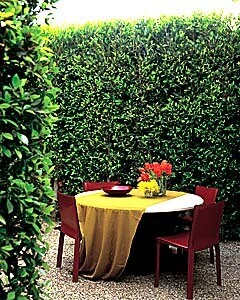 Potted succulents and Korean grass decorate the dining table. Ficus hedges define the outdoor rooms, which have "floors" of Del Rio gravel.
(LISA ROMEREIN)
An industrial steel table serves as a bar while a bench from Blackman & Cruz offers seating. An olive bonsai atop the bar is planted in a vintage orchid pot from Hawaii.
(LISA ROMEREIN)
For the 20-by-40-foot enclosure in Malibu, bamboo shades were used to create a semitransparent roof and wall.
(LISA ROMEREIN)
Mattresses found on a Venice curb and pillows from a sale bin at a garden store provide bedding should guests stay the night.
(LISA ROMEREIN)
A pepper tree shades the patio.
(LISA ROMEREIN)
A 1940s fireplace is the focal point of a pergola in an Altadena garden. The table was designed around recycled tile fragments.
(LISA ROMEREIN)
Fabric that resists mildew and sun damage was used to cover an aluminum frame for a Malibu poolside tent with comfortable furniture from Janus et Cie.
(LISA ROMEREIN)
A pool pavilion came with the 1920s Pasadena house. An outdoor fireplace warms the pavilion at night, while retractable awnings provide daytime shade.
(LISA ROMEREIN)
At one end of an outdoor dining room in Beverly Hills is a copper sink near a gas grill with extra side burners.
(LISA ROMEREIN)
Leaded windows purchased at an estate sale were used to frame the outdoor eating area.
(LISA ROMEREIN)
Another look at the dining room
(LISA ROMEREIN)
Designer Basia Kenton's garden for a 1941 Santa Monica apartment building
(MARYELLEN BAKER)
Architect Norman Millar's "sky basket" deck in Echo Park
(MARYELLEN BAKER)
Designer Gabriela Yariv's Pasadena porch garden for her parents, Frances and Amnon Yariv
(MARYELLEN BAKER)
Steven Roffer and Robin Fisher Roffer's secret garden in Hancock Park
(MARYELLEN BAKER)