7 Images
Death and Deliverance
Desolation
DESOLATION:
Cesareo Dominguez, left, and Jose Lerma search the southern Arizona desert for the remains of Dominguez's daughter, Lucresia. After crossing the border June 19, she became dehydrated and was abandoned by smugglers.
(Robert Gauthier / LAT)
Farewell
FAREWELL:
Margo Cowan, Lerma, Dominguez and Dominguez's nephew Jose Sanchez at a Tucson church service.
(Robert Gauthier / LAT)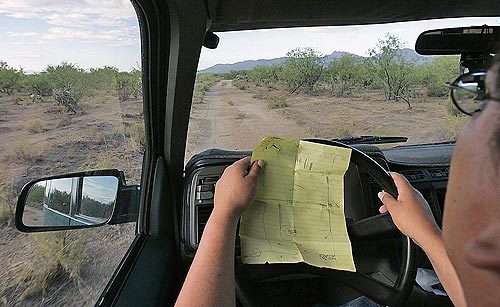 Sketchy clues
SKETCHY CLUES:
Lerma uses a crude map drawn by Lucresia's son Jesus, 15, to try to find the dry creek that Jesus left her in while he searched for water.
(Robert Gauthier / LAT)
Memorial
MEMORIAL
: Cesareo Dominguez packs dirt around a cross he placed near where he found his daughter's remains. Dominguez returned with Jose Lerma, four immigrant aid workers and a priest to pray and plant the cross. Dominguez, who lives in the Mexican state of Zacatecas, says he will bring his wife to visit someday.
(Robert Gauthier / LAT)
A needle in a haystack
A NEEDLE IN A HAYSTACK:
Dominguez waves at a Border Patrol helicopter sent to find the remote spot where he and Lerma found a woman's body. "Walking in this desert, you become aware of the horrible deaths people suffer," he said.
()
Remberances
REMEMBRANCES:
Dominguez holds a photo of Lucresia, her son Jesus and one of her nephews, along with some of her belongings
(Robert Gauthier / LAT)
Grim discovery
GRIM DISCOVERY:
A Border Patrol helicopter hovers above the remains of a body discovered by Cesareo Dominguez and Jose Lerma during a search for Dominguez's daughter Lucresia, but it wasn't hers. Sixty-five migrants died in Pima County in July, almost twice as many as the county's previous record for a month. "It's the journey of death," said Allen Williams, a Pima County sheriff's deputy.
(Robert Gauthier / LAT)