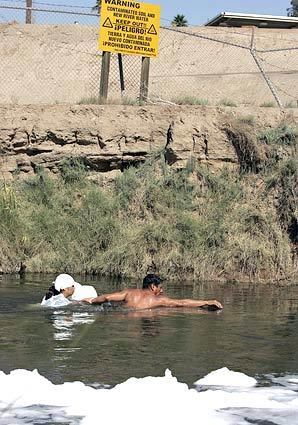 6 Images
Perilous Journey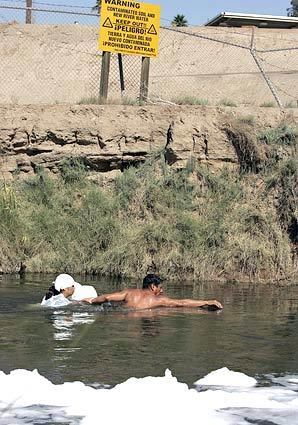 PERIL IGNORED:
A sign warning of contaminated soil and water looms over a Mexican man and woman as they carry bags of dry clothes and fight the current and debris to swim.
(Allen J. Schaben / LAT)
PERILOUS JOURNEY:
Two people swim in the foam-filled waters of the New River in Imperial County wearing white plastic bags on their heads as camouflage. The Metropolitan Water District of Southern California seeks access to the water.
(Allen J. Schaben / LAT)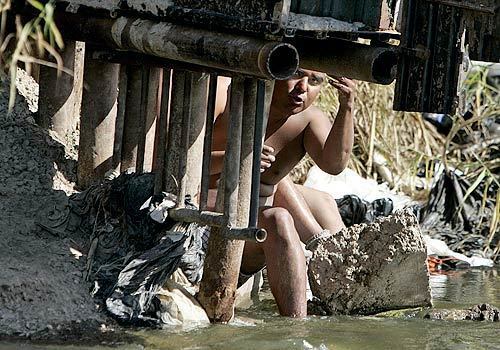 SOON TO SWIM:
Border crossers typically swim for about a mile with a bag of dry clothes, then exit the river and blend in to the crowds at a California wholesale shopping center nearby, acccording to a Border Patrol officer.
(Allen J. Schaben / LAT)
BACK IN:
A U.S. Border Patrol watches a Mexican man and his wife, from Michoacan, swimming on the American side back to Mexico after being found by U.S. Border Patrol hiding in a mud hole under a U.S. footbridge in Calexico.
(Allen J. Schaben / LAT)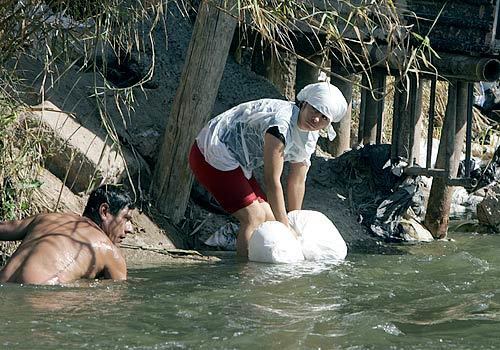 DISCOVERED:
A man and a woman were discovered hiding under a footbridge in Calexico, on the U.S. side of the border.
(Allen J. Schaben / LAT)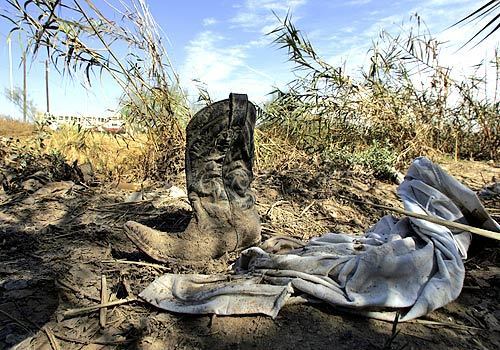 FLOTSAM AND JETSAM:
A boot and other clothes and debris line the banks of the New River, long branded the dirtiest river in America.
(Allen J. Schaben / LAT)